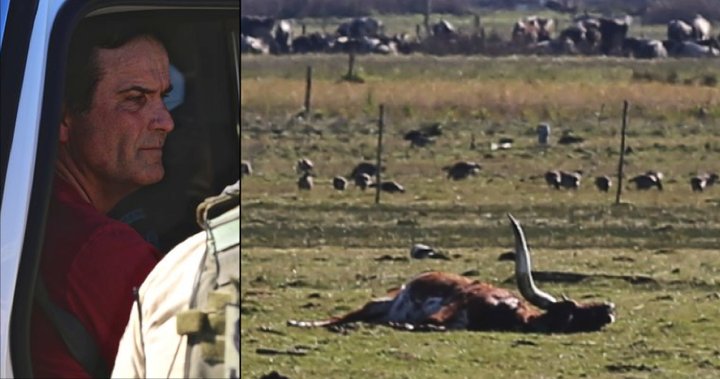 ###
PREVIOUSLY
###
Judge Dale Reinholtsen refused this morning to order animal cruelty suspect Raymond Christie to sell all his animals and buy no more.
The judge denied Deputy District Attorney Adrian Kamada's motions requesting that Christie not own or have control over any animals, and also to increase Christie's bail to $180,000. The Arcata rancher posted $25,000 bail after he was arrested in March, when law enforcement raided his ranch and found 200 dead cows and other evidence of animal abuse.
Reinholtsen, while saying he was not downplaying the seriousness of the charges, said the purpose of bail is to ensure a suspect shows up for court appearances, and to protect public safety. Christie has no record of failure to appear, and there's no evidence he poses a threat to the (human) community, the judge said.
Reinholsten asked the prosecutor what Christie would do with his animals if he were ordered not to have any.
"The cattle would be sold and he would not be able to buy any more," Kamada said.
Reinholtsen denied that motion, which defense attorney Ken Bareilles described as "them asking for a preliminary injunction to keep him from making a living." But the judge ordered that all of Christie's numerous ranches in Humboldt County can be searched at any time, with or without a warrant, to ensure no animal abuse is occurring. Christie reportedly owns or leases more than 20 properties in the county and has thousands of dairy cows.
Kamada told the judge the District Attorney's Office continues to receive numerous reports about corpses of Christie's cows showing up in local rivers and streams. Also, the prosecutor said, there have been reports of Christie's cattle wandering onto other people's property, "searching for food because they are not adequately being taken care of."
But Christie's attorney Bareilles put on an enthusiastic defense of his client, saying Christie "has a great reputation" and the district attorney has a case with a lot of problems.
"When an animal is dead it just means it's dead," Bareilles said more than once. "It doesn't mean it's been abused."
Bareilles said Christie "is the only rancher around here that buys what they call sub-par animals. … Sometimes he can nurse them back to health and sometimes he can't."
When an animal does die, Bareilles said, there's no lawful way to dispose of it. Ranchers are supposed to bury the carcasses, but Bareilles said that in the low-lying areas where Christie keeps his herds, "they run into water."
Many of the allegations against Christie are misdemeanor counts of having a dead animal less than 150 feet from a water source. But he also is charged with seven felony counts of animal cruelty.
Bareilles complained that since Christie was acquitted of cock-fighting charges a few years back, livestock deputies from the Humboldt County Sheriff's Department have held a grudge. He said the current deputy attends the Fortuna auction where Christie buys the sickly cows, then goes to his ranch and takes photographs and says "Look how skinny it is."
He said Christie buys 25,000 to 30,000 cows every year, and Deputy District Attorney Kamada "will have his hands full" trying to establish where all these animals came from and what condition they were in when bought. Bareilles said he is looking forward to Christie's preliminary hearing in August.
Kamada, saying he didn't realize "closing arguments" would be presented at a motions hearing, responded that he also is looking forward to the preliminary hearing.
In just one day, Kamada said, "a snapshot" of Christie's Arcata operation, investigators found more than 200 dead cattle and many more being held in terrible conditions.
"We will show the extremely sick, starving cattle in 3 feet or more of mud and feces, with dead calves being trampled on," Kamada said.
Christie, 54, attended the hearing this morning but didn't speak. His preliminary hearing is set for Aug. 14.