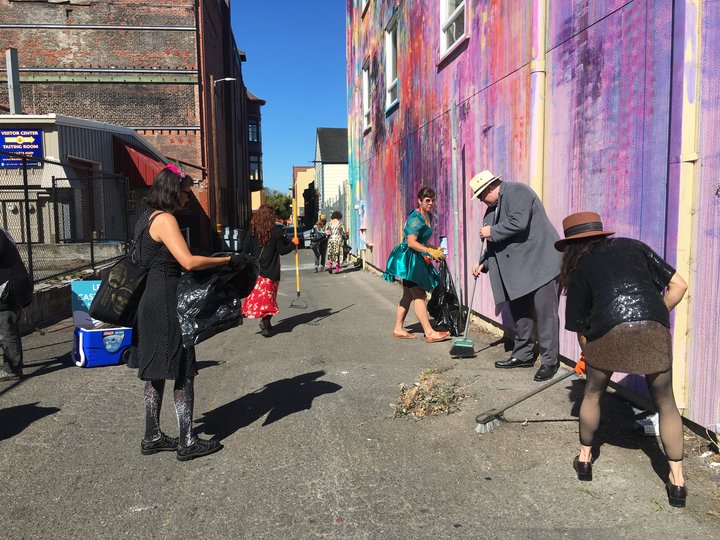 ###

Opera Alley in Old Town Eureka was buzzing this morning with folks getting ready for the first Eureka Street Art Festival.

At 10:30 a.m. a group of nine people, dressed in their finest threads, helped spruce up Opera Alley by collecting trash, sweeping and even pulling up weeds. The group cleanup event, called Glam Up Eureka!, was organized by Eureka City Council candidate Leslie Castellano.
"I knew the street are festival was happening and I thought it would be nice to give a little polish to Opera Alley before hand," Castellano told the Outpost.

The festival takes place in Old Town Eureka, primarily in Opera Alley, between C and H streets. From August 11 to 18, there will be local and visiting artists creating murals and art installations, street performers, vendors and more. The main event will be the street party on Saturday, August 18, which will celebrate the completed works.

Also helping clean up the alley was Eureka City Councilmember Natalie Arroyo, who was happy to see the attention their efforts were getting. Arroyo said that picking up trash in her shiny prom style dress was getting a lot of people to stop and ask what she was doing.
"It's a great way for me to talk about the festival," Arroyo said. Arroyo told the Outpost she is extremely excited about the new event, which she hopes will bring a lot of people to Old Town.
Some artists have not begun, while others have already made some progress. Local artist Blake Reagan was chalking off his piece on the side of The Speakeasy. Right next door, two employees from the city were busy cleaning stickers off of the utility box near Cafe Nooner, getting it ready for a painting by Matt Beard.
At the east end of Opera Alley, near C Street, local artist Courtney Karnes was already painting, getting started on mural which will be a collaboration between three different artists.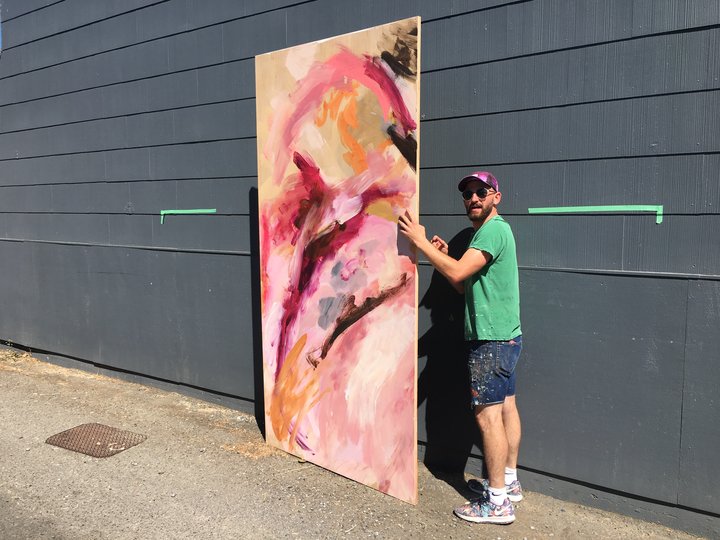 Jonathon DeSoto and Stock Schlueter were busy installing both their own and fellow artists' partially finished paintings, which will be completed during the festival.
Everybody was helping do their part to make Eureka's new festival a success. At the very least, Opera Alley is now a little cleaner. Although some volunteers said it was easier than they thought it would be.
"We haven't picked up that much trash. But we've picked up a lot of compliments and hugs," volunteer Caroline Griffith said.
You can find more information on Eureka Street Art Festival website.