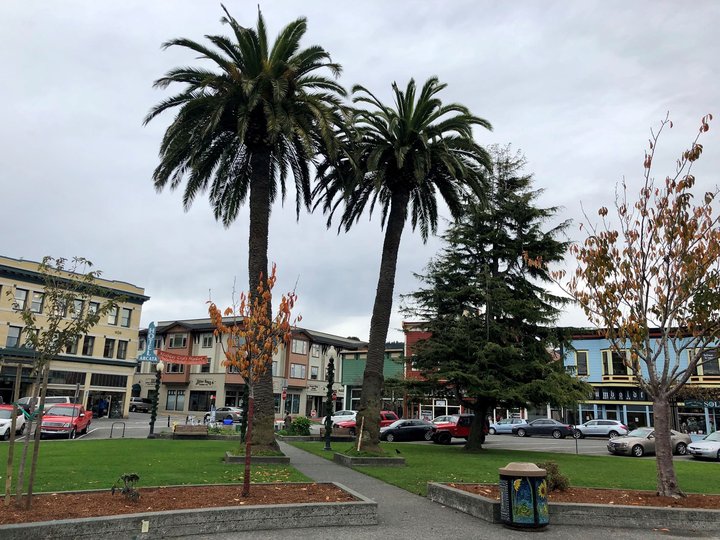 From the family-friendly farmer's market to the drunken debauchery of the Oyster Festival, the Arcata Plaza is undoubtedly one of the prime gathering spots for Humboldt social events. Well, now the City of Arcata wants to hear your ideas for the improving its town square.

The newly formed Plaza Improvement Task Force has created an online survey for you to share your thoughts on this Humboldt hub and what is or isn't working for you.
And what better time to let the City of Arcata know what you think? Like David Bowie circa 1971, the Plaza is going through some serious ch-ch-changes. Residents of Arcata voted to remove the McKinley statue from its long time home at the center of the Plaza and two of the town's oldest Plaza bars are likely having their licenses revoked.
Sounds like fun, right? Of course it does. The task force assures you that this short survey will only take you a few minutes to complete and will help it to better serve the community.
From the City of Arcata:
The City of Arcata's newly-formed Plaza Improvement Task Force has developed a short online survey to gather community input on recommendations to improve Arcata's Plaza.

The Arcata Plaza serves as the epicenter of the community and as the economic hub for Arcata businesses. Shoppers, employees, merchants, tourists, students and families who visit Arcata all take away impressions of our City based on their experiences in the Plaza. In response to community outreach and concerns, Arcata City Council created the Plaza Improvement Task Force to help restore the Arcata Plaza as the centerpiece of the Arcata community.

In order to best serve Arcata's diverse population, the Plaza Improvement Task Force is working to ensure that public input regarding Plaza improvement recommendations is as inclusive as possible. Members of the Task Force are highly focused on reaching a wide variety of individuals and groups in our community, and invite and encourage all community members to participate by taking this survey.

Upon completion of the survey, the Task Force will gather community input and make recommendations to Arcata City Council on how to improve general safety, promote economic development, upgrade infrastructure, make beautifications and increase Plaza events and activities.

The Plaza Improvement Survey is currently available below in both English and Spanish, and it will be available to the public until Friday, February 1, 2019. The survey is very short and will only take five to ten minutes to complete, and community members are encouraged to share it with others.