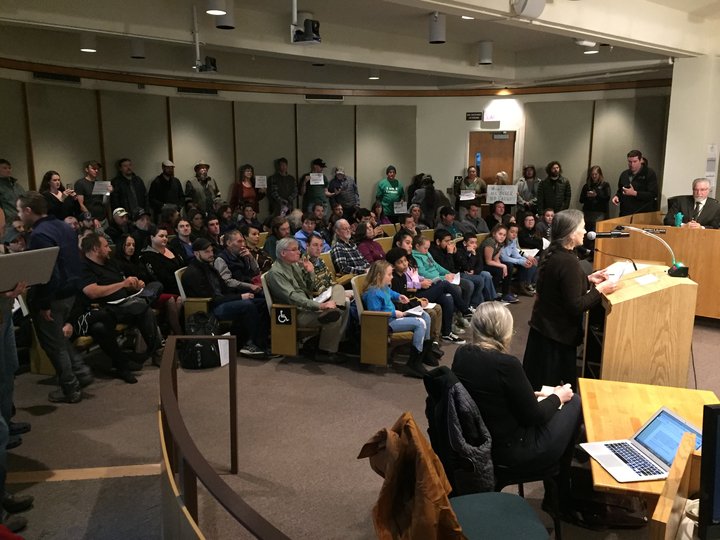 Local cannabis cultivators showed up in force to today's Humboldt County Board of Supervisors meeting, and during the public comment period they took turns at the lectern telling their elected representatives that excessive fees and taxes are driving them out of business and upending a Humboldt County way of life.
Southern Humboldt resident Harold English said he and his wife are the definition of "mom and pop" growers. He moved to the county in 1974, set up his own marijuana farm and raised three kids here. Now he's making no profit, unable to enter the state marketplace until his operation is fully permitted at the local and state level, and yet he's being charged more than $10,000 in county taxes and fees, he said.
"I've never been closer to losing everything than right now," English said. The county's taxation system, he argued, is forcing people to pay tens of thousands of dollars just to wait in line when they're not even sure if they'll be let in the door. Speaking on behalf of fellow "mom and pop" growers English said, "You're going to push us out [and] change the character of this county."
Salmon Creek resident Chip Tittman identified himself as the spokesperson and organizer for the small-scale farmers who attended today's meeting. He framed their request for tax relief as a matter of justice, opposing corporatization and the pharmaceutical industry. The growers in attendance complained of having to pay taxes and fees to a variety of local and state agencies on top of the money they've dished out to consultants, engineers, foresters and attorneys and the cost of remediation work required to bring their properties up to code.
"I'm on the verge of going broke," said Nicole Keenan, who noted that she's being charged $10,000 for not having having nine culverts on her property. "You guys are fricking killing me." She said families are unable to make their house payments, and she brought up struggling institutions like the Mateel Community Center and its Reggae on the River festival as examples of a community under siege. Keenan said that with the stress she's under she can't eat or sleep, she can't feed her kid and she's worried about losing her house.
"You are ruining our community," Keenan said. Later she went even further, telling the board, "You're literally killing us."
At a couple of points between speakers, Fifth District Supervisor and Board Chair Ryan Sundberg asked the public to refrain from clapping in order to maintain decorum and respect those who might have a dissenting view. At first the crowd complied, but things grew rowdier after regular commenter Kent Sawatksy had his turn at the lectern. He made a vague accusation that several supervisors have a conflict of interest on the matter of weed permits and then specifically called out Sundberg for having relatives in the county's regulatory system. Sawatksy also told the crowd they're allowed to clap, and when he called on the public to prevent Sundberg's reelection they did just that, applauding and cheering.
In all, 30 people addressed the supervisors on this issue, though there was no related item on today's agenda, which meant the board couldn't discuss or take action on the various grievances aired. One of the concerns most frequently voiced regarded the county's practice of taxing growers for 2017 even though many of them only received their permits with days or weeks remaining in the year, and the state marketplace for adult use marijuana didn't open until 2018.
The county Planning and Building Department started issuing a letter last year to people with existing cultivation operations, asking them to sign a compliance agreement in order to receive zoning clearance for their interim permit. Several speakers complained that the language in the letter was misleading, causing them to submit the paperwork before the end of the year, which in turn triggered a tax bill for all of 2017. They argued that this was unfair when other cultivators had their taxes prorated for only a portion of the year.
"Who crafted this [letter]?" demanded Garberville grower Mark Switzer. "What are you doing? Really? Do you want to work with us or tax us out of existence?"
Cassidy Goodrich agreed, saying he's being taxed on the full square footage of cultivation area in his license for 2017 even though he didn't harvest a crop only used a portion of that area for his harvest last year. "I'm getting taxed for something I didn't do," he said.
Others expressed frustration that the county levies taxes based on the size of cultivation area, charging between $1 and $3 per square foot annually, depending on the type of grow. The state, in contrast, bases cultivation taxes on the amount of marijuana produced.

"Who ever thought of taxing something before it's grown?" asked Charlotte Silverstein, owner of the Garberville business Garden of Beadin'. She said sales at most businesses in town, including her own, are down by 30-to-60 percent from previous years, and she blamed the county. "It's dead in Garberville," Silverstein said. "People don't have money because you're sucking them dry."
Other growers protested that while they may be licensed for 10,000 square feet of cultivation area, in reality they only use a fraction of that area.
Salmon Creek farmer Reuben Childs said small growers are giving up on the process entirely, and he complained about the amount of red tape involved in going legit. "I'm now paying for the permission to ask permission to be approved, which I may still not be approved on," he said, triggering cheers and applause.
Local attorney Laura Cutler led off the public comment session by arguing that the county violated the law last June when the Board of Supervisors made changes to Measure S, the county's marijuana taxation initiative approved by voters in 2016. Rather than taxing folks actually engaged in marijuana cultivation, the county decided to tax property owners who hold cultivation permits, regardless of whether they're actually growing, Cutler said, and she argued that this effectively expanded the measure, which can't be altered without voter approval.
Cutler mentioned fellow local attorney Eugene "Ed" Denson, who also has challenged the legality of changes made to Measure S. County Counsel Jeffrey Blanck denied that the county violated the law, telling the Times-Standard's Will Houston that he and his fellow county attorneys "don't think there is any legal violation or basis to set aside the ordinance or its interpretation."
Denson himself got up and suggested to the board that the county repeal Measure S, drop its track and trace program and issue an interim permit to everyone who's already in the permitting process.
Though the board couldn't discuss the matter, Second District Supervisor Estelle Fennell thanked everyone who has entered that permitting process, and she said that she and Sundberg, who comprise an ad hoc advisory committee for cannabis matters, will look at the county's taxation methods and come back to the full board with recommendations in a few weeks.
She also noted that at a meeting Thursday night the Humboldt County Planning Commission will consider amendments to the county's Commercial Medical Marijuana Land Use Ordinance, and she encouraged people to attend. "Participating is important," Fennell said.