A negotiated plea may be in the works for a local storyteller accused of child molestation and facing a long term in state prison.
During a hearing this morning attorney Russ Clanton, representing accused molester John Robert Beideman, confirmed Feb. 15 for Beideman's preliminary hearing, held to determine whether there is enough evidence for a trial.

"Although," Clanton told visiting Judge Douglas Mewhinney, "I would inform the court that discussions are ongoing."
Clanton and Deputy District Attorney Stacey Eads said the preliminary hearing, if it proceeds, will last about four hours.

Today a middle-aged couple with an apparent connection to the alleged victim were in the courtroom audience. They spoke privately with the prosecutor at one point.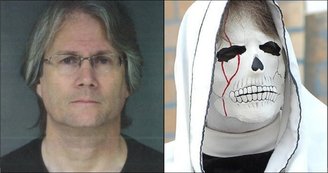 Beideman, 57, was known as Carpathian the Storyteller and performed often at community events, wearing a scary skeleton costume and telling kids not to fear monsters.

"I tell them that monsters are just like children; they're just playing," Beideman said in an interview with the Times-Standard. "They're not going to hurt you and you're perfectly safe. In the end it's OK to be a little afraid. Just know that you're in good hands with Carpathian."
Beideman is charged with six felony counts of child molestation. He has been in Humboldt County Correctional Facility since he was arrested Oct. 5 at his Myrtletown home.

He also was a long-time clerk of the Humboldt County Superior Court. Because of that connection, all local judges except Greg Elvine-Kreis disqualified themselves from the case. Elvine-Kreis, though willing to hear the matter because he didn't know Beideman, was disqualified by the District Attorney's Office.
###