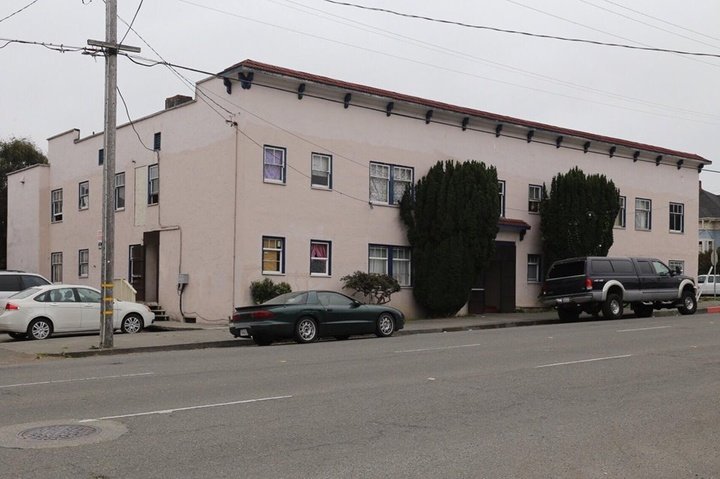 The City of Eureka has agreed to give $2,000 per unit to the departing tenants of 833 H Street, the dilapidated apartment building owned by notorious local slumlords Floyd and Betty Squires. The money — up from the $1,600 figure previously offered — is intended to offset moving costs for residents of the building, which city staff on Friday ordered vacated and boarded due to "extremely hazardous electrical and other violations."

Tenants — some of whom are suffering from serious medical conditions — were given just 10 days to vacate the property, leaving them scrambling over the three-day weekend to find new housing.
Given the city's longstanding shortage of low-income housing, finding a new rental can be challenging even with weeks or months to apartment-hunt, and several news reports in recent days (including this Times-Standard story and a piece in this week's North Coast Journal) have highlighted the potentially life-threatening hardships caused by this sudden relocation order.
But Lisa Smith, one of the residents whose harrowing story has been recounted, today told the Outpost that city staff has been helpful.
"They are stepping up," she said. "They are trying to help."
Still, she remains concerned about the wellbeing of her husband Craig, who's suffering from terminal cancer and congestive heart failure. She, too, has congestive heart failure and a respiratory illness, and she said it's important that she and Craig find a place together.
With help from staff and the local palliative care nonprofit Resolution Care, Craig and Lisa Smith have a line on a house that may be available to rent.
"The difficulty is jumping rent from $525 to $1,200," Lisa Smith said this morning. Plus, the landlord told her that he may want to rent to someone else.
For people in their position, finding a willing landlord can be especially challenging. Craig became homeless in 2010 after a house fire destroyed everything he owned and killed his friend, Lisa said. She became homeless around the same time after fleeing "a horrible 22-year marriage."
The two met while living in the former homeless encampments in Palco Marsh, aka the Devil's Playground. When residents of the marsh were evicted in May of 2016, "we got more notice there from the cops, believe it or not," Lisa Smith said.
Eureka Public Works Director Brian Gerving said that city staff had to balance the hazards posed to tenants and first responders by the building's faulty wiring — including the risk of fire and electrocution — against the "potential pitfalls" tenants face when forced to relocate.
"The 10 days seemed reasonable given the circumstances," Gerving said.
Staff is working with various local service providers to find both temporary and permanent housing for the displaced tenants, Gerving said, adding that solutions will be different for every person there.
Gerving said the $2,000 being provided per unit — for a total of $28,000 — will be added to the debts owed to the City of Eureka by Floyd and Betty Squires. Eureka remains engaged in a years-long legal battle with the duo.
Regarding the tenants of 833 H, Gerving said, "We're doing everything we can even though this isn't an obligation that legally falls to the city."
Eureka City Councilmember Austin Allison made a similar argument last night in a post to the Facebook group Friends of the Humboldt Houseless. The Squireses, he said, violated several agreed-upon deadlines to address the electrical issues, and repair work stopped altogether last month.
"Squires did not meet the deadline and some residents inside the building had even been living without power for almost a month at this point," Allison wrote. "After multiple attempts to work with Squires to fix his code violations the city had no choice but to issue a notice to vacate."
The Outpost attempted to reach Squires today but calls went unanswered.
City staff has been working with the county's Department of Health and Human Services, Adult Protective Services and the Betty Kwan Chinn Foundation.
Lisa Smith said that if the rental they're trying to line up falls through, she and Craig may have to go to a shelter run by Chinn, where they'd have to sleep in bunk beds in separate units. She called this prospect "extremely emotional" and potentially dangerous since she often has to give Craig medications in the middle of the night.
And the Smiths aren't the only ones in a precarious situation. "There's children here. I understand there's a baby upstairs who's very sick," Lisa said. "We're all humans and we did nothing wrong, you know?"