PREVIOUSLY:

###
Jesse Simpson had been weed-whacking grass along the side of road, but blood and debris were found right in the middle of the intersection where he was struck and killed by Eric Lively's pickup truck.

On Thursday, the sixth day of the 45-year-old Lively's murder trial, a California Highway Patrol officer testified that the point of impact was in the middle of the intersection of Eileen Road and Debbie Lane in Shelter Cove. And according to a Sheriff's Department evidence technician, that's also where Simpson's blood was pooled.
Lively's defense attorney Russ Clanton has said Lively, despite his statements about wanting to kill Simpson, had no intention of running over him the afternoon of May 3. Clanton says Simpson himself caused the accident by jumping in front of Lively's truck and hitting it with his weed-whacker.
There was evidence presented Thursday to support that theory, and also some evidence that cast doubt on Lively's claim that Simpson could have been talking and walking immediately after he was hit.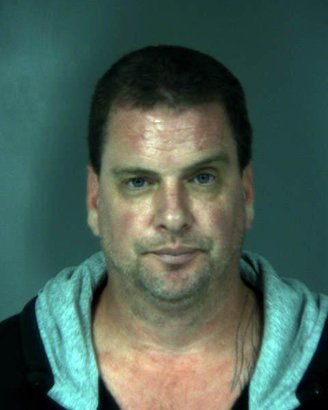 CHP Officer Juan Lopez, under questioning by Clanton, testified that in his opinion Simpson was struck in the middle of the intersection, several feet from the grass. The windshield on the driver's side was cracked, and Lopez agreed with Clanton that the crack "has a circular configuration." There was some brown debris around the cracked glass.

For the first time today, evidence was presented that Lively had a German Shepherd dog in the cab of his truck. Clanton has said Lively was out looking for his loose dog "Grizz" when he encountered Simpson. Officer Lopez saw the dog in the truck and took photos.
Lopez also testified that Lively was still at the accident scene when he arrived. Simpson and all emergency personnel were gone. Lopez said Lively identified himself and produced his driver's license. He volunteered that he and Simpson had a "negative history," but insisted repeatedly that Simpson had jumped out in front of him and he hadn't meant to hit him.
CHP Officer Michael Cole also spoke with Lively. Under questioning by Deputy District Attorney Adrian Kamada, Cole said Lively told him "When I hit Jesse, I didn't think I'd be charged."
Challenged by Clanton over whether that statement was recorded, Cole said he wasn't sure whether his recording microphone was on. If it was, the officer said, the recording should be on CD and available as evidence.
It's been confirmed that Lively tried to help Simpson, then drove to the Shelter Cove Volunteer Fire Department to report the incident. After that he went home to get a towel and water for Simpson. While there, however, he also told his teen-age daughter not to call police and gave her a leather case containing cash and jewelry.
Earlier in the week and even earlier that day, Lively had talked about killing his neighbor. He was convinced Jesse Simpson and his brother were stealing from him, and also convinced the "cops" were not on his side. At his work site a couple of hours before the fatal crash, Lively had been taking practice shots with his compound bow.
And when he left work, according to his boss, Lively asked that if anything happened to him, his belongings be sold and the proceeds given to his children. Lively has a teenage daughter and two younger sons.
Lively told Officer Lopez that when Simpson was hit, he said he wanted to go home and managed to walk to the side of the road. But the pathologist who performed his autopsy testified Thursday that Simpson would have been "immediately unconscious, then dead."
Dr. Mark Super conducted Simpson's autopsy two days after he was killed. Super said Simpson had a skull fracture, his brain was bruised and bleeding and there was a tear in the base of his brain stem.
That tear alone would be "incompatible with life," Super said.
Super said he believed Simpson's head injuries were caused by his head hitting the ground.
Simpson, 42, had numerous other injuries including a fractured leg, fractured pelvis, fractured collarbone and fractured rib. More than a liter of blood was found in his abdomen.
Simpson stopped breathing in the ambulance on the way to Shelter Cove Airport. After more than 30 minutes of CPR he was pronounced dead.
Testimony was expected to continue today before Judge Christopher Wilson.