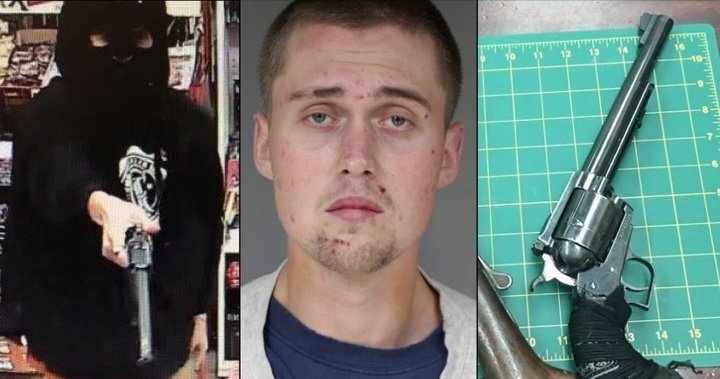 Humboldt County Office of the District Attorney press release:
Today District Attorney Maggie Fleming announced that Humboldt County Judge Christopher Wilson accepted a guilty plea from 27-year-old Christian James Shepard of Rio Dell. The plea agreement stipulates that Mr. Shepard will serve 25 years in state prison for committing eight armed robberies in violation of Penal Code section 211, and one attempted armed robbery in violation of Penal Code section 213(B)). Mr. Shepard also admitted to a sentencing enhancement for discharging a firearm during the course of one of the robberies.

Between November 3, 2016 and November 18, 2016, Humboldt County was plagued by a series of armed robberies occurring between McKinleyville and Garberville. Through investigation spearheaded by Detective Ronald B. Harpham of the Eureka Police Department, it was determined that a red Pontiac GS6 was being used as the get-away vehicle in the robberies. It was also determined that Mr. Shepard was the owner of this same vehicle. On November 19, 2016, Rio Dell police officers attempted to conduct a routine traffic stop on Mr. Shepard as he was driving the Pontiac, at which time Mr. Shepard fled from the police up Monument Road into the mountains of Rio Dell. Ultimately, Mr. Shepard was later apprehended and taken into custody by Humboldt County Sheriff's Deputies.

Following his arrest Mr. Shepard's red Pontiac was searched and officers located evidence linking him to the robberies including clothing and multiple firearms. Additional evidence of Mr. Shepard's guilt was found by forensic experts on his cellular phone. The apprehension of Mr. Shepard and investigation of these robberies was accomplished through assistance from a number of local law enforcement agencies including the Humboldt County Sherriff's Office and the Rio Dell, Arcata, Eureka, Fortuna, and Ferndale Police Departments. Sentencing is scheduled for February 27, 2017.