PREVIOUSLY
On the one-year anniversary of his crime, a 21-year-old Fortuna man was sentenced Monday to a decade in state prison for shooting a Eureka teen in the leg after a rowdy house party in Arcata.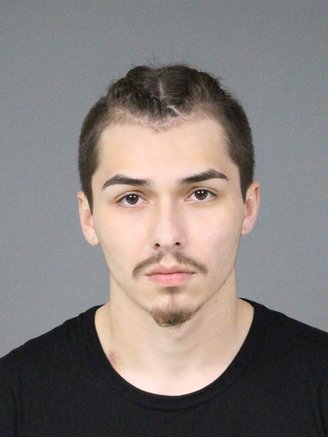 Judge Dale Reinholtsen sentenced Elijah Stonebear Williams to three years for assault with a firearm, four years for using a firearm to cause great bodily injury and three years for causing great bodily injury. His victim, a 17-year-old boy who was shot in the upper thigh, did not attend the hearing this morning. But many of Williams' family members watched in silence as the judge passed sentence.

On June 7 Williams, who was a fugitive for nine months before turning himself in, pleaded guilty to lesser charges in exchange for having a count of attempted murder dismissed. Today he was given credit for 112 days in custody and another 112 days for "good time" while in Humboldt County Correctional Facility.
Williams shot the teen in the early morning hours of July 16, 2017, during an argument at a house party at 12th and C streets in Arcata. Police had shown up earlier because neighbors were complaining about the noise. The party quieted down until 2:45 a.m., when the shooting was reported.
Williams and another man had been sitting outside the house in a Honda sedan when a group of people challenged them over a basketball in the Honda. As the group moved toward the car, Williams fired one warning shot from a handgun, then took aim and fired at the person closest to him. He acknowledged the person was holding no weapons, just a basketball.
The sentencing was put off more than once, with the last delay granted because Deputy Public Defender Brie Bennett was waiting for a report from an expert who interviewed Williams. She said the expert could verify Williams had suffered "early childhood trauma" and could provide other helpful information. Bennett had hoped Williams could take the report with him, as it could affect "where he is placed and how he is treated in prison."
Reinholtsen agreed but said Williams would be sentenced today, whether the report was available or not. Apparently it was not.
Generally such information is mailed to the state Department of Corrections.
Williams' case was prosecuted by Deputy District Attorney Brent Kling.