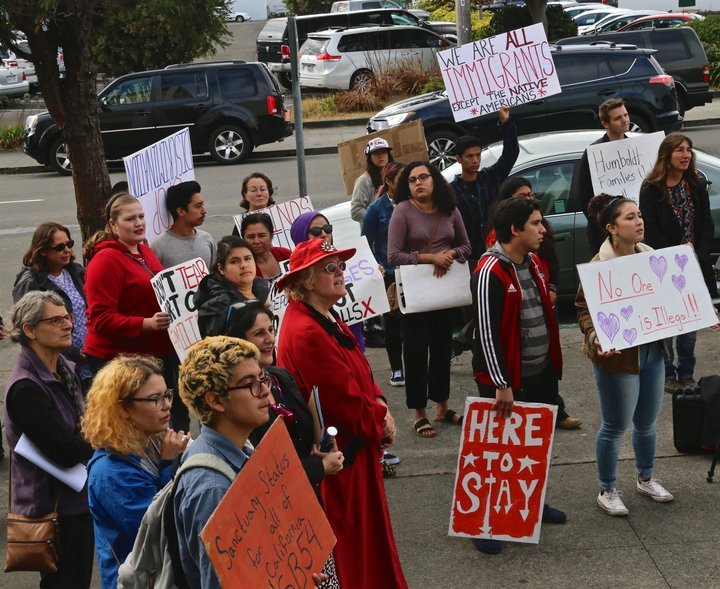 Proponents of a countywide sanctuary ordinance have gathered enough signatures to earn the measure a spot on local election ballots, and on Tuesday the Humboldt County Board of Supervisors will likely wave it through, allowing voters to decide its fate in November.
The "Humboldt County Immigration Sanctuary Ordinance," which would prohibit local law enforcement agencies from cooperating with federal immigration officials, collected 4,315 valid signatures, easily surpassing the 3,715 needed to qualify, according to Humboldt County Registrar of Voters Kelly Sanders.
Supervisors only have three options in these situations. Per state's Elections Code they must either:
adopt the ordinance exactly as written,
submit it to the voters, or
order a staff report on the thing, and when the report comes back either adopt the ordinance within 10 days or order a special election on the matter.
The supervisors are almost certain to take option two since No. 1 is generally reserved for non-controversial measures, ones the supervisors are pretty sure will pass, while No. 3 is costly and a lot of extra work.
Organizers, including members of the nonprofit community service group El Centro del Pueblo, launched the sanctuary campaign in November with a rally at the Humboldt County Courthouse, and they've continued to demonstrate in the months since, calling for a countywide policy of non-compliance with U.S. Immigration and Customs Enforcement (ICE).
Some might consider this local ordinance a bit redundant given last year's passage of a statewide "Sanctuary State" bill, SB 54, which prevents local and state law enforcement agencies from using their resources to investigate or arrest people for the purposes of federal immigration enforcement. (It's a bit more complicated than that; you can read more about it here.)
But the fierce political battle over immigration rages on. Last week a federal judge upheld two of the state's controversial sanctuary laws, including SB 54. However, President Donald Trump continues his inflammatory anti-immigrant rhetoric and even some cities within California rebelling against the state's sanctuary law. The statewide sanctuary laws may eventually wind up before the U.S. Supreme Court.
As for the details of the local ordinance, it calls for equal protection and treatment of all county residents, regardless of their immigration status, and says Humboldt's large immigrant population is "integral and vital" to local communities.
"Undocumented persons pay taxes and therefore are entitled to access county services, including but not limited to protection by the police and firefighters," the ordinance reads. Fears of deportation can keep immigrants from reporting crimes, cooperating with local law enforcement and seeking medical treatment, it says, "which can have serious health and safety impacts on everyone residing in the County."
The ordinance also notes that "Sanctuary laws do not prevent undocumented immigrants from being prosecuted for criminal activity, and state and federal laws address the situation of serious, criminal offenders."
You can read the full text of the ordinance below. The Board of Supervisors meeting starts at 9 a.m. tomorrow. The sanctuary ordinance was placed on the consent calendar, though we've been told that was a staff error, and it will be pulled for discussion.
###
STAFF REPORT AND DOCUMENT: Humboldt County Sanctuary Ordinance
###
PREVIOUSLY: