A Myers Flat woman has been sentenced to 10 years in state prison for a 2015 car crash that killed her 21-year-old friend.

This morning Judge Christopher Wilson imposed the maximum term on 32-year-old Missy Jean Munsell, who pleaded guilty to gross vehicular manslaughter while intoxicated in exchange for having a murder charge dropped. Munsell also received an additional year for possessing drugs while in jail, and eight months for stealing about $1,600 in money or merchandise from Napa Auto Parts in Garberville. She has been in Humboldt County Correctional Facility for three years and received 1,042 days credit against her total term of 11 years and eight months.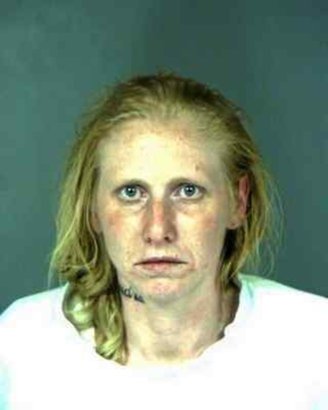 Munsell's friend Kasandra Hillaire was a passenger in Munsell's SUV when it crashed into a tree on Jan. 13, 2015, near Weott. Hillaire was not wearing a seatbelt and was pronounced dead at the scene. Munsell suffered major injuries and was arrested four months later on a warrant.
This morning Martin Hillaire, Kasandra's father, spoke in court about his family's suffering. In comparison, he said, "it doesn't seem quite fair that Ms. Munsell gets the lightest sentence of all."
He said his granddaughter, 3 years old when her mother was killed, "will have to live without her mother for decades."
Munsell had numerous cases in the court system when arrested, including a prior DUI.
"She has many priors and she has futures," Martin Hillaire said. "Maybe next time she'll get enough time."
He got up and walked out of the courtroom as Munsell's attorney, Deputy Conflict Counsel Meagan O'Connell, began reading him Munsell's letter of apology.
In the letter, Munsell said she'd waited three years to tell him how she felt, and now words failed her.
"You deserve so much more than 'I'm sorry or I apologize' " she wrote. …" I hope you can forgive me so I can continue to forgive myself."
At the time of the fatal crash, Munsell had consumed a near-toxic level of the sedative Xanax. She also admitted to using heroin the previous day and to smoking two joints while driving. About a pound of marijuana was found in her wrecked 1995 Nissan Frontier.
While Martin Hillaire believes Munsell's penalty was too light, Munsell's mother pleaded with Wilson to allow her daughter to enroll in a residential rehabilitation program in Santa Rosa that is eager to accept her.
"Please let her go," Sherry Hawks said, noting that Munsell has made a turnaround while in jail, taking college courses and completing several programs. She said Munsell hasn't been able to hug her children for three years, and if sent to prison "this is the last time she'll see her grandmother."
"Missy has finally reached a place in her life where she is trying to change," Hawks said.
Munsell wept, covering her face with her hands, as her mother spoke.
But Wilson told Munsell she is very fortunate the district attorney didn't prosecute her for murder.
"You left, frankly, a swath of devastation based on your opioid addiction," the judge said.
He noted that because the sentence was part of a negotiated agreement, he couldn't change it without rejecting Munsell's guilty plea.
Deputy District Attorney Roger Rees asked the judge to strike from the record a statement O'Connell wrote, in which she criticized the law enforcement investigation of the fatal accident and said the facts "may never be fully known."
Rees called that "nonsense" and said if Munsell believes the prosecution has a weak case, "we'll be more than happy to go to trial on the murder charge."
Wilson agreed to strike O'Connell's statement.
Kasandra Hillaire was the second child in her family to die in a car crash. Her 17-year-old brother, Steven James Hillaire, was killed in November 2012 when the car he was driving hit a tree on Avenue of the Giants. DUI was not a factor.
###