SEE ALSO: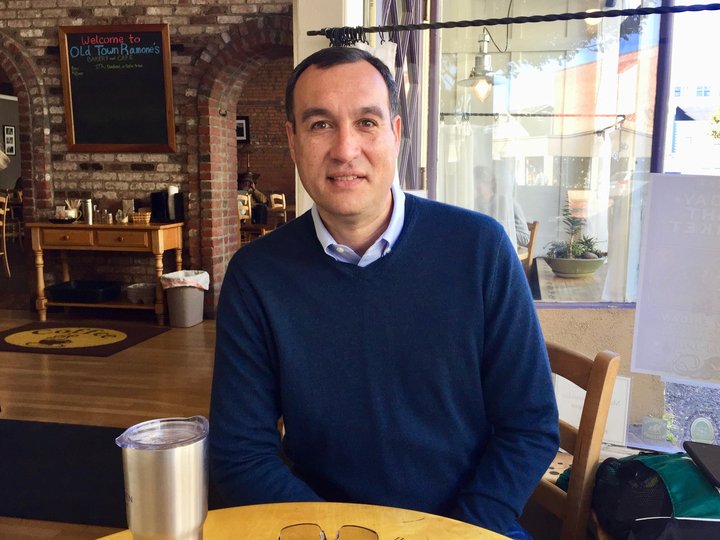 Humboldt County's incumbent Fifth District supervisor, Ryan Sundberg, is very busy these days. As he nears the last six months of his second four-year term in office, the 43-year-old official now has responsibilities that extend beyond our borders.
Last year Governor Jerry Brown appointed Sundberg to the California Coastal Commission, making him the first Native American to serve on that influential body. A member of the Trinidad Rancheria, Sundberg also sits on the Indian Gaming Working Group for the California State Association of Counties (CSAC), and he was recently reappointed to the Environmental Protection Agency's Local Government Advisory Committee.
Oh, and then there's his reelection campaign, an increasingly acrimonious and personal battle against challenger Steve "Sungnome" Madrone, a watershed management consultant and Humboldt State University instructor. When we sat down with Sundberg last week he had mostly nice things to say about his political opponent.
"I think he is smart and articulate and so far very hard-working," Sundberg said, though he went on to note that Madrone seems to be getting campaign help from people outside the Fifth District, which encompasses the vast northern regions of the county, including McKinleyville, Trinidad, Willow Creek and Hoopa. "Which is fine," Sundberg allowed, referring to the alleged outside help.
But by this week — after being asked to respond to some things Madrone said during his own interview — Sundberg's opinion of his opponent had soured to the point where he accused Madrone of spreading lies and being racist.
We'll explore those accusations below, but first we talked to Sundberg about some of the recent hot-button issues he's faced on the board, including Mercer-Fraser's aborted plans to build a hash lab on the banks of the Mad River, the second iteration of the county's cannabis land use ordinance, and a planned freeway interchange project aimed at providing better access to the Trinidad Rancheria and Cher Ae Heights Casino from U.S. Highway 101. He also addressed conflict-of-interest accusations, his track record on the Coastal Commission, and his goals for another term, should he be re-elected.
Public Safety
During his nearly eight years in office Sundberg has developed a reputation for being responsive to the small-scale concerns of his constituents.
"I've spent a lot of time doing the routine, you know, filling potholes and getting neighbors to clean their yards up, making sure we have enough sheriff's deputies in all our communities," he said. The latter effort was largely made possible through the passage of Measure Z, a 0.5 percent sales tax measure originally passed by voters in 2014.
The measure will be back on the ballot in November. The county recently conducted a poll to gauge public support, and while the results aren't out yet, Sundberg is hopeful that voters will renew the tax.
"My general feeling is that people realize how much difference we've made with it," he said. "Roads and sheriff's officers — McKinleyville has a fully staffed substation now, where we had two officers responding out of Eureka before." That substation is staffed by seven deputies and a full-time sergeant, and Sundberg said they've had a huge impact. "Just a night-and-day difference," he said.
The Coastal Commission
Each year the nonprofit watchdog group Act Coastal issues a "Conservation Report Card," which analyzes the voting record for each member of the California Coastal Commission and ranks them based on the ratio of pro-conservation votes to total votes cast on certain key issues.
When we met Sundberg last week the 2017 report card had just recently been issued, and he was surprised to learn that he'd been ranked dead last among the 12 commissioners with a conservation score of just 45 percent. (The average was 72 percent.)
Sundberg defended his voting record, saying, "There has been not one single vote that I've taken that I wasn't 100 percent convinced it wasn't gonna hurt the environment."
But he also explained that, philosophically, he tends to side with local jurisdictions over the people and groups that appeal.
"I know what these projects go through first before they get to the Coastal Commission," he said. City councils and boards of supervisors have their own planning commissions, their own review processes. "These things have been vetted out for years," Sundberg said. "And it doesn't cost anything to appeal a Coastal Commission project. Any project, anybody can appeal it and it goes directly to the Coastal Commission."
Commission staff then reviews each project to ensure compliance with the Coastal Act. "And once it's gone through all that, I defer to a local jurisdiction," Sundberg said. "Maybe it's my bias being a public official. I know what they go through, and I know that probably lowers the score for an environmental group."
Mercer-Fraser's Riverfront Weed Projects
Last month, following intense public outcry, Eureka-based construction company Mercer-Fraser withdrew plans to build a cannabis extraction facility in Glendale, along the banks of the Mad River. Sundberg is friends with the company's CEO, Justin Zabel. (He appointed Zabel to the county's Aviation Advisory Committee and recently got in some hot water for taking a ride on Zabel's company plane.) Sundberg takes credit for convincing Zabel to withdraw the project, and he said a proposal for a similar project near Willow Creek has also been halted, for the time being.
Regarding rumors that the Glendale project may someday be resubmitted Sundberg stated unequivocally, "This project is not coming back. I even wrote on the Times-Standard website, 'I'll publicly offer my resignation from office if this project comes back.'"
Sundberg said the public's passionate resistance may be tied to the ugly recent history of illegal hash labs, which tend to explode causing fire and injuries. "I don't know if people fully understand what a regulated industry looks like, compared to the illegal market," he said. Mercer-Fraser's proposed facilities were "closed-loop systems," he explained, "with safeguards built in and spark-arrested light switches, you know, stop valves. … The only chemical is 50 gallons of food-grade alcohol."
The proposed facility in Willow Creek, near the Big Rock swimming hole, has faced opposition from the Hoopa Tribe and the Klamath-Trinity Joint Unified School District, among others. "So we need to circle back around and have our staff talk to these different entities and see if we can get them on board or not," Sundberg said.
Ultimately, he said, he'll defer to public judgment. "We still need to have a conversation, though, about what is appropriate where. Anywhere close to a river? It just may not be the best place for these [facilities]. And I completely understand that."
Cannabis Regulations
Many of the Humboldt County growers who've gone legit have been shellshocked by the double-whammy of regulatory burdens and plummeting wholesale prices. The Board of Supervisors has faced accusations of imposing onerous taxation with a system that ranges from one to three dollars per square foot of cultivation area, depending on the type of grow operation.
Sundberg said that was really the only practical way to handle taxation, considering there was no track-and-trace program in place to verify yield when the tax was first implemented. And considering that Humboldt County has "the lowest tax in the state of California," Sundberg said he doesn't believe that's the main problem for local growers.
"Their problems are trying to come into compliance with all the state regulatory requirements," he said. "When you start talking about upgrading your roads, your culverts, making sure you have no runoff, following your operations plans, [installing] ADA bathrooms for your employees … . I think it's easy to hit the tax, but I don't believe the tax is what the issue is."

Oversupply and constrained demand have driven prices down, a problem made worse by the state legislature's decision to allow growers an unlimited number of one-acre permits. "It's very, very difficult for the small farmer," Sundberg said. And while local growers will have a tough time competing with industrial-scale operations in Monterey, Salinas and elsewhere, Sundberg remains optimistic about the industry's prospects here in Humboldt.
"I think that it will eventually shake out, kind of like the Sunkist model," he said, referring to the juice giant's nonprofit cooperative structure. "There will be a bigger entity that does the marketing, the branding, attorneys, accountants keeping all the books straight, all the overhead there. And then the smaller farmers can just do what they do best." The bacteria and enzymes in Humboldt County soil allow us to grow the highest-quality weed in the world, he said, and QR codes on tax stamps will allow local growers to differentiate themselves in a crowded market. "We can grow things here that others can't," he said.
Election Fight
From early in the interview Sundberg expressed frustration and annoyance with Madrone, whose candidacy seems to have gained momentum. Specifically, Sundberg accused Madrone of misrepresenting facts during their recent debates. We examined those allegations, giving Madrone a chance to respond, and the hard feelings only escalated.
One allegation came up during a debate in Willow Creek.
"He [Madrone] said the Bigfoot Mobile Home park was sending out eviction notices to all its residents," Sundberg said. "I have absolutely no clue where he gets his information. … The next thing you know — there was people from the mobile home park at the debate — they come running up to the owner crying, saying, 'You're kicking us out?' … That was a complete lie."
When challenged, Madrone held firm: "It's not false, and Ryan needs to check the facts," he told the Outpost. Madrone acknowledged that residents of the mobile home park haven't been given a firm eviction notice, but he forwarded a document sent to residents at some point in the past (the note is undated). It reads, in part:
Park Residents:

It has come to my attention that there is current concern that we are closing the mobile home park soon. As we had stated when we purchased the golf course and mobile home park, at some point in the future we would be closing the park. While we have a vision that one day the site of the park will be changed to have cabins on it, we will not be closing the park anytime soon. Changing the use of the site requires permits and at the minimum, a one year notice to all residents of the park. We are not currently ready to proceed with either of those.

I hope that eases some of your concerns.
"You can split hairs that they [residents] haven't gotten [an eviction notice] yet," Madrone said, but he said residents are "still under a cloud" given the implied possibility of a one-year eviction notice.
Madrone said the landlord has recently "softened" his position. "There are many suggesting he did that because of the pressure of me making the statement," he said.
Sundberg, meanwhile, says he's the one who convinced the property owners not to kick the mobile homes off the property.
"When it was first purchased — the golf course and mobile home park — they [the new property owners] had talked about doing an Airstream hotel," Sundberg said. "I called 'em and said, 'Super, super bad idea. Please, please don't do this.' So they changed the project to do eco-friendly cabins elsewhere on the property and leave the mobile homes."
So the mobile home park dispute seems to come down to how you interpret the above note from the landlord. Madrone also accused Sundberg of having a conflict of interest on cannabis land use policy because he has relatives involved in the industry, including an uncle and aunt with a grow operation on property they own just upriver from Mercer-Fraser's ditched Glendale project.
In response, Sundberg said he has "absolutely no control" over his extended family members and that any who may be in the industry "have gotten absolutely no special treatment whatsoever."
Another conflict-of-interest allegation from Madrone is a bit more complicated, and it involves the Trinidad Rancheria. In debates, Madrone has argued that, as a member of the tribe, Sundberg should have recused himself from all deliberations on a long-planned freeway interchange project south of Trinidad. (Click here to access a pdf of Caltrans' Project Study Report.)
Sundberg sits on the Board of Directors for the Humboldt County Association of Governments (HCAOG), which has listed the interchange project as a transportation priority. Sundberg said he consulted with the agency's legal counsel and was told he didn't need to recuse himself from any votes on the issue, but he did so anyway, out of an abundance of caution, when HCAOG voted to request funding for the project from the California Transportation Commission.
Madrone has said that's not good enough — that Sundberg should have left the room while the project was even being discussed. He reasons that all members of the tribe, including Sundberg, stand to benefit financially if the interchange project goes through and provides better access to the Rancheria-owned Cher Ae Heights Casino and Sunset Restaurant. "He had a direct personal gain to be achieved," Madrone said. "To just recuse yourself at the vote? No, that doesn't cover it."
Sundberg disagrees, and he accused Madrone of systematically misrepresenting the particulars of the interchange project. Their back-and-forth on the specifics, with the Outpost acting as middle-man, grew far too convoluted to be fully recounted here, but a main point of contention concerned an allegation made by Madrone that the interchange project could involve the taking of private property from unwilling sellers through eminent domain.
As evidence, Madrone points to Caltrans' Project Study Report, which lists a variety of project alternatives, many of which do involve "takes" of private property.
For example, in analyzing design alternative 4(b), the report says:
It is estimated that 15‐20 parcels may be affected with the proposed frontage road from Westhaven to Cher‐Ae Lane, with many of the acquisitions requiring full parcel takes.
Later, in a section addressing capital outlay estimates, the report says this of design alternative 1(b):
Acquisition estimate assumes full take of small retail business in SW quadrant of the Scenic Drive/Main Street intersection and partial takes of other businesses in the vicinity of the Trinidad-Main Street Interchange.
"There's only a couple of options that don't involve take," Madrone said. Regarding Sundberg's insistence to the contrary Madrone said, "I'm not sure he's read the plans or really understands what's going on, to be honest."
Sundberg responded with an incendiary accusation. "I really wish he was not so racist when it comes to a Tribe that did not endorse him," the supervisor said, referring to the fact that Madrone has received endorsements from the Karuk and Yurok Tribes while the Hoopa Valley Tribe has endorsed both candidates. "He has never spoken to the Trinidad Rancheria or participated in the public meetings they have [been] held on the Rancheria's master plan either, so he has no clue what the Tribe is doing and why," Sundberg wrote via email.
How are Madrone's criticisms racist? Sundberg reasoned that since the federal government long ago confined tribes to defined rancherias, they have a fundamental right to access those lands. It's a social justice issue, he said, "so I just think, I think it's a racist comment to say a tribe cannot get to their property."
Madrone, for the record, said that's not his argument. We'll have more on his perspective when we publish his Outpost interview next week.
As for the issue of eminent domain, Sundberg said the Caltrans report includes numerous alternatives because that's what's required by the California Environmental Quality Act, but "the preferred and feasible alternative does not touch any private property."
He put us in touch with Jacque Hostler-Carmesin, Trinidad Rancheria's chief executive officer, who said via email that while no specific project alternative has been selected yet, eminent domain "is not anything we have ever contemplated. We want to work collaboratively with the community and look forward to the next phase of this project to chose the best alternative."
The Economic Future
Before the interview wrapped up, Sundberg touched on his goals for another term and his observations about the local economy. Both issued are tied to cannabis. "We need to make sure that Humboldt can stay viable and also protect our environment at the same time," he said.
As for the economy, Sundberg said, "I'm looking around in my district, and I don't see this doom and gloom that other people are [seeing]." McKinleyville, in particular, has a bunch of new businesses, including an Ace Hardware, a Grocery Outlet, Eureka Natural Foods and two gyms.
"Business after business is popping up," Sundberg said. "Our unemployment rate is really, really low. … And the business owners I talk to are all busy."
He expects some growing pains as Humboldt's weed economy transitions from the black market to a regulated industry, but he suggested the money hasn't disappeared — it's just being spent in different places: on consultants and permitting fees rather than Garberville retail shops, for example.
"It's definitely changing, and Humboldt's gonna have to change with it," Sundberg said. "And I think we can do it. I'm pretty optimistic."