SEE ALSO:
###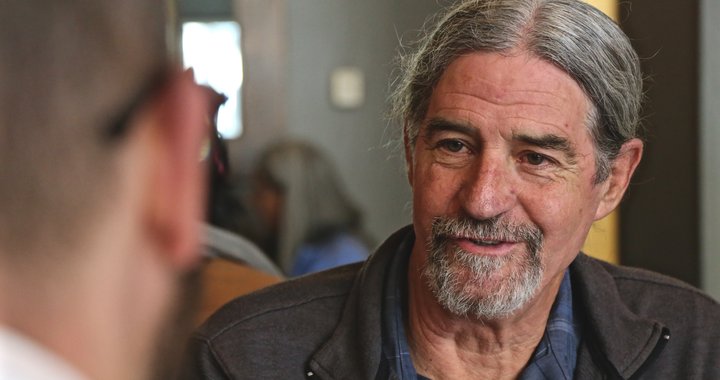 Before he became a watershed management consultant, before he served as mayor and council member for the City of Blue Lake, before he taught forestry to students at Humboldt State University or, for that matter, became a student there himself — first in the '70s and again in pursuit of his master's degree about a decade ago — even before his young daughter gave him the nickname Sungnome, which he used for most of his professional career, Steve Madrone was a Boy Scout.
"In fact, I went all the way to becoming an Eagle Scout," he recalled during a recent interview.
Madrone grew up with two brothers and a sister in Orange County, back "when there were still orange groves everywhere." he said. And he fondly remembers summer camping trips with his scout troop at Mammoth Lakes. As a kid he thought every adult he encountered on these trips was a forest ranger, whether they worked in the campground or behind the counter at a local store.
"As a young child I would tell people, 'I want to be a forest ranger,'" Madrone said. Some of those people suggested he attend what was then called Humboldt State College, and eventually he did too.
Humboldt was known for its forestry department, but after transferring here from Cal State Fullerton in 1973, Madrone wasn't impressed.
"It was pretty obvious pretty quickly that the forestry being taught in the '70s was an industrial forestry," he said. "It was not sustainable, not best for fisheries [or] watersheds."
He switched his major to natural resources, and when he graduated in 1975 he felt confident that his five-year education in the sciences would afford him a lot of professional flexibility.
Forty-three years later he's running for a seat on the Humboldt County Board of Supervisors, challenging two-term incumbent Ryan Sundberg in the Fifth District. (Read the Outpost's interview with Sundberg here.) During an interview at the Ramone's in Old Town, the pint glass of hot chocolate with whipped cream Madrone had ordered (he's never had coffee in his life, he said) went largely ignored as he offered lengthy critiques of his opponent and explained why he believes he's a better person for the job.
In campaign ads and debates Madrone has painted Sundberg as an insider and a good ol' boy, accusing him of numerous conflicts of interest. In contrast he described himself as firm believer in consensus-building through stakeholder engagement, and Exhibit A in his argument is McKinleyville's Hammond Trail.
"I was the leader, the spearheader, the writer of the grants, the negotiator of the easements, the person who worked out building momentum and support from all the adjacent landowners," he said.
In the mid-1980s, when the county's work on the Hammond Trail seemed to be stalling out, staff called in the California Coastal Conservancy and the Redwood Community Action Agency (RCAA), where Madrone was employed as director of natural resources services.
He spent a dozen years meeting with reluctant landowners, convincing them to sign easements over to the county. "So that was my baby," Madrone said. "And yes, the McKinleyville Services District was a partner, the county was a partner and the landowners were a partner, but I am well recognized as the person who pulled off those negotiations, wrote those grants and spearheaded the effort to build that trail."
Madrone traces his activism at least as far back as his first stint at HSU in the '70s, when he worked with fellow students to expand Redwood National Park.
"My group, the Emerald Creek Committee, were the students at Humboldt who crafted the watershed restoration portion to the park expansion bill that gave birth to watershed restoration across all of the United States," Madrone said. "I'm well recognized as one of the grandfathers of the watershed fisheries restoration industry, not just in Humboldt County but all over the country.
"In fact," Madrone continued, "in two weeks I'm going to Alaska to receive a national award for my work in the Mattole River Estuary for the last seven years as the executive director for the Mattole Salmon Group and working with BLM [the Bureau of Land Management] and all these other state and federal partners and landowners, including ranchers, helping them restore their grasslands. So I'm about ready to get this national award."
It turns out, however, that the award is not national; it's regional. And Madrone is not being honored personally. The 2018 "Riparian Challenge Award," from the Western Division of the American Fisheries Society, is honoring the Mattole Estuary Restoration Project, a collaborative effort involving landowners, two watershed groups and numerous state and federal agencies. Asked to clarify his claim, Madrone acknowledged that the award is regional and said he didn't mean to imply that he was receiving it personally, though he was the person who spearheaded the collaboration between his group and the BLM.
Madrone said he also launched the Annie & Mary Trail effort while on the Blue Lake City Council in the 1980s; he was "the only government elected official in Humboldt County" to speak out against abandoning the North Coast Railroad in 1985; and he created "the first mitigation bank in the history of California" with the reconstructed wetlands at Bracut Marsh.
"There's just one project after another up and down the coast that I spent my entire 45-year career working on — coastal access, coastal restoration, fisheries restoration and working with ranchers, loggers, timber companies, developers." Contrast that with Sundberg, Madrone said, pointing out that his election opponent was recently given the lowest grade on the annual Conservation Report Card issued by the watchdog nonprofit Act Coastal.
"Who's the better protector of the coast here?" Madrone said. "Night and day."

'So Many Conflicts of Interest It's Scary'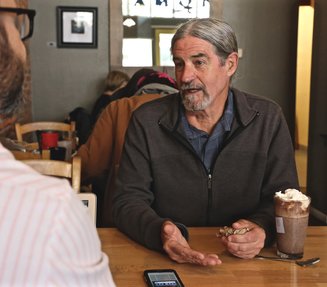 During the campaign Madrone has accused Sundberg of a wide variety of conflicts of interest, each of which Sundberg has denied. In October Madrone filed an official complaint with California's Fair Political Practices Commission (FPPC) against Ben Shepherd, Sundberg's appointee to the Humboldt County Planning Commission. The complaint alleges that Shepherd personally profited by selling property zoned for cannabis farming after helping to craft the county's Commercial Cannabis Land Use Ordinance. The FPPC has yet to issue a ruling.

A complaint filed against Sundberg and Second District Supervisor Estelle Fennell for taking a flight on a private plane owned by Justin Zabel, president of construction company Mercer-Fraser, was dismissed by the FPPC, as was a 2016 complaint against Sundberg alleging that as a member of the Trinidad Rancheria he stood to benefit from a Board of Supervisors decision allowing single-family residences in the county to be used as vacation rentals. (See the FPPC letter on that matter here.)
Still, Madrone said Sundberg has repeatedly involved himself in deliberations on matters where he stands to benefit. Specifically he brought up Sundberg's role on the board of the Humboldt County Association of Governments (HCAOG), saying Sundberg encouraged the agency to prioritize a freeway interchange project that will benefit the Trinidad Rancheria by improving access to Cher Ae Heights Casino.
He also mentioned Sundberg's involvement in dispersing proceeds of Measure Z, the county's half-a-percent sales tax measure, to the Boys & Girls Club of the Redwoods, another agency for which Sundberg sits on the board.
And he brought up a county-permitted cannabis farm on property owned by Sundberg's aunt and uncle near Glendale, just upriver from Mercer-Fraser's highly controversial — and now abandoned — cannabis extraction facility project. Madrone suggested that Sundberg inappropriately manipulated the gears of government in these matters.
Sundberg categorically denies each of these claims. He said legal counsel cleared him to vote on both the freeway interchange project and the Measure Z funds for the Boys & Girls Club yet he abstained from the votes anyway out of "an abundance of caution." And regarding his aunt and uncle's activities Sundberg told the Outpost they have received no special treatment.
Madrone said Sundberg should have done more than abstain from voting on these issues; he should have left the room entirely during deliberations. Sundberg, in response, suggested Madrone take it up with the FPPC.
Debates between the two men have grown increasingly acrimonious, and in conversations with the Outpost each accused the other of violating a pre-campaign agreement to abide by the principles of decency, honesty and fair play. Sundberg went so far as to accuse Madrone of being racist in his criticism of the freeway interchange project. Madrone, meanwhile, has landed endorsements from the Yurok and Karuk tribes, and the Hoopa Valley Tribe endorsed both candidates. Madrone said this is "Earth-shattering, given that he's the native."
As for the interchange project, Madrone insisted his critiques are about the public process, not race. HCAOG and the Trinidad Rancheria should have conducted a more inclusive planning effort, he said, one involving Trinidad, Westhaven, Patrick's Point and College Cove; one that asked big-picture questions about regional transportation needs and visions for the future. "This project really is designed to benefit the casino," he said.
As for his personal ideals Madrone said, "I'm inclusionary. I have a multiracial family. I've got four kids and 16 grandkids. Six of those grandkids are adopted foster kids … . We have black, white, Latino and Native American grandkids in our family. So I'm puttin' my walk where my talk is."
Cannabis Ordinance
Madrone said the Board of Supervisors is to blame for the economic decline of Humboldt County's marijuana economy. "In short, they've shot the golden goose by the way they've approached the whole thing," he said.
While there has clearly been an influx of greedy mega-growers, the majority, at the dawn of county regulatory efforts, remained "mom and pop homesteaders," people growing small-scale, environmentally responsible gardens in the hills, Madrone said. And he believes those good growers got thrown under the bus.
"What happened is everyone in the hills got demonized by the [California] Department of [Fish and] Wildlife, and then the board [of supervisors] jumped on that bandwagon when they started looking at this ordinance stuff."
With the first iteration of the Medical Marijuana Land Use Ordinance, he said, "the most egregious people got incentivized." The ordinance included a program designed to encourage growers to move their preexisting operations out of environmentally sensitive areas in the hills and move them onto parcels more suitable for agriculture. The program is called RRR, for "retire, remediate and relocate," and as incentive the county offered participating growers Zoning Clearance Certificates allowing them to quadruple the size of their cultivation area, up to 20,000 square feet.
Madrone said he would take a different approach, creating "stewardship overlay zones" to grant tax credits to growers who use best management practices such as water storage and growing in the sun without toxic pesticides. He also suggested that the county drastically reduce the regulatory burden for small-scale grows, requiring only an annual inspection — and no permit fees — for grows of up to 1,000 square feet.
"And suddenly the costs for being a small grower go down to where many of the 10,000-square-foot people go, 'Damn, I'm going back to 1,000,'" Madrone said. "My goals would be minimum impact on the environment, maximum positive impact on the economy."
He believes the county's weed regulations have instead struck a massive blow to the local economy. "This year, talk to any city in Humboldt County … every community has a 20-30 percent drop in sales — sales tax — directly related to what these cannabis ordinances have done. So that's the killing of the golden goose."
We did talk to some cities, and Madrone's figures are off. Janet Luzzi, finance director for the City of Arcata, said fourth quarter sales tax revenues in Arcata were actually up 0.6 percent compared to the same period the year prior. Eureka Finance Director Wendy Howard said sales tax revenues during the 2017 calendar year were down 1.7 percent compared to 2016. Fourth quarter revenues roughly followed the same patter, down 1.6 percent. County sales tax revenues, meanwhile, were down by just 0.1 percent in the fourth quarter, compared to the previous year.
Asked to explain the discrepancy, Madrone said his figures were based on anecdotal information gleaned from conversations with shop owners in local communities including McKinleyville, Trinidad and Garberville.
Even if the local economy does tank, would it be fair to lay those declines entirely at the feet of county supervisors and their weed regulations? Madrone said yes, "because the county allowed all these massive players to come in that were growing acres and acres and dropping the prices."
The only way Humboldt will be able to compete in the state marketplace, he said, is by doubling down on quality before large-scale growers ruin Humboldt County's reputation. "I don't think it's too late for the brand, but they've just about killed the brand."
Homelessness and Crime
Madrone questioned the county's approach to dealing with crime and homelessness, suggesting funds would be better spent on prevention rather than incarceration and inefficient treatment programs.
"Sheriff [William] Honsal said we're spending 80 grand a year putting people in prison," Madrone said. "The jails are overcrowded. They can't even keep most people there anymore. So they're just citing and releasing meth addicts and people with lots of mental health issues. … I would take that 80 grand — and I realize transition costs money — I would move that up front in the equation."
It's true that the cost of imprisoning each of California's 130,000 inmates in state prison is expected to reach $75,560 this year. But the cost of housing people in the county jail is much lower — roughly $37,700 per inmate per year, according to Samantha Karges, public information officer for the Humboldt County Sheriff's Office.
Regarding the homeless population, Madrone criticized the Board of Supervisors for taking so long to declare a shelter crisis, and he said he would encourage the county to pursue options beyond of the official strictures of the Housing First model, options including tiny house villages and sanctuary camps.
"I say we need to look at all the surplus county property, look at places where we can create facilities to be able to help people," Madrone said. "And yes, not everybody can be helped, not everybody wants help, but there are many that could be helped."
Madrone suggested the current board has acted timidly on homelessness issues because they're afraid of angering "certain reactionary constituents in their districts."
"You see all these [groups], 'Take Back This' and 'Take Back That.' People are out of control in their reactionary lack of empathy," Madrone said. "And they say, 'Just throw 'em all in jail,' and I'm like, 'Do you understand?' … It's not working."
Signs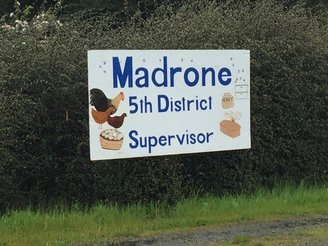 Before the interview wrapped up, Madrone mentioned campaign signs.
"The signs tell a real story," he said. "[Sundberg]'s got these really big signs at big businesses paid for by big cannabis bucks. I've got a lot of smaller signs in all the neighborhoods including all these artist-painted signs from community volunteers. … My signs show support from community; his signs show support from big money."
# # #
PREVIOUSLY: