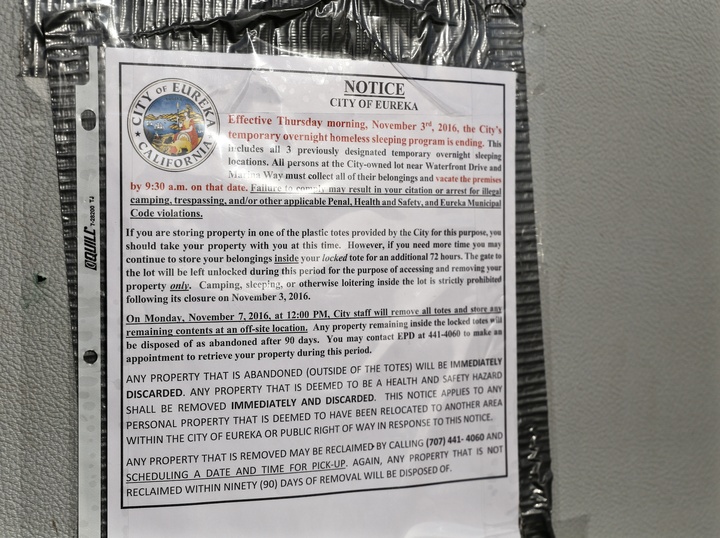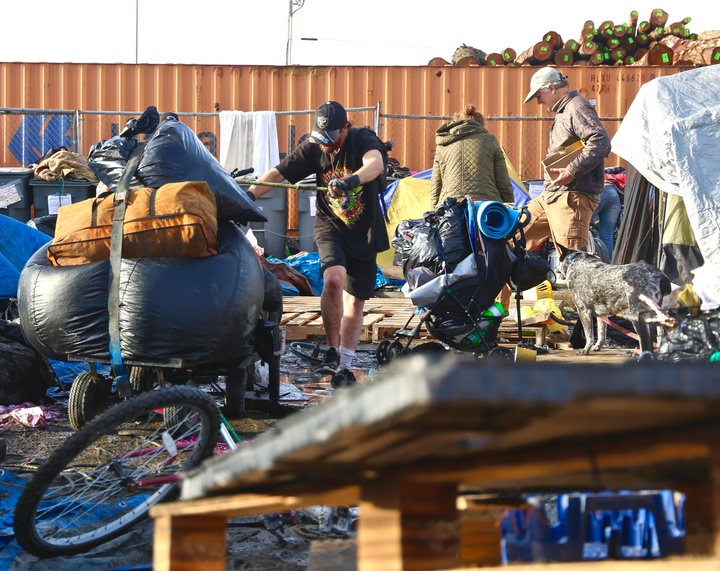 With less than 24 hours notice, the City of Eureka brought an end to its overnight homeless sleeping program, notifying campers Wednesday night that they must collect their belongings and vacate the city-owned lot near Waterfront Drive and Marina Way by 9:30 a.m. today or face possible citation or arrest. (Click here to read the posted notice.)
Eureka Police Chief Andy Mills said that after talking with city staff, homeless advocates and the homeless themselves he and City Manager Greg Sparks decided to end the program, in part due to increased violent crime, theft and complaints from people living and working near the camps.
"I'm looking at aggravated assaults, which this last quarter are up 122 percent," Mills said. And more than half of those assaults involved people who are homeless, either as victims or suspects, he added.
Mills said those living in the camps have also complained about the situation. "The homeless have been telling us since day one that they didn't like [the camps], that they were too compact, too close together," he said. "On top of that we've gotten endless feedback from homeless advocates such as AHHA [Affordable Homeless Housing Alternatives] that these aren't good living conditions with the standing water."
Mills said he's heard from a number of people who say the City of Eureka is being completely unfair.

"I reminded them that the homeless themselves didn't want to be in this situation," he said. "The City of Eureka has done more for the homeless than any other jurisdiction in this area. Name one other city that has a shelter or MIST [Mobile Intervention and Services Team]. We've housed well over 100 people. I don't know what more the city can do without the federal government and the state government stepping up and doing their job."
Asked where the campers are expected to go now, Mills said, "I would hope they would avail themselves of the resources that are provided."
—Ryan Burns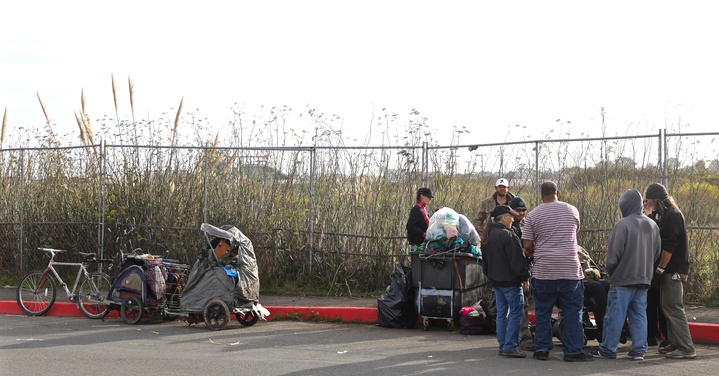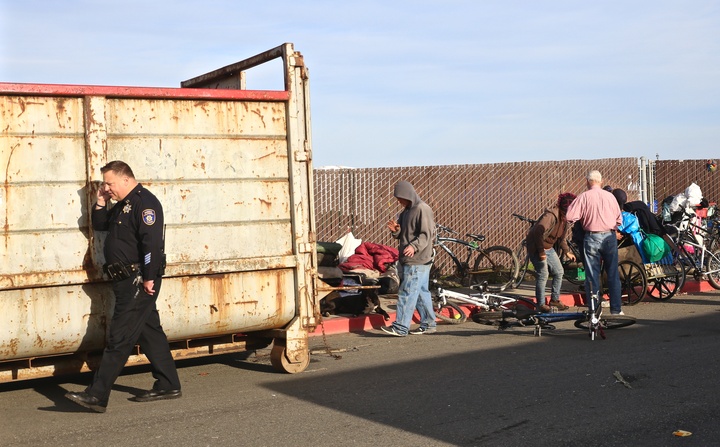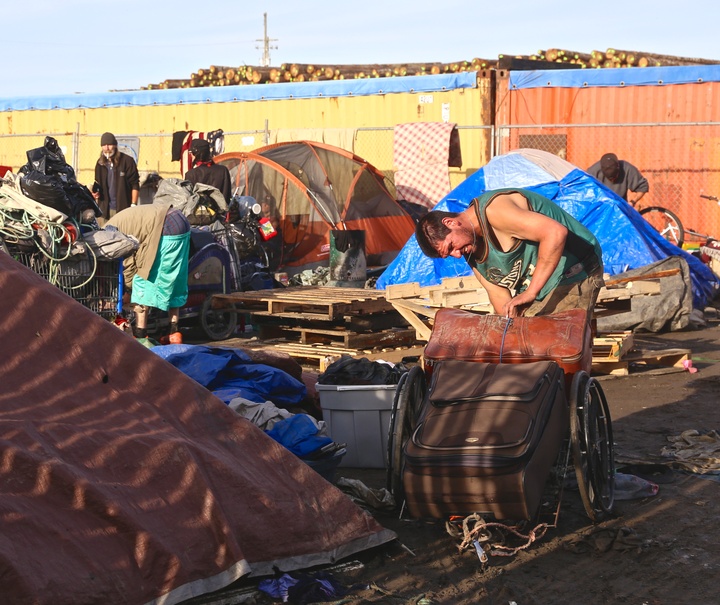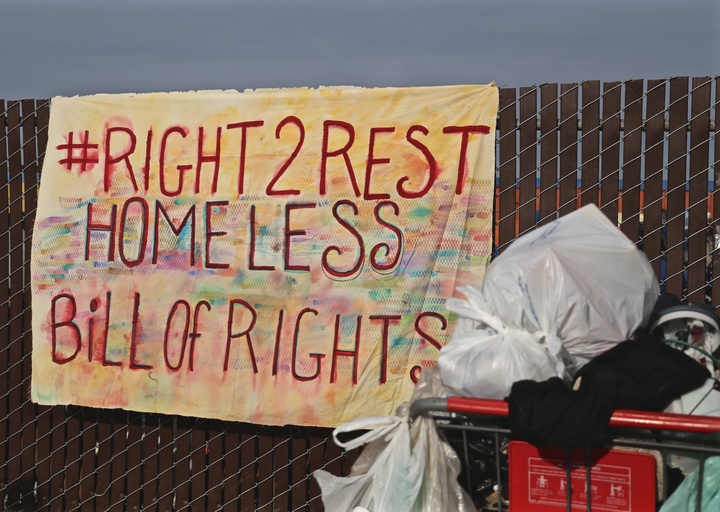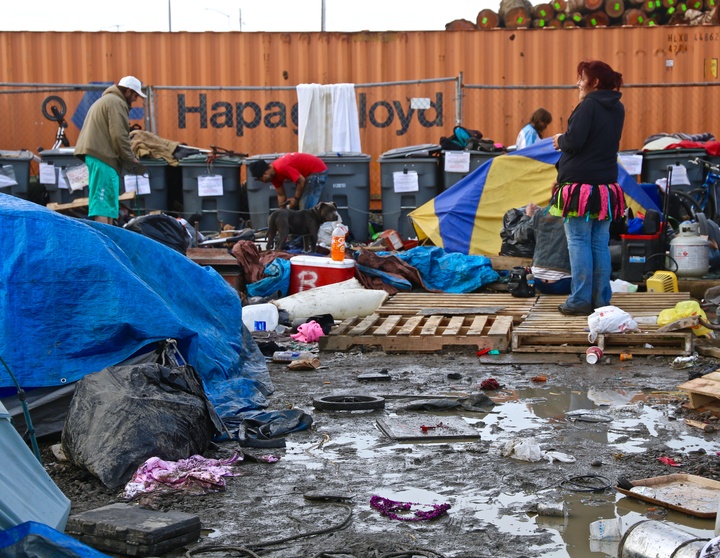 Meanwhile down at the Waterfront Drive temporary camp Thursday morning, residents toiled in the mud taking down tents and packing their belongings onto carts to wheel somewhere. Several EPD officers were on hand to oversee the move. AHHA co-founder Nezzie Wade was also on scene and said she was disappointed at the lack of services offered for people being forced to vacate. She challenged the idea that these campers were responsible for many of the crimes they're suspected of.
"These people are maligned tremendously and there's a great deal of misunderstanding about who they are," Wade said, noting that most of the campers lack vehicles to cart off some of the items they're accused of stealing.
But the main concern was the violent crime, said EPD Captain Steve Watson. According to their internal statistics, 53% of the violent crimes EPD has dealt with over the last quarter involved the homeless as either victims or suspects, Watson said. While those are citywide numbers, they've seen an increase in incidents clustered around the areas where the roving temporary camps are located.
"After six plus months of trying to manage this exceedingly difficult situation, the city [has decided] that's just not working," Watson said. He again stressed the temporary housing options available to the homeless — the Eureka Rescue Mission, the Multiple Assistance Center (aka "The MAC"), and Betty Chinn's Family Center — which all have beds available. There's also emergency overflow bed space potentially opening up at St. Vincent de Paul.
"People have had over six months to avail themselves of the services that are continually offered to them," Watson said, mentioning the multiple housing opportunities and service fairs. "At some point they need to do their part."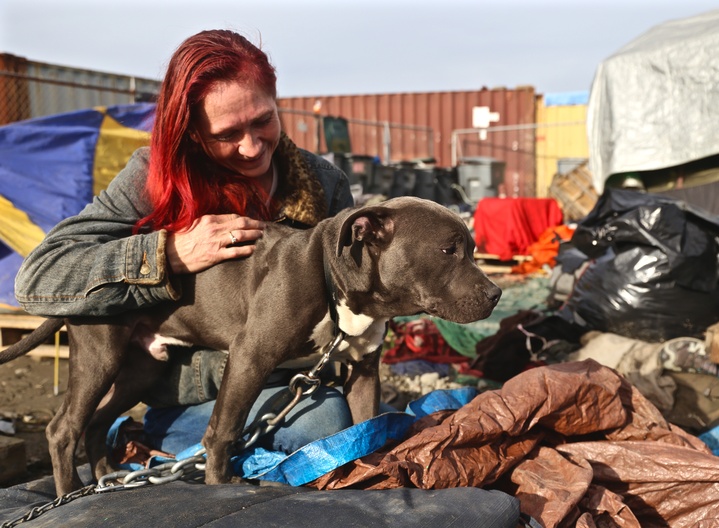 But some of the homeless say the options available to them don't fit their needs. Bonnie, one camper we spoke to, told us she couldn't go to the Eureka Rescue Mission or to Betty Chinn since they would not also accept her dog, Stomper.

"Everyone keeps saying, 'Why don't you ditch the dog?' No, that'd be like ditching a baby because he depends on me to protect him and take care of him," Bonnie said.
While she remained upbeat, Bonnie didn't know where she'd sleep that night before sharing some of her trials. She said that she'd recently been in the hospital due to a flare up related to her multiple sclerosis. She suspected she was again coming down with pneumonia and has lost near 60 pounds in recent months. Ultimately her goal is to get back to San Jose to connect with her three kids who currently live with her ex. She said she lost custody of them after spending some time in prison after a second DUI. Bonnie and her current partner came to Humboldt to attempt a new start away from the drug-filled lifestyle they'd been hampered by. They ended up living in the Palco Marsh until the evictions, there, and have been mostly camping in the temporary sleeping areas until today.
"I stay out of trouble," Bonnie said. "But with my illnesses I'm getting weaker and weaker … I need to get off the streets and there's nowhere to go."
—Andrew Goff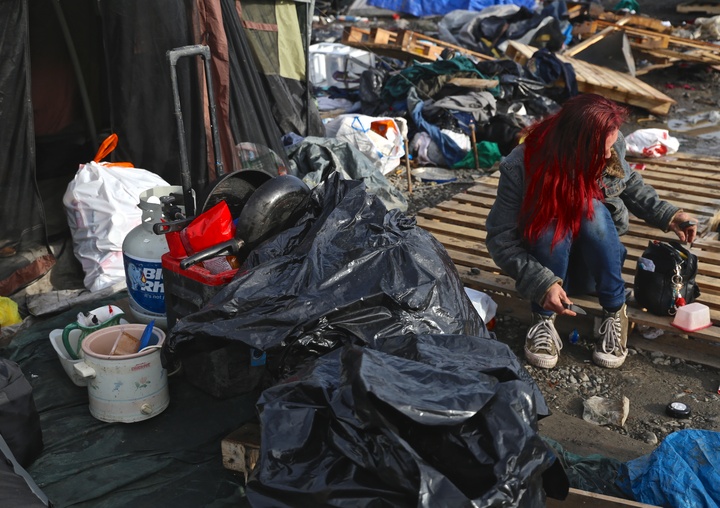 City of Eureka press release about the discontinuance of temporary sleeping areas below:
The rotating temporary sleeping areas in the City of Eureka were originally established to assist homeless individuals who were illegally camping in City greenbelt areas earlier in 2016. For the last month the sleeping area attendance has diminished to an average of about 20 sleepers per night. The City and County have worked together to house 73 homeless individuals through the "30 homeless in 60 days" program. Additionally, Betty Chinn has assisted in housing over 100 individuals since the first of the year, with 40 of those receiving help through Betty's Blue Angel Container Village and 43 persons have found employment.

Since the establishment of the temporary sleeping areas, staff has received numerous complaints from surrounding businesses, citizens who use the public areas, homeless advocates and the homeless regarding the conditions of each area. A significant increase in theft, graffiti, violent confrontations and assaults have occurred in the surrounding neighborhoods of these sleeping areas.

53% of violent crime reports in the last quarter involved homeless transients either as the victim or suspect. Due to the high rate of violent crime and theft it has been determined that in the best interest of the community, the temporary sleeping locations need to be discontinued. Those individuals that desire a place to rest will be directed to the Eureka Rescue Mission and Betty's Blue Angel Village. The order to discontinue the sleeping locations was made by the City Manager after weeks of discussion and consultation with senior staff, including the Chief of Police. The decision was made in the best interest of the City of Eureka and all of its citizens.

Enforcement of the City's illegal camping, (EMC 93.02) will continue during the daytime. Tents cannot be erected anywhere during daylight hours and property cannot be stored in public areas. Nighttime enforcement will be complaint driven and private property owners are encouraged to call EPD dispatch should they observe illegal camping occurring on their property.

City officials will continue to work diligently with the County of Humboldt, the Eureka Rescue Mission, St. Vincent DePaul and others to continue efforts to reduce homelessness in the City of Eureka. The City of Eureka looks forward to the re-establishment of Betty's Blue Angel Village at the City owned lot on West Washington Street, the opening of Betty's Family Center, and the 15 units at "The Lodge" which have been dedicated to housing homeless senior citizens. The City of Eureka's success to date in reducing homelessness is due to the level of collaboration and partnership with these organizations.
PREVIOUSLY: