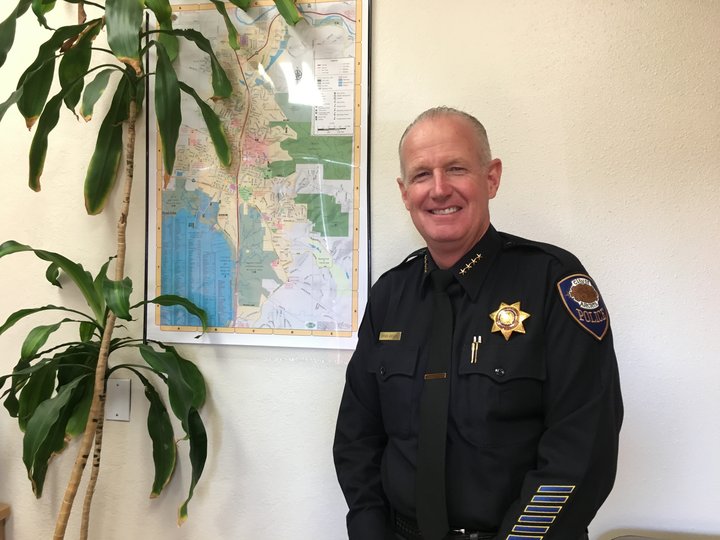 The Arcata Police Department officially has its new Chief. The Arcata City Council ratified a two-year employment contract with new Police Chief Brian Ahearn at a special meeting at Arcata City Hall today.
"I could not be more humbled to be here as your chief of police," Ahearn said during the meeting.
Ahearn was one of 20 candidates selected by an outside firm Bob Murray and Associates, which the City of Arcata hired to start the recruitment process back in May. From those 20, Arcata City Staff narrowed it down to seven candidates, from which Ahearn was selected.
Arcata City Manager Karen Diemer spoke to the council about the rigorous search, saying that she is very happy with the outcome and feels that Ahearn will be a great fit for Arcata.
"He has been an all-in candidate from the beginning of this process," Diemer said. "What really stood out for me was his commitment to community policing, his commitment to want to be part of this community and to engage in public dialogue around public safety with our community."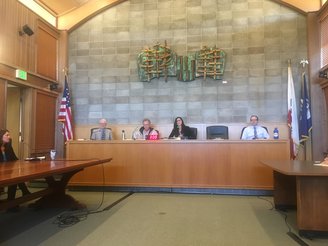 Diemer also addressed a potentially troubling aspect of Ahearn's past that came up as part of his screening process. In a 2015 a lawsuit filed against the San Diego Police department, Ahearn was accused of "aggressive behavior." But the the lawsuit was dismissed in 2017.
"The allegations were found to have no merit," Diemer said. Adding that City Staff had hired a third party investigator to dig deeply into these allegations. As a result, Diemer said they interviewed about 30 people, all of whom gave Ahearn a positive recommendation.
Ahearn boasts over 30 years of experience with the San Diego Police Department, most recently as a captain. He served on the SDPD with former Eureka Police Chief Andy Mills, who left area last year for a job with the Santa Cruz Police Department.
Mills has been influential to Ahearn and he says he has a lot of respect for him and his ideas on policing. "He's doing phenomenal things not just for his cities, but for the industry as well," Ahearn said. "If I could replicate just a small fraction of that, then I would be successful."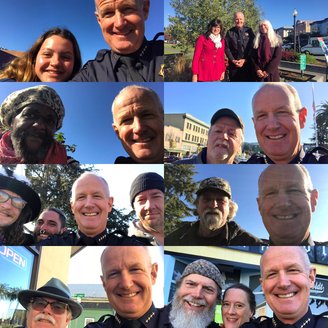 Ahearn is excited to get to know his new community. Before today's meeting, he was already out meeting locals on a selfie spree. He says that being friendly and accessible is important to him.
Ahearn told the Outpost he plans to bring progressive, "out-of-the-box" strategies to the APD, wherever possible. In San Diego, Ahearn says he did a lot of work developing educational and training programs for college students and local businesses to address safety surrounding alcohol and entertainment.
"Developing a relationship with students is really important," Ahearn said. He believes that his experience working with a college community well qualifies him for some of the issues that Arcata is facing, including an uptick in violence.
Building a relationship between the APD and the community based on trust is of utmost importance, Ahearn said. He understands that the murder of David Josiah Lawson and the length of the case has deeply shaken trust in his department for some community members, especially students and people of color.
"We have a lot of repairing to do," Ahearn told the Outpost. "But we want to have a relationship with students of color. We have to do a better job of initiating that dialogue and being genuine and real."
###