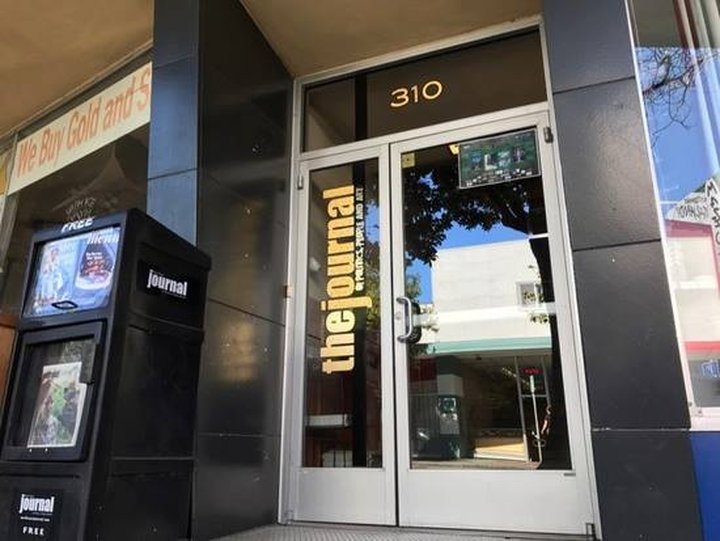 ###
PREVIOUSLY:

###
The case against a former North Coast Journal bookkeeper accused of stealing at least $60,000 from the publication is a "whodunnit" with many possible suspects, the defense attorney said this morning during the first day of a preliminary hearing.
Willow Creek resident Carmen Marie England, who served first as office manager and then bookkeeper for the Journal between 2005 and 2015, is accused of grand theft. NCJ co-owner and Publisher Judy Hodgson was the first witness for the prosecution, stating a minimum of $60,000 is missing, but the amount could be more because a number of records on payment for legal advertising are also gone.
Hodgson testified England made the Journal's bank deposits about 98 percent of the time, and she was the only person with access to the computer containing financial software for the publication.
"Carmen was very specific about not having her computer tied in with any of our networks," Hodgson said under questioning by Deputy District Attorney Steven Steward. "She was the only one with a PC. The rest of us had Macs."
After England left the job, Hodgson said, she asked the new bookkeeper to pay off a credit line with a balance of approximately $4,000. It turned out the balance was more like $8,000.
"It was just off," Hodgson said, " and that didn't make any sense."
She then asked the new bookkeeper to look at packets containing monthly financial reports, and at least two were missing. Some pages from a receipt book had been torn out. At that point "we went from zero to 10 (in suspecting England) very quickly," she said. A full-scale review began.
"The most obvious (problem) was missing cash from deposits," Hodgson said. She looked into one transaction herself, because she remembered it vividly. A chronically delinquent advertising-account holder had finally come up with $2,000 in cash, and the Journal staff was celebrating.
Hodgson said England was planning to make an $18,000 cash deposit at Umpqua Bank that day, so she gave her the $2,000 to add to it.
When Hodgson found a receipt for the transaction, "the bank had recorded $18,000 instead of $20,000," Hodgson said.
She reported the suspected embezzlement to Eureka Police Department "very early on" and named England as the suspect.
During cross-examination, defense attorney Michael Robinson called Journal accounting practices into question, saying money from Hodgson's winery in Fieldbrook was used to pay Journal bills, company money had been sent to Hodgson's daughter, and the Journal's general manager had been paid under the table.
Robinson questioned Hodgson about whether she instructed England to keep quiet about "surreptitious" dealings, and she responded "Absolutely not."
In the case of bonuses and perks for the general manager, Hodgson said, she considered that a private personnel matter and not the business of all 22 Journal employees. The money from the winery was a temporary fix during the country's recession, she said, and the money to her daughter was repaid.
Robinson suggested at one point that the Journal's general manager has a shady financial past and is one of "many other people who could have done this (embezzlement.)"
He ticked off the names of more than a dozen people who might have had access to records and locked filing cabinets, from the Journal's other co-owner down to 11 young people who served as short-term assistants to England.
Robinson made several sweeping statements during the hearing, such as "I'm suggesting this: She is flat-out not guilty, wrongly accused and that there are a number of other suspects."
He also charged that "they want to blame Carmen for their sloppy business practices."
Prosecutor Stewart objected numerous times to Robinson's line of questioning, asking Judge Kelly Neel to narrow the scope of the preliminary hearing to whether there is probable cause to believe England committed the crime.
At one point, Neel herself asked Hodgson, "Did you ever write a check and keep it off the books?"
"No," Hodgson replied.
Both the defense and prosecution have financial experts who are preparing to testify.
The preliminary hearing is expected to continue Thursday morning and could last until Friday.
England is not in custody and sat next to Robinson at the counsel table, often handing him notes.
###
Disclaimer: Many people who work at LoCO previously worked at the Journal at one time or another.