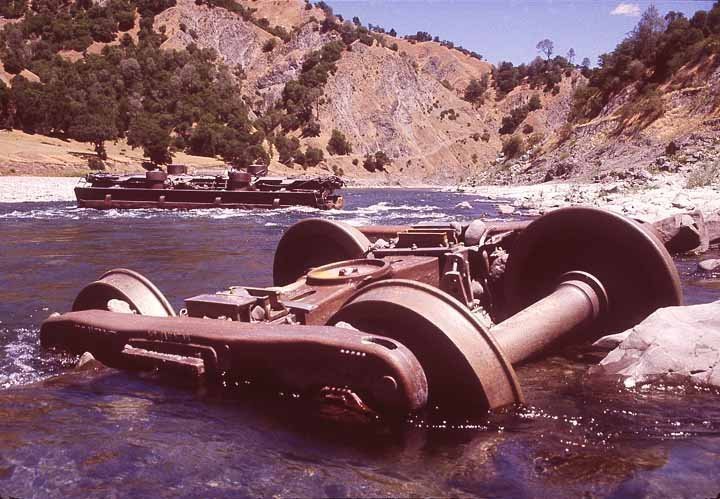 PREVIOUSLY:

###
California has officially eviscerated the North Coast Railroad Authority, a government agency created by the state nearly 30 years ago. The authority's previous mandate was to own and operate the infeasible railroad line between Humboldt County and the Bay Area. Its new mandate will be to prepare for its own dismantlement and the coming of the "Great Redwood Trail" along its route.
It was a shockingly shoddy and oddly belligerent public entity nearly from the get-go. It suffered an early accounting scandal; it presented absurd projections to state funding agencies to hustle up dollars; it blocked planning efforts in Humboldt County, where no trains have reached in the last 20 years; it gave former congressman Doug Bosco's company an exclusive right to operate freight trains on its tracks essentially for free, while Bosco's former congressional aide served as its executive director; it asserted to the U.S. Supreme Court — unsuccessfully — that it wasn't bound by the state's own environmental laws.
Now it lives only in zombie form. Gov. Brown today signed the bill from Sen. Mike McGuire that had formerly been called "The Great Redwood Trail Act." The newer version of the bill, the version that becomes law, punts on the big, expensive work that will need to be done to even prepare for a trail down the Eel River Canyon and elsewhere. (Though McGuire did secure a $4 million set-aside to buy out Bosco — a man whose pocketbook is no stranger to largesse from public funds.) The Great Redwood Trail, if it ever happens, is a long, long way off.
But the current legislation should make regional non-motorized transportation much, much more feasible. The last leg of the Bay Trail will be somewhat simpler, and it won't be crazy to dream of extending it down to College of the Redwoods, or Fortuna, or Scotia.
Press release from the office of Sen. Mike McGuire:
Senator Mike McGuire's landmark legislation that seeks to turn the crumbling 300 mile North Coast railroad line into the Great Redwood Trail was signed into law by Governor Brown today. The Trail would extend from the glistening shores of San Francisco Bay to the panoramic waters of Humboldt Bay and would run through some of the most dramatic landscapes on earth including wine country, alongside the banks of the Russian and Eel rivers and into the stunning old growth Redwood forests of the North Coast.


"We couldn't be more thrilled about the Governor's action, which will launch one of the most significant positive transformations we've seen in a generation here on the North Coast — taking a crumbling rail line, managed by a functionally bankrupt public agency, and turning it into a world-wide wonder of a trail and economic driver for Northern California," said Senator Mike McGuire. "It's time for us to move beyond the old debates and begin the process of turning this 300 mile rail line into a world class trail and destination that generations will enjoy."


The State Transportation Agency, along with the California Natural Resources Agency, will begin the all-important master planning process for the Great Redwood Trail by examining potential trail alignment, trail construction and long-term management costs, terrain suitability, rail banking potential, property easements and the possible governance structure of the trail. The planning process could take two years to complete.


McGuire is thrilled to now have the Natural Resources Agency as part of the study, since they specialize in trails and park issues, and could potentially be part of the eventual ownership of the Trail.


The State Transportation Agency will also complete a study of Northern California Railroad Authority's (NCRA) significant debts and liabilities while developing a road map to closing the agency down. This process could also take up to two years to complete.


In the meantime, NCRA's freight rail mission is dramatically reduced. They are now simply charged with cooperating with state authorities on the study and creating an agency shut-down plan while preparing for the transitioning of the right of way for trails.


The Great Redwood Trail will become a significant economic driver for the rural North Coast communities it winds through. California outdoor recreation is one of the fastest growing economic sectors of the Golden State's economy. It generates over $92 billion a year here in California, is responsible for nearly 700,000 jobs with over $30 billion in wages, and brings over $6 billion in tax revenues back to state and local communities. Once completed, the trail could attract hundreds of thousands of locals and visitors alike to hike this spectacular landscape and inject needed funds into our small, rural economies.


The new law also gives the Sonoma Marin Area Rail Transit agency (SMART) the ability and funding to negotiate for the take-over of the complex, long-term freight contract that NCRA sold to Northwestern Pacific Company over a decade ago. This could provide SMART with full control of the rail line from Marin to Willits in Mendocino County. This will help SMART as they would now manage both passenger and freight operations, which would aid SMART's long-term scheduling and expansion needs. The State Secretary of Transportation and the Director of the Department of Finance would have to approve any takeover plan of freight operations between Willits and Marin.


"An enormous amount of work has taken place over the past year on this legislation, meeting with hundreds of groups and residents from every corner of the North Coast. That said, we know that the real work is about to be kicked off – the initial master planning process for this spectacular trail," Senator McGuire said. "This public process will be done right, not fast. It will be inclusive of all voices, detailed and data driven. We'll be hosting public meetings in early 2019 to inform the community on the planning process, receive critical input from neighbors and residents and talk about how we can work together in the months and years to come on the development of the Great Redwood Trail."