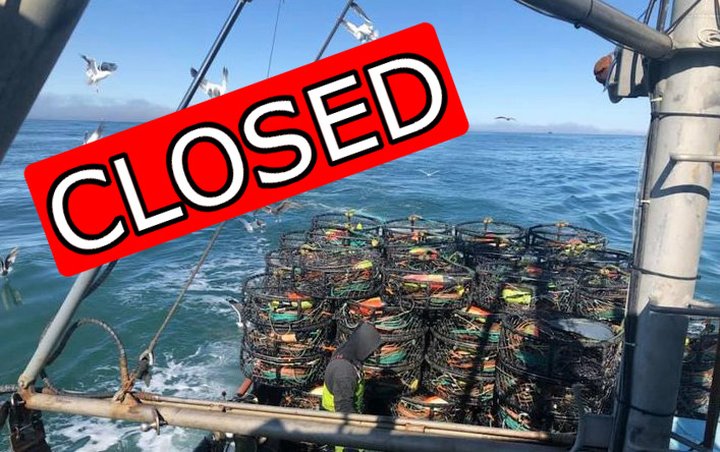 Commercial crabbing season closes statewide today, 21 days after a settlement was hashed out between the California Department of Fish and Wildlife and the Center for Biological Diversity over a spike in whale entanglements between 2014 and 2016.

For those who work in the crabbing industry, like Humboldt Fishermen's Marketing Association President Harrison Ibach, the closure means three fewer months of much needed income.
"It's absolutely devastating. A good portion of the Dungeness crab fleet relies on spring fishing for survival," Ibach said. "It's hard to say how much money is lost. Sometimes individuals don't catch as many crabs early in the season when the volume is low. A spring fishery can actually save someone's season. A lot of people rely on paying bills, car payments, house payments, feeding their children, all on a spring fishery and we're now taking that away."
Susan Rotwein of Cap'n Zach's Crab House in McKinleyville had to close up shop prematurely this year as a result of the busted season brought on by what she calls an "extreme environmentalist group."
"We've run a small family-owned business for almost 25 years," Rotwein told the Outpost. "This is the most devastating blow to the industry we've ever experienced."
Rotwein called the Center for Biological Diversity's actions in this case "morally indefensible" and said the shortened season will likely bankrupt many members of the local fishing community.
"The first part of the season is for making up the costs of all the things you've invested in, and the second part of the season is for making enough to pay the bills," Rotwein said. "You have to pay for your crab tags and all the other permits, boat insurance, fees, fuel, bait, it just goes on and on and on. How do I pay for that when you've taken away my way of making a living?"
The local business owner also called the decision "short-sighted," adding that fishermen weren't given enough time to brace for the economic impact.

"Fishermen are resilient," she said. "They can plan, but when someone pulls the rug out from under you without notice, it's like a shot to the head. A lot of families can't recover."
Last week the Board of Supervisors showed its support for the local crabbers, who turned up in large enough numbers to form a line outside the county courthouse before the meeting began.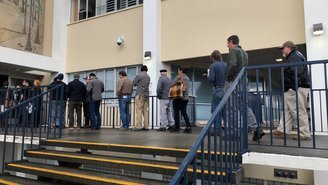 During the meeting, the board unanimously passed a resolution stating that it will work with community members and legislators to protect the local fishing industry and the local marine life.
In the meantime, ropeless crab pot methods are being tested in hopes resolving entanglement concerns, but Humboldt Fishermen's Marketing Association President Harrison Ibach said developing an effective method for the North Coast might be tricky.
"They are actively trying to find an efficient way to use and incorporate less gear into this fishery, but this fishery is quite unique and it's going to take some testing to replace our traditional fishing methods," he said. "On the East Coast, you can run many traps with a few ropes. We need hundreds of ropes because the CDFW banned long lining Dungeness crab traps for environmental reasons and because it's a highly competitive fishery. A lot of fishermen are in close proximity with each other and you can create massive tangles."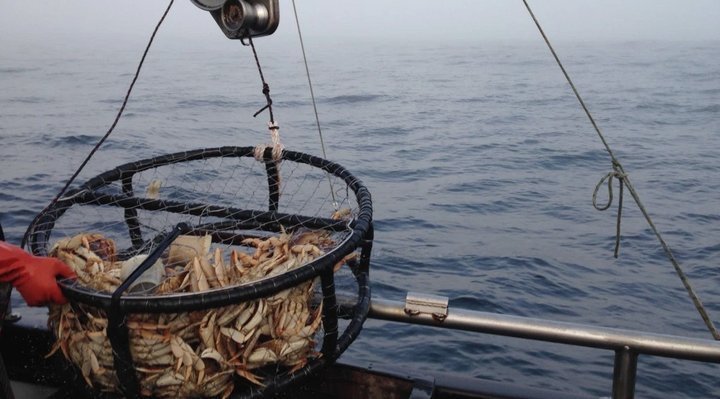 Ibach and Rotwein both argued that local fishermen already take precautions to avoid whale entanglements, and said that they believe the entanglement numbers would have continued to trend downward regardless of the settlement.
"Yes there were record numbers [of whale entanglements] in 2015 and 2016, but as of this year, we've had only one entanglement," Ibach said. "I think [the 2015-2016 season] was set up for disaster. There were more whales in shallower waters because their feed was closer to shore, and crab season didn't start until May, so there was more gear in the water than ever."
Rotwein also said that she believes the Center for Biological Diversity confabulates data, stringing together information that may not necessarily be related. And she's not unfounded in her opinion. According to the entanglement summary reports put out by the National Oceanic and Atmospheric Administration, it's unclear how many of the reported whales actually became entangled in California waters.
"I think you start running into problems when folks who don't have any clue about the fishery are trying to solve it for us," Rotwein said. "Fishermen don't want to harm the marine environment. We care for the environment, if we didn't, we wouldn't have a job."
While this year's closure is already pushing local crabbers to their financial limits, Ibach said future years could be worse if the issue isn't resolved.
"I would say that with a combination of domoic acid and whale issues we could potentially lose an entire season," he said. "Which this fishery has never seen before."