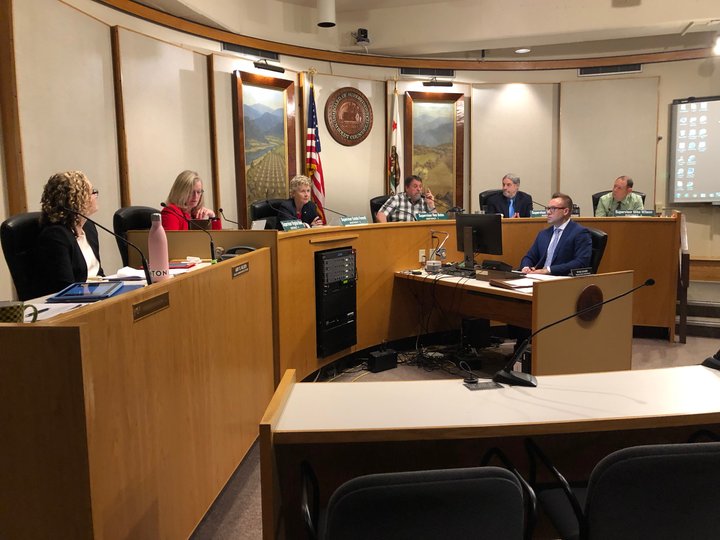 As the Humboldt County Board of Supervisors meeting got underway at its normal 9 a.m. start time today, there was still a line of people extending out the front door of the courthouse and onto the steps. Most of these folks, it turned out, were local crab fishermen who had shown up in force to support a resolution aimed at saving the local fishery from "devastating economic harm," the county staff report notes.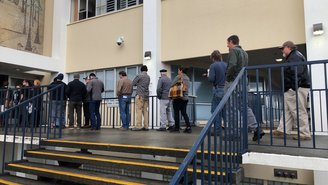 The threat comes in the form of a recent settlement between the California Department of Fish and Wildlife, the Pacific Coast Federation of Fishermen's Associations and the nonprofit Center for Biological Diversity. The latter group sued the state in late 2017, arguing that Dungeness crab pots and their lengthy ropes were responsible for an uptick in whale and sea turtle entanglements.

As a result of the settlement, the commercial crabbing season is scheduled to be closed three months early. While this may be good news for whales and sea turtles, it represents a serious financial blow to local crabbers, many of whom are already struggling to get by.
Those who spoke at today's meeting said whale entanglements are rare off the coast of Humboldt and Del Norte counties, and shutting down the season would put hundreds if not thousands of people out of work.
"We were blindsided by this ruling," said crab fisherman Zach Rotwein of Trinidad. He noted that the Dungeness crab fishery is certified as sustainable and said locals have "made a lot of moves to make entanglements not happen."
Pacific Choice Seafoods General Manager Rick Harris said his company recently made a $1.2 million investment in its Eureka facility in order to run crab from this time of year into July. Instead the company is looking at having to lay off employees.
"This is a travesty and a disaster for the community," said crab fisherman Patrick Davis, who owns two fishing boats and employs "eight or nine guys." In all, more than 20 people spoke in favor of the resolution.
The board passed it unanimously with the intention of sending a copy to the California Department of Fish and Wildlife. Calling the abrupt season closure "unacceptable" and "unwarranted," the resolution effectively tells the state to let locals handle matters on our own: "[W]e will work together with our fishing community and legislators to protect our fishing economy, marine mammals and the ocean habitat from real threats."
Coastal Commission Nominations, Take 2
As you may recall, the board already went through this process back on Feb. 26. Governor Gavin Newsom had put out the call for nominations of candidates for the North Coast Region's seat on the California Coastal Commission. That spot was left vacant after former Humboldt County Supervisor Ryan Sundberg lost his reelection bid last year. (The seat is reserved for an elected official from the region.)
The North Coast Region encompasses Del Norte, Humboldt and Mendocino counties, and Newsom's original letter, dated Jan. 30, asked supervisors from those three counties — along with the city selection committees there — to nominate "at least one board supervisor and at least one city council member."
However, no county supervisors threw their hats in the ring. Instead, Humboldt County elected leaders, including the Board of Supervisors, nominated Eureka City Councilmember Natalie Arroyo and Arcata Mayor Brett Watson while Del Norte put forward Crescent City Mayor Blake Inscore and Mendocino recommended Fort Bragg City Councilmember Lindy Peters.
But in an unusual and unexplained rebuke, the governor's office rejected that list of nominees and issued a new letter, dated March 22, again calling for nominations of "at least one board supervisor and at least one city council member." The move left Arroyo, Watson and others baffled, and staffers at the governor's office didn't respond to the Outpost's request for an explanation.
This time around, two Humboldt County supervisors are pursuing the seat after getting calls from the governor's office directly, requesting just that. Third District Supervisor Mike Wilson and Fourth District Supervisor Virginia Bass each submitted a letter to Board Chair Rex Bohn and their board colleagues asking for the nod. (Read Wilson's here and Bass's here.)
Wilson's letter notes his Bachelor of Science degree in civil engineering, his master's in environmental systems engineering and his 20-plus years working as a consulting environmental engineer, plus his 11 years as an elected commissioner on the Humboldt Bay Harbor, Recreation and Conservation District.
Bass's letter highlights her recent work as president of the California State Association of Counties, her eight years as a county supervisor and her "30-plus years in the restaurant business," which she credits with teaching her how to "accommodate others needs and concerns while not diminishing the results." (Bass worked those many years at O-H's Townhouse, a Eureka institution opened by her father in 1956 and closed in 2008.)
There was some speculation among local government junkies about whether the Board of Supervisors would argue over whether to nominate Wilson or Bass. But when the item was introduced, Bohn made a motion to nominate them both. Second District Supervisor Estelle Fennell seconded the motion.
Public speakers, however, seemed to prefer Bass. Dennis Mayo, an outspoken member of the McKinleyville Community Services District, said he was speaking on behalf of local fishing groups and argued that serving in the Coastal Commission is "more about relationships than anything else." As such, his preference was for Bass, though he added, "If Mr. Wilson gets the nod we're gonna hope to work with him just as well, too."
Tireless public commenter Kent Sawatzky also chimed in for Bass, citing her work at O-H's and calling her a "people person."
And Uri Driscoll of Manilla, who ran against Wilson for the Third District seat in 2016, said Bass "has the right temperament" and "gets back to people."
While Wilson wasn't being directly slighted, neither were the compliments raining down on him. This pattern held when the matter returned to the board. Second District Supervisor Estelle Fennell said she supported nominating two supervisors as a way to increase the odds of a Humboldt County representative being selected, but she also added this: "I will say Bass has shown herself to be extremely competent in navigating the waters of Sacramento."
Wilson spoke up for himself, noting his credentials with regard to protecting water quality (a topic Mayo had brought up), and he said, "One thing we do know is that we don't know what the governor wants."
The board unanimously approved the letter nominating both Bass and Wilson.
Worth noting: The Del Norte County Board of Supervisors today approved a letter of support for Bass's nomination. The Mayors City Selection Committee, which includes mayors from all seven incorporated cities in Humboldt County along with the mayor of Crescent City, has yet to consider a second round of nominations. (It joined Humboldt County last time around in nominating both Arroyo and Watson.)
Fire Service Gaps
Next up, the board addressed an issue that's been causing concern and consternation for years, one that's gained extra urgency with the devastating wildfires California has seen in recent years.
The problem, in a nutshell, is this: Lots of people in Humboldt County live so far out in the hinterlands that their homes, barns, workshops and other buildings don't fall within the boundaries of any fire protection district. In fact, there's about 1.3 million acres of private property in the county that's outside any fire service boundaries. Plus, the Humboldt County General Plan allows future development in these areas.
No agency is legally responsible for providing fire protection to the buildings in such regions — not the county, not local fire districts and certainly not the volunteer fire departments. So what happens when one of these remote structures catches fire? Well, generally, thanks to the kindheartedness of firefighters, the closest fire personnel will respond anyway. This despite the fact that they don't receive any funding from property taxes, special taxes or assessments to do so.
Check out the map below. It shows areas that are within the boundaries of local firefighting agencies (dark green) as well as areas outside those boundaries where agencies frequently respond anyway (red).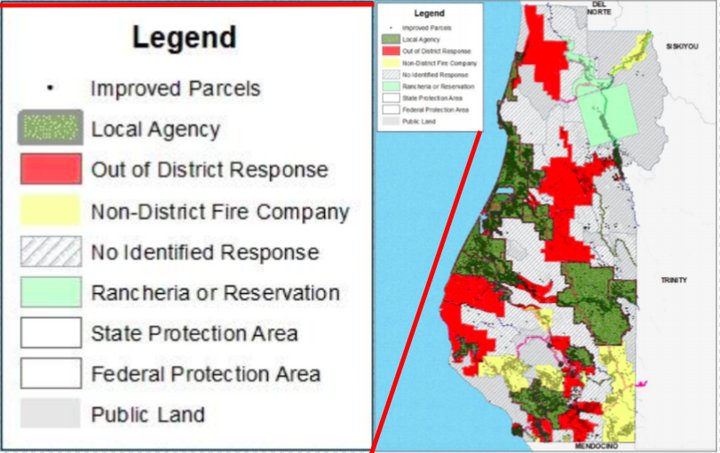 Sustaining fire protection services in these red areas has become increasingly challenging and uncertain, and local officials have been working for years to find a long-term solution. Recently, county staff has collaborated with the Humboldt Local Agency Formation Commission (LAFCo) to address the issue, and they decided that what the county needs, as a first step, is a strategy for sharing property tax revenues. This will allow existing fire districts to annex some of those red areas and perhaps make other fire companies willing to form new districts.
"I think this is a pretty historic moment," Fennell said in reference to taking this step. "It does involve a bit of a give from Humboldt County, but the get is enormous."
Fifth District Supervisor Steve Madrone tied the discussion back to the recent update of the county's general plan and the upcoming text amendments to that plan. He noted that dwellings are now principally permitted on land zoned for timber production, and considering the effects of climate change, including catastrophic fires, he said it's imperative to plan appropriately.
Wilson, who worked on an ad hoc group with Fennell to help develop the tax-sharing proposal, made a similar point. He said that in the past many in Humboldt County had the perspective that people should be allowed to build homes wherever they please as long as they're willing to accept the risks of living so far from fire protection services.
"I find that a very immoral perspective," he said, noting that firefighters have "a moral obligation" to protect structures that may contain children or someone's livelihood. "We need to work hard to bring people into those [existing] areas of service," Wilson said.
The board wound up approving the formation of an ad hoc working group, including Fennell and Wilson, that will develop specific recommendations to be brought back to the board within the next six months to a year.
At Wilson's request, the board also directed staff from the Planning and Building Department to analyze whether further development should be allowed outside of fire protection districts and bring that analysis back to the board within six months.
"There are people who have already established homesteads in the hills, [and] nobody is talking about removing that," Wilson said. "But we have to stem the tide a bit."