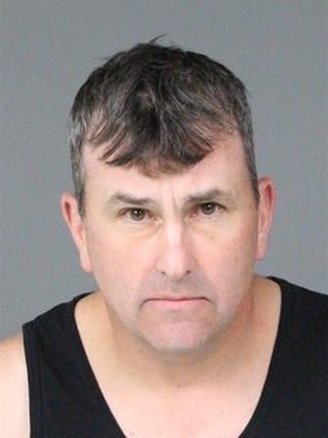 A February jury trial has been scheduled for a former county building inspector charged with taking bribes and stealing thousands in cash and goods from several Southern Humboldt residents.

This morning, at Patrick William McTigue's arraignment, Judge Kaleb Cockrum set a Feb. 10 trial date for McTigue, who allegedly convinced people to invest in an imaginary marijuana-delivery business in Sacramento. He also is charged with soliciting bribes from would-be marijuana growers, promising to fast-track their permitting process in exchange for money.
Attorney Neal Sanders, who represented McTigue during his preliminary hearing last month, confirmed this morning he will continue as his lawyer. Sanders entered not guilty pleas on behalf of McTigue, who is not in custody and attended the hearing.
Nine witnesses testified during the preliminary hearing. Among them were Weott residents Richard and Lacey Amaral, who handed McTigue $50,000 in cash as an investment in the phony business; Lloyd Julien, a Fortuna businessman whose partner gave McTigue $2,000 to smooth over their permitting process; Fortuna businessman Jeremy Kurtz, who testified McTigue asked for money to pay for future permitting costs; James Alves, who was never paid for the $10,000 in marijuana edibles McTigue was supposedly going to sell; and Jesse Genaro, who invested $50,000 in the non-existent business.
Another alleged victim, Timothy Roscoe, was out of town and unavailable to testify. But Roscoe told police he gave McTigue $27,000, partly as an investment in the phony marijuana-delivery business and partly as a bribe for speeding up the permit process. McTigue also is charged with grand theft from Kurtz, who owns a water company and gave McTigue $1,100 worth of water that McTigue claimed he was donating to children's hospital.
All of the alleged victims had the same experience: McTigue would take the money or goods and then disappear. With some people he would initially come up with excuses to put them off. Then he would just stop responding.
After the preliminary hearing McTigue also was charged with possession of marijuana for sale, as officers found packaged-for-sale marijuana during a warrant search of his Fortuna home.
PREVIOUSLY