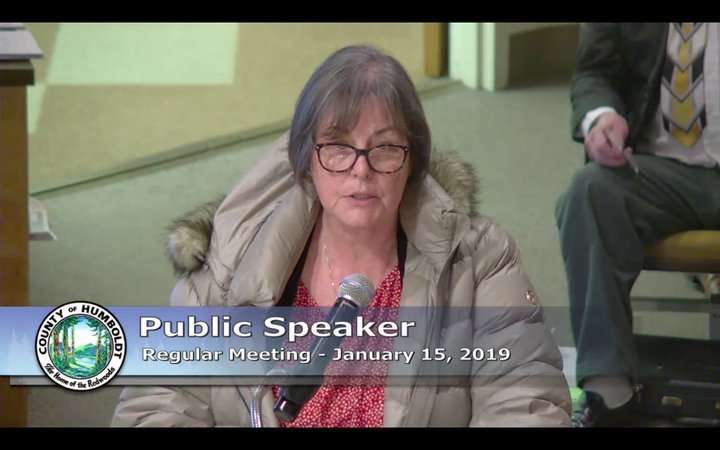 In the span of a single week — one that coincidentally includes the controversial third iteration of the Eureka Women's March — Humboldt County's Planning Commission will have gone from zero percent women to 28 percent women.

Recently seated Fifth District Supervisor Steve Madrone is set to appoint Peggy O'Neill, the planning and community development director for the Yurok Tribe, to the seven-member body, which makes decisions on land use issues in the county's unincorporated areas.
This follows last week's unanimous appointment of Melanie McCavour, an environmental planning consultant and HSU lecturer, to one of two at-large positions on the Planning Commission.
O'Neill's application for the position, which you can find at the bottom of this post, shows that she's worked in a number of roles for the Yurok Tribe over the past 19 years, including project director on such infrastructure projects as a tribal land use plan, community water system improvements, and the development of the Redwood Hotel and Casino in Klamath.
Prior to her employment with the Yurok Tribe, O'Neill worked for six years as general manager of the Cher-Ae Heights Casino and seven years as a planner and fund accountant for the Wiyot Tribe. She lives in McKinleyville.
She was among the 16 candidates for the at-large position landed by McCavour, and in speaking to the board on Tuesday O'Neill said she doesn't feel that citizens who appeared before the Planning Commission in recent years were always heard.
She also noted that with nearly two decades as Yurok planning director she understands construction and development, natural resources, and the legal requirements of the California Environmental Quality Act (CEQA) and the National Environmental Policy Act (NEPA).
O'Neill will take over the Fifth District seat on the commission, which was recently vacated by Ben Shepherd, whose term was due to expire at the end of the month. O'Neill will fill out the last week-plus of that term and be appointed to the next four-year term expiring January 31, 2023.
# # #
DOCUMENT: Peggy O'Neill's application