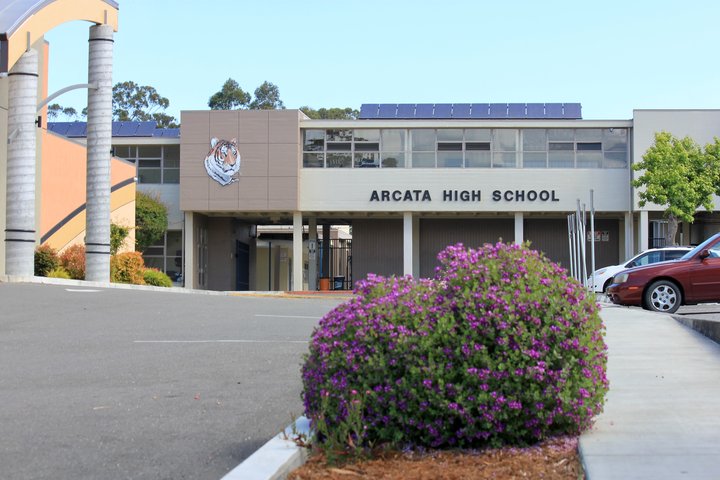 ###
PREVIOUSLY:
###
Jacquelyn Opalach just graduated from Arcata High. She plans on heading to Berkeley City College to study either sociology or media studies. She hopes to then transfer to UC Berkeley to pursue her degree and potentially move on to grad school to study journalism. Opalach has spent her whole life in Arcata and thinks fondly of her time at Arcata High.
"I loved high school," Opalach told the Outpost while sipping a cup of green tea at Mosgo's in Arcata.
Opalach is your typical teen. She likes hanging out with her friends, going to the movies and spending time on social media. Something she admits she does too much.
"Social media is everything," Opalach said. "Instagram for the average teenager is everything, especially for political and social issues."
Opalach herself used Instagram to help organize the March for Our Lives event on March 23. She said gun control and climate issues are some of the main political concerns facing students today and was inspired to get more politically involved after the shooting at Marjory Stoneman Douglas High School in Parkland, Florida on Feb. 14, 2018. After the shooting Opalach said she would shake from emotion and her desire to get politically involved.
"I remember this period of time when I was emotional," Opalach said. "It was less of a fear and more a craving to put something into action."
School shootings weighed heavy on Opalach's mind during high school, but being in California made her feel at ease, she said. As of 2018, California had 107 laws in place to regulate guns, making it the state that most limits use of and access to guns. In 2018, Florida had 30 gun laws in place during the Parkland massacre. Although the school shootings nationwide worried her at times, Opalach said she felt safe at Arcata High. Except for one day when Arcata High went on lockdown due to a shooting nearby.
Arcata saw a sunny December morning on Dec. 3, 2018. At around 8 a.m. at Heather Avenue and Foster Avenue, a shooting took place. One man was shot in the leg and groaned in pain at the crime scene that was nearly a quarter of a mile away from the high school.
Opalach was late to her AP English class that morning. Alarms were going off as she walked to her class on the second floor. Once she got she there, she was quickly ushered into the room by her teacher and directed into the corner of the room. The teacher calmly told the class to leave their stuff where it was and "just get to the corner." The whole ordeal lasted for about 20 minutes and left Opalach feeling "kind of spooked," but not afraid for her life.
Opalach said her fellow students took the event seriously and "were mature about it." They were focused, stayed quiet and continued with their studies after they got the all clear from those in charge. Opalach said that after a few hours, "it was just a normal school day."
"The day just kind of went on," Opalach said. "Some teachers commented on it and said the school takes threats very seriously."
The school does take those threats seriously. Mark Sahlbeg is the Dean of Students for Arcata High and oversees around 950 students and 50 teachers. He has been in his current position for the last six years and has been involved in education for 22 years, the majority of them here in Humboldt County.
Sahlberg said the school practices a lockdown drill once a semester and staff and faculty are involved in more trainings throughout the year. There was no direct threat to the high school that December morning, but due to the proximity of the crime, the school went on lockdown.
"Sadly enough when those events happen it is on people's minds, but schools are still some of the safest places to be," Sahlberg told the Outpost. "Students are resilient and strong. They are passionate and want to get an education. It boils down to the relationships between students and faculty. If there is a strong relationship, then that is one of the best protocols you can have."
During such events, rumors tend to fly not only in the community, but at the high school as well. School Resource Officer Greg Pope said students were texting each other saying that people were trying to get into the classrooms and trying to break down windows during the December lockdown. But what was actually happening was school officials were going around checking doors and securing the campus.
"It's a telephone game," Pope said. "Everybody adds a piece to the story and pretty soon it gets out of control and the dispatch center is inundated with phone calls when they are trying to handle the incident plus regular calls for service."
Pope is not your typical DARE resource officer of the past. His role is one that is more focused on building relationships with students and faculty and to serve as a liaison between the schools and the police department. Pope has a foot in both doors. He understands the day-to-day operations of the school and who needs to be notified in case of an incident. He can decipher the jargon over the police radio and give out accurate information, oftentimes helping to stop the spread of any rumors that may occur.
"I'm there on campus from the onset of a lockdown," Pope said. "Depending on if it is an off-campus threat, such as a vehicle pursuit and the guy bails out and runs towards the high school, or if it is an active shooter with everybody on campus, it is the same lockdown procedure."
According to an Outpost analysis of Arcata Police department data, during the 2018-2019 school year there were two homicides, eight calls for robberies, four reports of arson, approximately 117 incidents and calls for service for assaults, nearly 100 reports of burglaries and over 50 incidents involving narcotics or a hypodermic needle pick up within an approximate mile of Arcata High —- most of it being concentrated around the Arcata Plaza.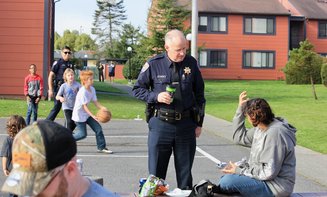 Arcata Police Chief Brian Ahearn said his department and Arcata High are currently working together to come up with some sort of a lockdown procedure for after-school hours, when many extracurricular activities are taking place. The desire for the procedure came about after an incident occurred near the high school at around 4:30 p.m. According to Ahearn, police received a call for service due to a disturbance near the high school. Once the responding officers reached the scene, one of the suspects ran but was "apprehend[ed] within seconds," Ahearn said. Officer Pope is currently working on the after school lockdown procedures and is in conversation with Arcata High officials about how to best implement it.
Chief Brian Ahearn talks about his department's work with local schools
In addition to Pope, the APD has two juvenile diversion counselors who wear plain clothes and split their time between the schools and the police station. Their main objective is to help kids who are, as Ahearn puts it, "challenged with certain stressors in their lives." The counselors help families who need assistance and guidance to get through the rough parts of life when kids are a bit unruly. Ahearn highlighted this program as a way for the police department to help steer kids on the right path and for the kids to "understand how much the city of Arcata cares about them."
"Not only do you have police officers who are trained and prepared to respond to any emergency, but we work very hard to humanize the [police] uniform," Ahearn said. "The [juvenile diversion] counselors have tremendous interpersonal skills and they know how to connect with kids right away."
Outreach programs are an essential way for Arcata police to reach the people they protect. They host community barbeques, attend school assemblies and Ahearn and Pope even coach a youth basketball team made up of mostly 6th graders. Ahearn stressed that a key part of policing is just getting out of your vehicle and meeting the community —- to show them that the APD is a resource for the community. That outreach and police work seems to have worked well. Although crime is up slightly in Arcata, the community seems to feel comfortable with the school and the police.
"That Heather Lane shooting was a drop-off time for the high school," Officer Pope said. "Parents were still driving up to the school and dropping off their [kids] and putting them in the hands of staff at Arcata High. The parents and students trust the staff that they are going to do the right thing, and they still felt comfortable that even though we were in a lockdown, to drop their [kids] off."