PREVIOUSLY:

###
Warning: This story contains graphic descriptions of the sexual abuse of a child.
###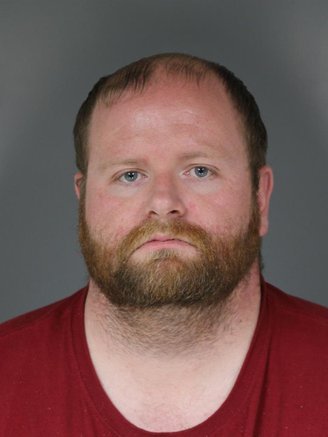 Jurors in the trial of child-molestation suspect Cory Jordan Fisher Sr. watched a video today that confirmed Fisher's youngest alleged victim initially said Fisher touched his genitals when he was 10 years old.
John Doe Three, now 12, testified yesterday that Fisher had "almost" touched his genital area while the two were lying in bed watching the movie "Homeward Bound." But today Deputy District Attorney Stacey Eads played a video of Doe Three being interviewed on Aug. 23, 2017, when he said Fisher touched "my area" and he was afraid.
"I was scared," Doe Three told child forensic interviewer Kimberly Schneider, who is part of the county's Child Abuse Services Team. "I thought he was going to hurt me again, like when he pushed me down in the hallway."
The boy testified yesterday about Fisher once grabbing him and throwing him against a hallway wall, knocking the wind out of him.
Doe Three said when Fisher touched his "area," he told him "Don't do that to me. Please stop." Fisher did stop, he said, and left the room to go to sleep.
The boy told the interviewer that he knew he was 10 years old at the time, because he had been counting down the days to his 11th birthday. The alleged molestation occurred about two weeks before he turned 11.
Doe Three also talked during the interview about how Fisher had hurt his older brothers, breaking one brother's nose and sending him to the hospital. And he recalled his mother, Angela Fisher, being disgusted by other acts Fisher allegedly committed.
"She said that (Fisher) touched their areas," he said.
Doe Three said his parents were getting a divorce, and it was probably for the best because they fought so often. He remembered Fisher calling his mother names and yelling at her.
He said he told his mother about Fisher touching his genitals on the same day it happened. He told her as soon as she arrived home from work.
"I felt like it was the right thing to do, not to wait," he said during the interview. His mother told him that if it ever happened again, Fisher would have to go away. Later he heard his mother yelling at Fisher in another room.
When his two older brothers finally told their mother they had been sexually abused by Fisher, she called Doe Three in Oregon. He was staying there with his grandparents. He said he had to remind her that he had already told her Fisher had touched him where he shouldn't.
Fisher, a former correctional officer, is charged with molesting the three boys and assaulting John Doe Two, causing great bodily injury. He also is accused of sexually assaulting three jail inmates. They have not yet testified.
Testimony was expected to continue Wednesday morning before Judge Timothy Canning.