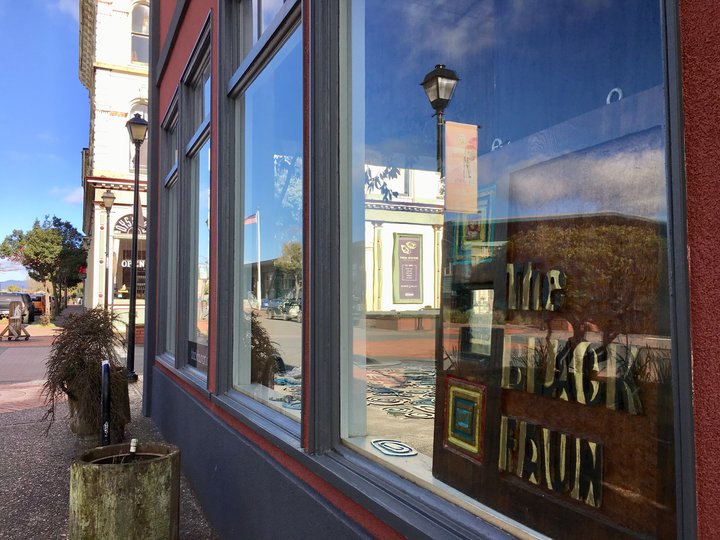 Today the Black Faun Gallery in Old Town, Eureka announced plans to close its doors at the end of May.

"After three years of remarkable presence in Old Town Eureka, it is with a heavy heart that we must close our doors," a post read on the gallery's Facebook page. "We are very grateful to the artists, businesses, patrons, and admirers of art in Eureka who have contributed their appreciation to our space."
The farewell message was posted along with this slideshow video:
Black Faun has not only hosted a wide array of art shows, but was also a sponsor and major part of the first annual Eureka Street Art Festival last August. Black Faun employees helped organize the festival and hosted daily guided mural walks throughout the week long event.
Gallery Director Violet Yamashiro told the Outpost that the Street Art Festival will still go on this year, without Black Faun as a partner.
Yamashiro said she was honored to be a part of the gallery and is very disappointed to see it close. But she is not surprised, as they have been struggling for a while.
"We just haven't been seeing sales that come close to covering expenses," Yamashiro said. "[We've had] lots of support, moral support of the arts and appreciation, just not a lot of money."
Art spaces have been struggling in general, Yamashiro added, mentioning the closure of Third Street Gallery in Old Town last year. She said that Third Street was a cornerstone of the art community here.

The Black Faun will have one last show, running April through May, featuring artists Marceau Verdiere and Thomas Fossier. The opening will be during Arts Alive on April 6.

Yamashiro encourages community members to come support these artists and celebrate the last days of the Black Faun Gallery.