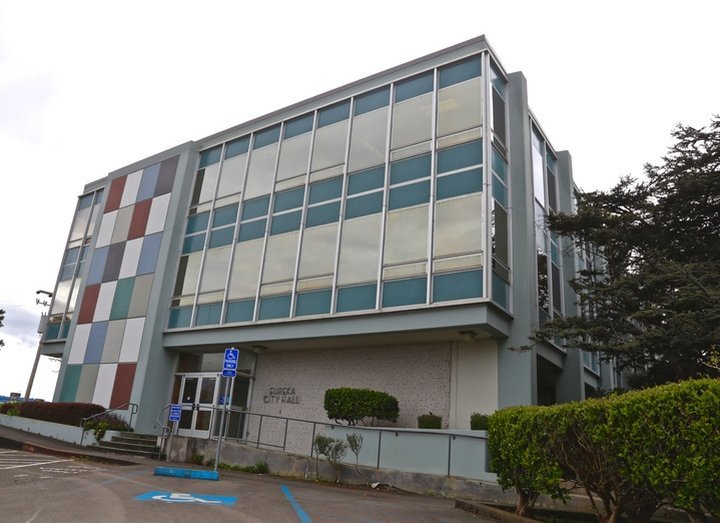 UPDATE, WEDNESDAY EVENING:
###
PREVIOUSLY:
###
With the city of Eureka set to award a $370,000 contract for marketing services next week, a series of text messages recently released by city government in response to a public records request show close contact – before, during and after the bid was released – between one of the contract's current finalists and Rob Holmlund, the city's director of development services.
The text messages released by the city, which date from August 2018 to April 2019, are between Holmlund and Alanna Powell – the executive director of the nonprofit organization Humboldt Made, which runs the city-funded Eureka Visitors Center out of the Clarke Museum, and a former temporary city employee who reported to Holmlund.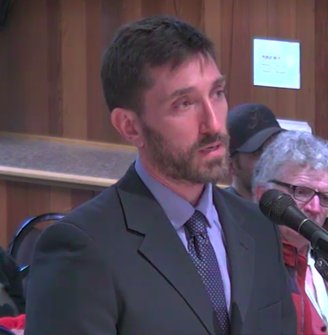 Powell's Eureka Visitors Center is one of two remaining finalists for the contract, along with a professional marketing firm out of Roanoke, Virginia. A dozen proposals in total were initially submitted. The final contract is expected to be awarded at the next council meeting, on May 21.
The text messages show that Powell had been aware that the city was planning to put the $370,000, which had been previously paid to the Humboldt County Convention and Visitors Bureau, out for bid several months before that was officially announced, and that Powell lobbied (unsuccessfully) for a piece of that money to be granted to her organization directly. They also show that Holmlund and Powell are personal friends, sharing gossip about various other people in government or the local nonprofit world, including other probable applicants for the marketing services contract. They exchanged texts during the very Eureka City Council meeting, on Feb. 5, where Holmlund asked the city to discontinue its longstanding relationship with the Convention and Visitors Bureau and instead put the contract out for bid.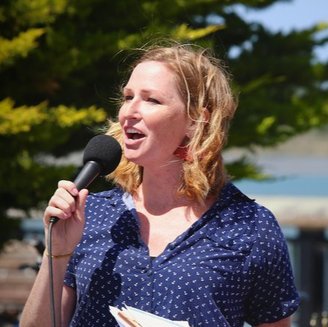 All in all, the 43-page document that chronicles the text messages veers between the personal (invitations to parties, jokes, trash-talk) and the professional (requests for favors in both directions, discussion of projects, lobbying) that seem uncharacteristic of the usual relationship between a municipal department head and a contractor for work overseen by his department. The Eureka Visitors Center currently receives $110,000 a year from city government; if it wins the current contract, it will receive nearly half a million dollars regularly.
On Monday, Holmlund acknowledged that he is friendly with Powell — they also live in the same neighborhood — but also said that he's friendly with any number of people in the local economic development world – and that's as it should be. "I would think that most people would be more frustrated by a government bureaucrat that isolates themselves in their office and doesn't engage with the community," he told the Outpost. "I'd almost say that I'd be failing in my job if I wasn't friendly with the people I need to work with on a regular basis."
City Manager Greg Sparks told the Outpost last week that the text messages don't reveal anything strictly improper, or anything that runs afoul of Eureka Municipal Code laws on how the city procures goods and services from third parties. Sparks noted that the city, as per its usual procedures, has set up an independent panel of local business people and others to review and rate the proposals the city received, and that the City Council, not staff members, will officially choose whom it will award the contract to.
"Nothing has been steered at this point," he said. "Certainly [Holmlund] doesn't have the ability to steer a contract. I don't have the ability to steer a contract."
Powell – who, under the aegis of the Visitors Center, organizes the summertime Friday Night Markets in Old Town and the recent Fish Festival – likewise told the Outpost that she is on good personal terms with Holmlund and "deeply respects him as a colleague," but doesn't believe that any professional lines were crossed in the recent competition for the marketing services contract. She suggested that while she did not know whether she or the Roanoke firm would ultimately win the contract, no one should be surprised if her organization came away with its second major award of city funds since July 2017.
"What's really happening is that we're a competent organization," Powell said. "We're passionate. We do good work. We get the job done over and over again." [This is as good a place as any for full disclosure: This reporter is a friend and former co-worker of Powell's husband, and attended the Powells' wedding a few years ago.]
###
On Wednesday, Jan. 9, staff posted the agenda for City Council meeting that would be held on the upcoming Tuesday evening. In it was a report written by Holmlund's office that asked the council not to renew its 40-year-old contract with the Humboldt County Convention and Visitors Bureau, which it had paid to promote regional tourism. Holmlund argued that the city should consider "an entirely new strategic approach to marketing" – one that would focus on Eureka specifically, and would be about marketing the city to local people as well as tourists, and to potential investors as well as sightseers. He asked the council to formally issue a request for proposals (an RFP) so that people interested in a city contract for such work might put forward their qualifications and their ideas for how to spend the money, and included a draft RFP that the council approve that evening.
This was the first official notification to the public that the city was intending to switch up its marketing strategy. But some people knew that it was coming, and among them was Powell, who as executive director of Humboldt Made – and, simultaneously, a temporary city employee under Holmlund – had previously competed for and won a similar contract for monies that the city had previously allocated to the Eureka Chamber of Commerce. It was that contract that set up the Eureka Visitors Center.
On September 13, 2018 – four months before the request to the council was published – Powell texted Holmlund to ask whether or not it would be a good idea to request that some of the money that would be included in the RFP four months hence could be diverted to her organization directly, to support some of the events she was planning:
Met with Chris. Everything is a go. Eureka will have two to three large events planned for feb, mar, & April and then a whole series in the fall. Coming on the heals of this what do you think of me pitching Greg [Sparks] that the CVB's contract not be put up for an RFP but amended to allocate a small marketing budget to ensure these events are successful? Similar to what Laura did with the county. Good idea or bad idea?
Holmlund gave a noncommittal answer: "Hmmm. Not sure. Let's chat."
Powell's proposal never went anywhere – the Convention and Visitors Bureau's full $370,000 went into the RFP – but it does demonstrate that Powell knew that their contract would soon go up for bid.
When he spoke with us Monday, Holmlund told the Outpost that it was fairly common knowledge that the city had been disappointed with the services provided by the Convention and Visitors Bureau – though the city funded the bulk of the organization's budget, the visitors bureau's marketing strategy has been laser-focused on the redwoods. The city's longstanding dissatisfaction with the organization was common knowledge, he said, and though Powell may have learned of it as early as four months before it went public, giving the Visitors Center a head start, the Convention and Visitors Bureau should have had an earlier start still.
"The CVB – they should have had a four-year head start," Holmlund said.
By December, though, the conversation about the coming RFP started to get more specific. On Dec. 11, Holmlund asked Powell if she would be available for a quick conversation at Ramone's. She replied that she'd be right over. About an hour and a half later, Powell texted Holmlund making it clear that she would be submitting a proposal to the city once the project was officially put out for bid:
The more I think about it the more I think asking for an attached Eureka marketing plan might be excessive only because part of what the city is paying for is a plan. Seems slightly unfair to request that level of work at the proposal stage. Granted I will attach a marketing plan but the plan will be beneficial to us running the VC no matter what happens. My two cents.
Holmlund told the Outpost that the city was closer to putting the contract out to bid at this stage, and he was busily running it by people in economic development circles. Any new In any case, he said, the record shows that he didn't follow Powell's advice at this stage: "The RFP does ask for a marketing plan, so even if she said it's not a good idea we went ahead and did it anyway," he told the Outpost.
It makes sense that he would have requested Powell's feedback on the RFP, Holmlund said – whoever would be in charge of the city's marketing strategy would have to work with its visitors center. And though he wasn't sure when, exactly, he became aware that Powell would be interested in applying for the contract, he was certain that would knowledge would have affected his approach. "As soon as she would express interest in applying for the proposal, that changed the way I would have talked to her and engaged with her about it," Holmlund said.
On the day that the RFP was published on the city website, Powell texted Holmlund her congratulations: "That is one comprehensive RFP. Well done!" The council was set to hear the matter, and possibly approve putting the Convention and Visitors Bureau contract up for bid at the next council meeting.
Before that could happen, though, Tony Smithers, the longtime head of the Convention and Visitors Bureau, died suddenly. The council postponed discussion of the matter until early February. In the meanwhile, Holmlund had a meeting with Richard Stenger, Smithers' right-hand man at the Convention and Visitors Bureau. It was an emotionally intense moment, Holmlund later told the Outpost – his children and Stenger's took a karate class together, they coached competing youth soccer teams, and he and his wife had been out to dinner with Stenger and his.
But as soon at their meeting was over he texted Powell to convey the gist of their conversation:
HOLMLUND: Whoa… I just had an intense conversation with Richard Stenger. Our kids are in karate together.
POWELL: Oh boy. I can only imagine, is he okay?
HOLMLUND: He apologized for not listening to my hundreds of warnings. Very sincere. Says he was a fool for not seeing what was so obviously a situation that Eureka needed to deal with. A little emotional, but genuine. It was all the exact opposite of what I had expected he was gonna say to me.
POWELL: Good for him, can't imagine being in his shoes. At least he can talk to you about it.
"I don't know why I just texted Alanna in that moment," Holmlund said. "I was shaken up."
A couple of weeks later, on the afternoon of the day the City Council would finally consider the matter, Powell texted Holmlund: "Good luck tonight." While the meeting was underway, he texted her to ask if a common acquaintance was in the audience; Powell replied that she was. The discussion on the item lasted two and a half hours, and much of it was extremely critical of the job that the Convention and Visitors Bureau had been doing for the city.
"Well done sir," Powell texted him at the end of the meeting.
"I'd like your honest opinion," Holmlund replied the next morning. "Did I over do it? Too harsh?"
"Have 5? Call me," she wrote back.
The council voted unanimously to put the project out to bid, to ask other firms how they might spend the yearly $370,000 to promote the city. For the next two months, there were only occasional text messages about the subject between Powell and Holmlund. She messaged him on Feb. 11 asking if there would be a "pre-bid meeting," and he confirmed there would be. They talked a bit more about the logistics of signing up for this meeting on Feb. 14. On March 1, he sent her an urgent message: "Call me. Important. Time sensitive." It's not clear what this was in reference to.
The deadline for proposals was Friday, April 5, and the Visitors Center was one of the dozen individuals or organizations to submit. (The Convention and Visitors Bureau, which declined to comment for this story, also submitted a proposal. It was not among the finalists.) On April 7, Powell texted Holmlund in a panic: Her staff, she said, sent the wrong draft to the printers, and therefore submitted the wrong version of their proposal.
Our final version of the proposal was unfortunately not the copy that was sent to the printer. Any chance we can discard the ones we dropped off on Friday and supply you all with the final version?
In response, Holmlund asks if she submitted the correct draft electronically. Powell said that she's not certain – she's traveling – but that she will have one of her staff members check.
Holmlund, Powell and Sparks all told the Outpost that the organization had submitted the correct electronic draft, and so they deemed the application to be complete by the deadline. The electronic version Powell had submitted was distributed to the committee that would review all proposals. Allowing Powell to amend her application after the deadline would have been a big legal no-no, but Powell's application was judged to have been complete, despite the error.
###
The text messages between Holmlund and Powell, along with material relating to Powell's short tenure as a temporary employee of the city in 2017, were released last month in response to two public records act requests from an anonymous individual or individuals who went by the names "SoHum Freelance" and "Emerald Trilegal." It's unclear who these people are, and it's uncertain what they want to accomplish with the information received in response to the very detailed requests.
But it seems not implausible that "SoHum Freelance" and/or "Emerald Trilegal" were fishing for background for a legal challenge in the event that the City Council decides to give the marketing services contract to the Eureka Visitors Center next week. Chapter 39 of the Eureka Municipal Code governs how the city selects contractors to work with on specific projects; it requires that contracts for professional services worth over $100,000 employ a competitive bidding process, at the end of which a winner would be selected. It defines a competitive bidding process like this:
A selection process where contractors, service providers and/or vendors compete for contracts for public works projects or to supply goods and services to the city are selected through a formal or informal process that allows full, fair and open competition for all qualified contractors and/or vendors with selection based on specified criteria established to best meet the needs of the city. Invitations for bids, requests for proposals, and requests for statement of qualifications and experience are examples of competitive bidding processes.
If a competitor for this bid were able to make the case that the competition were not "fair" or "open" – because Powell's Eureka Visitor Center knew that it was coming months in advance, say, or because Powell got a peek at a draft request for proposals a month before it was released to the public – then the city could open itself up to a lawsuit, on the grounds that it did not follow its own laws.
Speaking to the Outpost last week, City Manager Greg Sparks said that he didn't see anything in the text messages that would showed Holmlund releasing inappropriate information to Powell early in the process. There's no evidence of him giving her specific inside information. Sparks said he was certain that the city has followed the letter of the law. "I know we created that degree of separation in the process to make sure there wouldn't be favoritism," he said.
The real work of evaluating the proposals, he said, has been performed by a committee of city employees, local businesspeople and other dignitaries: Leigh Oetker of the Sequoia Park Zoo Foundation, Jon O'Connor of the Humboldt Bay Social Club, Mary Ellen Jurkovich of the Humboldt Patient Resource Center, Eureka Police Department public information officer Brittany Powell and several others, including Sparks, Holmlund and Lane Millar, the city's deputy director of development services. On top of that, he added, it will always be up to the City Council to make the final determination.
"Through this process we have two excellent proposals that we're still in a sense kind of sifting through before the next council meeting," Sparks said.
But it could be, also, that at least one of the public records requests is interested less in the current marketing services contract than the one awarded to Powell two years ago, when the city gave her organization that $110,000 per year contract to found and operate the Eureka Visitors Center in the Clarke Museum. Powell applied for this contract when she was still working for the city on a temporary basis, and she may still have been working for Holmlund when it was awarded. Though both Holmlund and Powell told the Outpost that she quit her temporary appointment with the city before July 2017, when that contract was awarded, the city's human resources office said in a different document released to "SoHum Freelance" that she continued to receive paychecks until September of that year. (The Outpost confirmed this with Will Folger, the city's human resources director.)
In any event, it appears that the Humboldt County Civil Grand Jury, which is charged with investigating the operations of local governmental bodies, has been interested in that earlier transaction. Powell texted Holmlund about this on Dec. 18:
POWELL: Any insight on why I'd be called in for an interview by the County Of Humboldt's Grand Jury? They said it was in reference to our contract with the City.
HOLMLUND: Let's chat.
POWELL: OK call me when you're free
In his conversation with the Outpost, there were times when Holmlund acknowledged that he didn't have good answers about why he and Powell had some of the conversations they had, and he seemed to also acknowledge that Eureka citizens and taxpayers might have legitimate questions about their loose, professional-yet-personal, friendly-yet-fiscal relationship. But it clearly baffled him somewhat. Wouldn't citizens want someone in his position to have strong relationships with private industry, and with other people economic development arena? Was it a bad thing that he and his wife went on a double dinner date with Stenger and his wife? Should he be as friendly as he is with the leadership of the Eureka Chamber of Commerce, or of the Redwood Region Economic Development Corporation?
Or take the case of Eddy Alexander, the Roanoke-based marketing firm that is the Eureka Visitor Center's last remaining competitor for the marketing services contract. When one of their representatives came to town for interviews, Holmlund said, he spent lots of time showing her around introducing her to people. He took her to the Chamber of Commerce, and to the launch of the mayor's Children and Families Initiative. They went to lunch for nearly two hours, and had an hour-and-a-half phone call later. He gave her "tons" of information, he said.
"If council ends up selecting that firm, does that mean I did something wrong?" Holmlund mused. "Maybe I did. I'm genuinely wondering now."
###
DOCUMENTS: