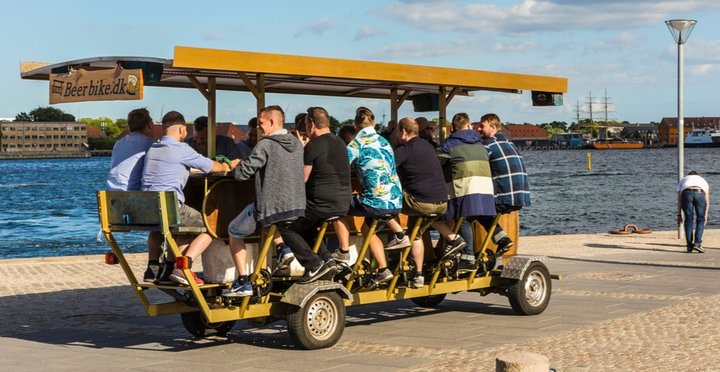 Whether it's public art projects, new festivals or even carnival rides, it seems the City of Eureka is always looking for creative ways to drive tourism. What's the next wacky idea on the agenda, you ask? The answer is pedal-powered party buses, which allow you to tour the town while guzzling beer (or perhaps boxed-wine, if that's more your kind of thing.)
At a meeting on Tuesday the Eureka City Council will consider passing an ordinance which would allow for the operation of a specific type of "pedicab" that you can drink alcohol on while you pedal around town.
These four-wheeled pedicabs, or "bike buses" as they are often called, are usually booked out for tours and include seating for between eight and 15 passengers. The passengers pedal to move the vehicle and the driver is in charge of steering and brakes. Sometimes the vehicles are electrically assisted, so that passengers don't have to pedal the whole time.
Eureka Development Services Director Rob Holmlund is thrilled about the idea of these pedicabs potentially being permitted in Eureka. "This is a great opportunity for Eureka to have another cool thing to do," he told the Outpost.
Holmlund said that the bike buses are something the city has been looking into for a while and that several California cities, like Davis, Sacramento and San Diego already have bike bus tour companies. And if you look at the reviews, it seems like they are pretty popular. The buses provide a unique way of sightseeing, while getting a little exercise and social time.
But the most exciting part about these tours, clearly, is that you can drink on them!
In 2015, former California Governor Jerry Brown passed a bill specifically allowing for alcohol consumption on these types of large pedicabs. The Eureka ordinance will need to comply with this bill, as well as the California Vehicle Code.

The buses wouldn't serve alcohol on board, but rather passengers bring their own. Because of open container laws in Eureka, the beverages would have to remain closed until the passenger is on the bus. Holmlund said this would work well if the bus stopped at, say the Booth Brewing Company, and passengers could take a tour and then get some cans of beer to go.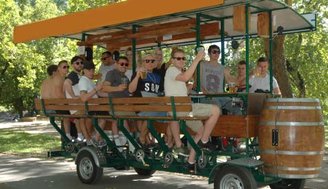 Also, according to the staff report,"no hard liquor, pre-mixed drinks, or gelatin-based alcohol shots are permitted on the four-wheeled pedicab at any time" (sorry guys, no jello-shots!) and the only types of beverages allowed are beers or boxed wine. When asked about the boxed wine, Holmlund laughed and said staff intends to change that text to be less specific. What the city doesn't want is beverages in glass containers.
The vehicles would also not be allowed to exceed 15 mph and are not allowed on any highways, which in Eureka would mean they can't travel on Fourth and Fifth Streets. Holmlund said that the ordinance will also only allow the buses to cross Fourth and Fifth at signalized intersections.
If the council does pass this ordinance next week, it would not be effective for 30 days, giving city staff some time to iron out some regulatory details and come up with an application process. After that, interested businesses would be able to apply, which would be June 21 at the earliest.
And Holmlund is hopeful that the council will be into this idea. He thinks the buses would be a big hit, especially during some of Eureka's public events like the Fourth of July or the Street Art Festival. He also says that when it comes to the public safety aspect of this project, the Eureka Police Department is on board.
"The police department has been heavily involved in this project and they're supportive," Holmlund told the Outpost.
The Eureka City Council will discuss this and other issues, including awarding a new city marketing services contract, at its regular meeting on Tuesday, May 21 at 6 p.m. in Eureka City Hall — 531 K Street, Eureka.
You can view the full agenda here.