PREVIOUSLY:
# # #
In a move that promises to thoroughly transform SoHum's flagship music festival, there will be weed at this year's Reggae on the River.
Okay, okay, we kid. Anyone who's even driven past the three-day riverside event over the past three decades has seen and smelled the dank-ass bank of ganja smog. It's a reggae festival! In Southern Humboldt!
What's new this year is that the weed sales will be fully permitted by both the state and the county. The venue (once again at French's Camp on the South Fork Eel River) will include a 40,000-square-foot "cannabis village" featuring more than 120 exhibitor tents, five security gates and a designated consumption area.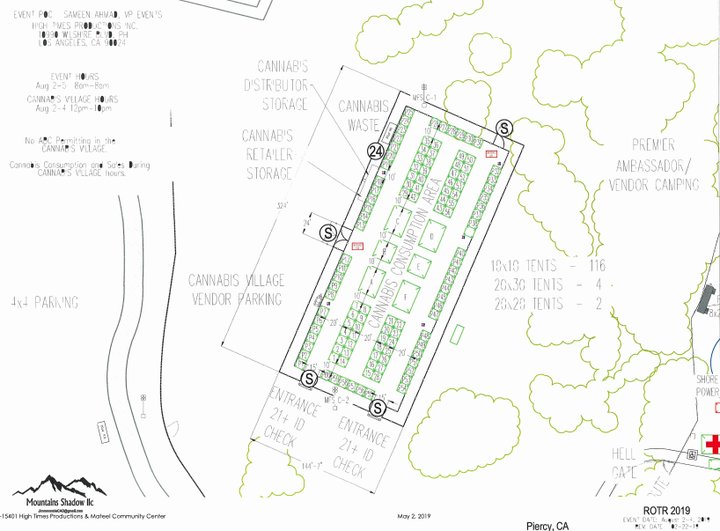 On Thursday, the Humboldt County Planning Commission unanimously agreed to modify the event's conditional use permit, clearing the way for the cannabis village as well as music performances into the wee hours (from 12 a.m. to 4 a.m. on Friday and Saturday nights) and changes to parking.
What's unclear at this point is how many of the village's exhibitor tents will be offering product from local growers. For the second year in a row, the Mateel Community Center has enlisted High Times Productions Inc. as event organizer and corporate sponsor.
Last year's event was a financial disaster, losing about $1.6 million and putting the nonprofit Mateel on the verge of bankruptcy.
Legal cannabis sales represent a promising new revenue stream, but with the unprecedented level of competition from licensed cultivators up and down the state, local growers and their advocates are worried about being crowded out by corporate vendors from Salinas, Berkeley and Santa Barbara.
Holly Carter, a Southern Humboldt resident who co-owns a small cannabis regulatory compliance company, submitted a letter to the Planning Commission outlining a number of concerns about the changes to the reggae festival.
For one thing, she noted the dramatic increase in the number of vendor booths compared to previous years.
"A hundred-and-twenty booths is a lot of booths," she told the Outpost. Many locals supplement their income during the summer months by selling merchandise at festivals such as Reggae on the River, Carter said, and she worries that packing more in threatens to dilute revenues for local retailers.
She also wonders whose pockets the event's revenues will wind up in.
"I have vended before at High Times events," Carter said. "What I know is they're really good at selling booth space." They're less good at ensuring vendors share in the profits, she said. In her experience, booths at events like this are expensive, with rent for a 10-foot-by-10-foot tent costing $3,000 to $4,000 and large tents costing $20,000 to $30,000.
We emailed High Times in hopes of learning the exact rental fees for Reggae's cannabis village but have yet to hear back.
At Thursday's meeting, Humboldt County Growers Alliance Executive Director Terra Carver addressed the commission, speaking in support of giving local cannabis businesses the opportunity to participate — "or the exclusive opportunity even, potentially," she said.
Planning Commissioner Noah Levy asked staff whether it would be possible to limit the event to local vendors, but Assistant County Counsel Natalie Duke was skeptical.
"I have some serious concerns about that on a legal front," she said.
Later in the meeting Commissioner Melanie McCavour said she, too, thought High Times might open itself to lawsuits if the company limited permits based on geographic location at this stage in the game, though she suggested that in future years perhaps organizers could bill it as an exhibition for weed from Mendocino and Humboldt counties specifically.
Commissioner Peggy O'Neill suggested to the High Times representative in attendance that his company conduct an outreach event to help local vendors apply.
The High Times rep said he'd be happy to encourage local participation but the company has no intention of limiting competition by discriminating against non-local applicants.
Humboldt County Senior Planner Steve Lazar said this represents the first proposal in the county for such an outdoor cannabis sales-and-consumption facility at an event, though it's not the first in the state. The Northern Nights Music Fest, which takes place July 19-21 at Cook's Valley Campground on the Humboldt-Mendocino border recently announced that it will feature sales and consumption of cannabis.
As with that event, Reggae's "cannabis village" will be limited to people 21 and over, and it will be separated from alcohol sales, as required by state law. The village will be open from 11 a.m. to 10 p.m. daily, and consumption will only be allowed within its confines, according to the permit.
Attendance for the event is capped at 9,000 people, including 6,500 ticket holders and 2,500 others (staff, performers, vendors, etc.), though as noted above, Reggae has failed to sell out the last couple of years.
This year's festival will be held Aug. 2-4. More information can be found at the event's website.