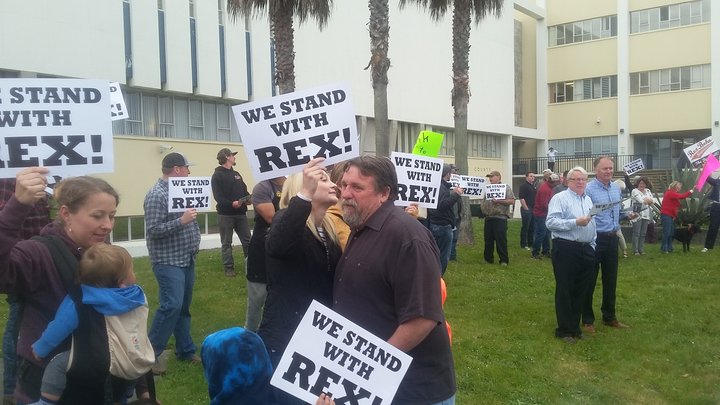 ###
PREVIOUSLY:
###
Dozens of people waved signs on the lawn outside the Humboldt County Courthouse this morning, asking passing motorists to honk their horns in support of Supervisor Rex Bohn, who was overheard telling a racist joke at a fundraiser inside the Ingomar Club in March.
About 60 citizens were in attendance for the rally at 8:30 a.m. Among them were former Eureka City Councilmember Marian Brady, former candidate for city council John Fullerton, former Eureka city manager and current Trinidad Rancheria economic development director Dave Tyson, and Bohn's son, Trevor.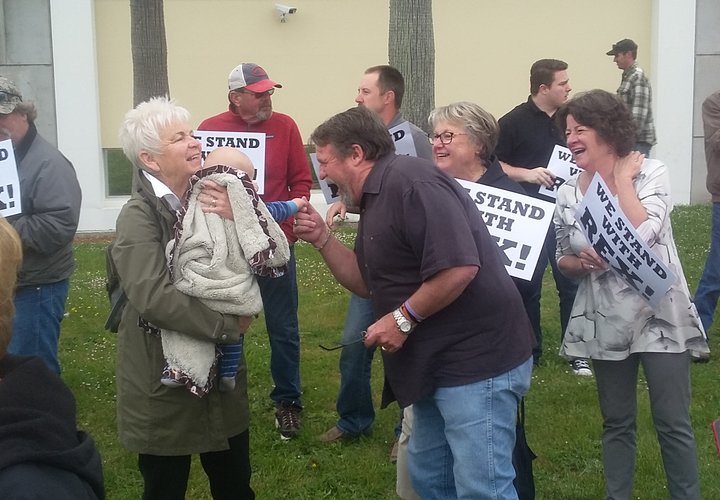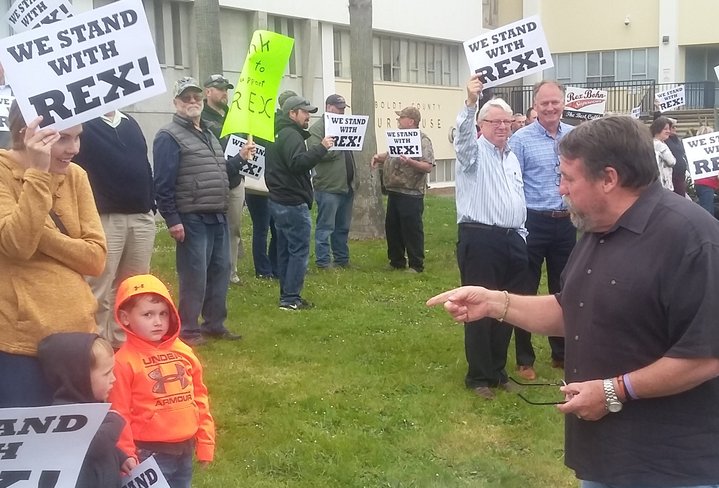 The infamous joke entered into public discourse early last month, when Renee Saucedo, an activist and supporter of Bohn's then-challenger in the upcoming election for First District supervisor, wrote a public letter calling upon Bohn to resign. Bohn later apologized if his "inappropriate poor taste" offended anyone; numerous speakers at a subsequent Board of Supervisors meeting chastised Bohn for the joke and, in their mind, his inadequate response. He was clearly rattled by it.
Today's rally, which comes three weeks after that last meeting, was billed as a chance for Rex supporters to stand by him in his hour of need. Shortly after 8:30, the man of the hour emerged from the courthouse's front door to cheers, and he went to greet his people.
After 9 a.m., a few of the rally attendees moved inside to the Board of Supervisors meeting to speak during public comment. Among them was Hank Beck, whose letter to the editor to the Times-Standard a week and a half ago called upon the citizenry to stand up and make this day "Rex Bohn Appreciation Day." Beck said that he didn't always agree with everything Bohn did or said, but that he wished to recognize the supervisor as a hard-working man.
"Mr. Bohn, thank you very much," he said. "We appreciate you. The actions you take mean a lot to a lot of people."
A couple of other speakers lamented political correctness. In this day and age, they felt, people feel scared to say what they want to say. One man said that he grew up an Okie, and remembered being teased about being an Okie, and he survived it all just fine, he said.
A woman said that she recently saw an ad for toilet paper that promoted "down there care" for a man about to meet his boyfriend's mom. She didn't like it at all. But, she asked herself, would she have liked it if it was for a woman who was going to meet her boyfriend's parents? She decided that she would not like that either. Therefore, she told the board, she could not be called homophobic.
Kent Sawatzky, frequent public commenter, said that he's completely fed up with this political correctness stuff. He just got back from visiting relatives in small-town Mexico, he said, and the people there loved him. The trick is not to put on airs, to live in the way that people around you live.
"If anyone wants to come to Humboldt County and doesn't feel accepted, I'm going to say that it's on them," Sawatzky said.