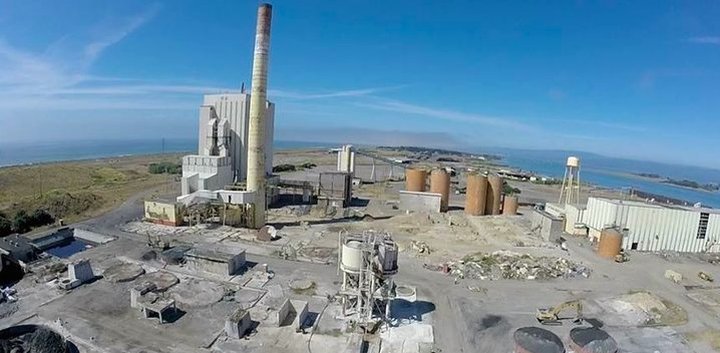 Nordic Aquafarms has set up shop in Eureka.

Now that company's board of directors, back in Norway, has given the green light to invest in permitting for a large-scale, land-based fish farm on the Samoa Peninsula, Nordic has rented an office on Third Street and is looking to hire a couple of local employees.
Marianne Naess, Nordic's commercial director, spoke to the Outpost this morning at a coffee shop in Old Town. She'd flown in from Norway earlier this week in part to lead a community meeting tonight at Eureka's Wharfinger Building, where she'll present an overview of the planned facility and outline the next steps in the permitting process.
The company is touting the proposed fish farm as "a fully contained, state-of-the-art RAS (Recirculating Aquaculture Systems) facility" capable of producing about 50 million pounds of fish per year, to be distributed up and down the West Coast.
A similar facility, which will function as an East Coast hub, is already in development in Belfast, Maine, where the proposal "has drawn both broad support and loud opposition," according to Bangor Daily News.
In February, the Humboldt Bay Harbor, Recreation and Conservation District agreed to lease a 30-acre Samoa property, formerly home to the Sierra Pacific pulp mill, to a subsidiary of Nordic Aquafarms, called California Marine Investment Corporation, for 30 years, preceded by an option period of up to three years, during which Nordic could choose to back out.
Naess said this morning that Nordic is looking to hire a senior vice president of projects, who will head up the permitting, engineering and construction of the Samoa facility, as well as a project/engineering manager. Personnel from the company's two Maine offices — its U.S. headquarters in Portland and a field office in Belfast — are expected to come work in Eureka, too, but Naess said the company hopes to hire locals whenever possible.
"Gradually we will build a larger location here, as well," she said.
Local governments, including the County of Humboldt, the Harbor District and the Humboldt Bay Municipal Water District are pursuing state and federal grants in an effort to help finance upgrades to the infrastructure of the Samoa Peninsula. Nordic has said that the existing water supply, which is delivered via pipeline from the Mad River, is often too turbid to be used in its aquaculture facility.
Scott Adair, Humboldt County's director of economic development, said earlier this year that it will cost the water district between $16 million and $34 million to address deferred maintenance and upgrade the system.

Naess is optimistic that those improvements can be made. "We think it's achievable for the county, and this is larger than Nordic," she said. Upgraded infrastructure, including a reliable supply of clean water, will help economic development efforts beyond this one project, she argued.
"By Nordic coming, you'll have a lot of ancillary businesses coming [too]," she said.
The company plans to build a 20-acre solar array on the Samoa property, which will reduce the project's carbon footprint while also allowing Nordic to qualify for a lower electricity rate from PG&E, according to Naess.
Many key details of the estimated $400 million project have yet to be determined — for example, what breed of fish will be produced in the facility (steelhead and kingfish, aka king mackerel, are possibilities) and exactly what kind of feed they'll consume.
The project in Maine is further along than the local one. "We're going through the final stages of public hearings in the city [of Belfast] right now," Naess said. In February the project is scheduled to go before the Maine Department of Environmental Protection.
Nordic hopes to break ground in Maine sometime next year. Locally, the company hopes to submit permit applications next summer, though that will depend in part on getting a local workforce in place. Eventually the company expects to create 80 jobs locally.
"And hopefully we have permits within the year … 12 to 15 months," Naess said. "And then we'll go into pre-construction and engineering. That will take a while. And then we'll break ground, probably a couple of years from now."
From that point it will be about a year before before the fish eggs arrive and two more years before the fish are ready to be harvested.
"So I would think — you know, best case scenario — we have fish on the market about five years from now," Naess said.
Below is a press release with more information about tonight's community meeting:
The community is invited to attend a meeting with Nordic Aquafarms representatives on Thursday, November 14 from 5:30 p.m. to 7 p.m. at the Wharfinger Building, 1 Marina Way, Eureka.

Nordic's Commercial Director Marianne Naess will present an overview of Nordic's plan to construct a fully contained, state-of-the-art RAS (Recirculating Aquaculture Systems) facility in Humboldt County and next steps in their permitting process.

Community members are encouraged to attend this event, which will offer a formal presentation and open forum for questions.

Refreshments will be provided.

Additional Information

On October 31, 2019, Norwegian-based Nordic Aquafarms Board of Directors directed its California subsidiary California Marine Investments, LLC, to move forward with permitting their planned land-based Recirculating Aquaculture Systems (RAS) aquaculture facility on the Samoa Peninsula in Humboldt County, California. This will be the company's second proposed land-based aquaculture facility in the US, and the first commercial scale RAS facility on the West Coast.
Permit applications are expected to be submitted in the summer of 2020.

# # #