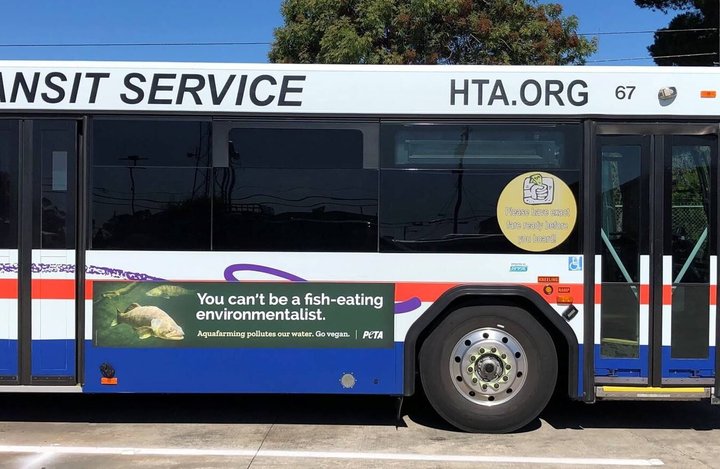 Earlier today, the animal rights organization PETA (People for the Ethical Treatment of Animals) published a press release to its website announcing that they've purchased a couple of ads on local buses in response to Nordic Aquafarms' planned land-based fish farm on the Samoa Peninsula.
The press release criticizes the environmental impacts of fish farms generally, but the ads, as you can see in the above photo, don't stop there. They say, "You can't be a fish-eating environmentalist." In smaller print they add, "Aquafarming pollutes our water. Go vegan."
As we reported earlier this year, Nordic has announced plans to build a 600,000-square-foot, land-based fish farming facility that would utilize a recirculating aquaculture system (RAS) to produce nearly 60 million pounds of fish per year for distribution up and down the west coast.
In February, the Humboldt Bay Harbor, Recreation and Conservation District agreed to lease roughly 30 acres on the Samoa peninsula — on the former site of the Sierra Pacific pulp mill — to Nordic. The lease has a 30-year term with two 10-year automatic extensions, and it's preceded by an "option or planning period" of up to three years, during which Nordic subsidiary California Marine Investment Corporation will pay the Harbor District $20,000 per year.
In local public presentations, Nordic Aquafarms President and Founder Erik Heim has described RAS aquaculture as an environmentally sound way to meet the planet's growing food needs. These systems are far superior, he says, to net-pen fish farm operations that have been criticized for their environmental pollution.
We reached out to Lynette Mullen, Nordic's local community liaison, to get a response to PETA's local ad campaign. She told us via email that both Heim and his wife, Nordic Commercial Director Marianne Naess, are in Norway, where the company's board of directors is expected to make a decision on whether or not to commit to the Samoa site as their west coast base.
Unfortunately, it's currently after bedtime in Norway, so neither Heim nor Naess could be reached.
"I can say that I find the ads to be an interesting choice for PETA," Mullen said in the email. "Many environmental groups and scientists support RAS as a way to meet our growing demand for protein — and facilities like Nordic's are specifically designed NOT to pollute the water. Aquafarming takes many forms and the environmental impact varies greatly. Maybe PETA isn't aware of this…?"
She went on to speculate that the ad may rub some locals the wrong way:
"I also believe that we have many highly educated individuals in Humboldt County who care deeply about our environment. I believe they will resent being told by an outside agency what it means to be a good environmentalist."
Here's the PETA press release:
Humboldt County, Calif. – Nordic Aquafarms' proposal to erect a massive fish factory farm on the Samoa Peninsula has prompted PETA to slap up an ad on Redwood Transit System and Eureka Transit Service buses that shows a sensitive fish looking at the viewer and the words "You Can't Be a Fish-Eating Environmentalist. Aquafarming Pollutes Our Water. Go Vegan."

"This mega–factory farm would cost a lot to build, but fish and the local ecosystem would pay the highest price," says PETA President Ingrid Newkirk. "Claiming to be an environmentalist while eating factory-farmed fish doesn't hold water, and PETA asks everyone to reject this monstrosity and go vegan."

PETA — whose motto reads, in part, that "animals are not ours to eat" — notes that nearly half of all fish consumed worldwide each year are raised on land- or ocean-based aquafarms. Even the deceptively named "sustainable" fish farms require a huge amount of local fresh water and have the potential to wreak havoc on the surrounding ecosystems, as they discharge millions of gallons of pollutants into the ocean daily.

There are no regulations to ensure the humane treatment of fish, and those who are farmed spend their entire life in cramped enclosures. Nearly 40% of them die prior to slaughter. Those who survive are commonly starved in order to reduce waste contamination of the water during transport.

PETA opposes speciesism, which is a human-supremacist worldview. For more information, please visit PETA.org.