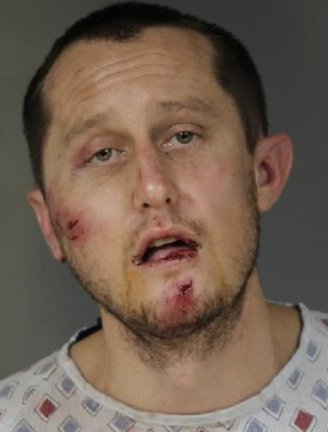 Erick Allen Battersby, facing life in prison for attempted murder, deserves a new trial because of something that occurred during jury selection, his lawyer said today.

Attorney Russ Clanton, arguing for another continuance in Battersby's sentencing, told Judge Larry Killoran he and Battersby have been poring over 374 pages of trial transcripts and discovered "a number of issues."
Without giving details, Clanton said a problem during jury selection has convinced Battersby he should be retried.
"He's confident it's going to provide him an opportunity for a new trial," Clanton said. He said his motion for new trial has been delayed because of the amount of material in the transcripts.
Some months ago a jury convicted Battersby, 35, of the premeditated attempted murder of his girlfriend's father, Mark Minton. Minton's throat was slashed as he slept.
Minton was in court this morning, prepared to witness the sentencing and make comments to the judge. Instead, Killoran reluctantly granted another defense motion to continue.
Deputy District Attorney Roger Rees, the trial prosecutor, said it's been five months since a jury found Battersby guilty. Rees said Clanton has not provided even preliminary information about his reasons for seeking a new trial.
"There were no objections made during voir dire (jury selection)," Rees said. "There wouldn't be any grounds in the transcripts for a new trial … there are no grounds, just delay after delay after delay."
Rees said Minton comes "from out of the county and sometimes from out of state" for each scheduled sentencing, only to see it put off once more. Clanton responded he has no obligation to provide the prosecutor with a heads-up on the basis for a second trial.
"I know he has knowledge of where we're going with this," he said. The judge said given the seriousness of the charges, the Probation Department's sentencing recommendation and the serious potential consequences for Battersby, he would grant the motion to continue.
"(But) the People's concerns here are well-founded," Killoran said. "It's been a long time since the jury came back with their verdict."
Killoran initially set sentencing for Oct. 24, but Clanton was dubious.
"I really do believe that is cutting it very close," he said.
Sentencing was then scheduled for Oct. 31. Clanton was told to file his motion for new trial by Oct. 28.
PREVIOUSLY: