Murder suspect Brian John Leiteritz Jr. was clearly terrified when he placed the 911 call shortly after midnight on Aug. 10.
"[1100 Block of] Boss Road," Leiteritz told the dispatcher. "I just got my lights turned off. Three men are trying to break into my house. They just turned the electricity off to my house."
He didn't know who the men were, but "they're in my front yard."
"I'm going after them."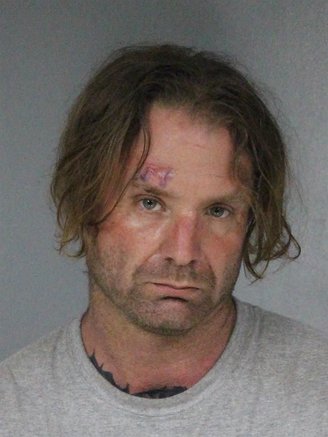 The dispatcher told Leiteritz he didn't need to do that. But Leiteritz, who at some point had gotten a knife from his kitchen, opened the door when someone started pounding on it.
He would later tell a sheriff's deputy that when he opened the door, he was immediately struck in the head. He was knocked back but caught himself before he fell. Shortly afterward, he called 911 again.
"There were three of them. They split my face open. I had a knife. I think I stabbed one of them." He said the knife was "pretty long." He didn't know if there was blood on it because with the electricity out, it was too dark to see.
The 911 tape was played Wednesday during Leiteritz's preliminary hearing on a charge of murder with personal use of a knife. Leiteritz was arrested after giving three statements to Humboldt County sheriff's Deputy Eric Losey, who was the first officer on the scene and who didn't think Leiteritz's accounts of the stabbing added up.
"Basically his recitation of events didn't lead to a subject being deceased on the sidewalk," Losey told Judge Marilyn Miles, who had asked him to clarify what he mean by calling the statements "confusing."
Losey was dispatched to the McKinleyville residence about 12:15 a.m. Aug. 10. He found a man on the sidewalk who had no pulse. "His eyes were open and his mouth was slightly agape," Losey testified under questioning by Deputy District Attorney Steven Steward.
Losey didn't see any injuries, but there was a pool of blood 3 to 4 inches in diameter under the body. Later the dead man would be identified as 30-year-old Dylon Liakos, a Rohnert Park resident who was the current boyfriend of Alicia Rose, Leiteritz's former girlfriend. An autopsy revealed Liakos had ingested a potentially toxic amount of methamphetamine.
Losey testified that once medical personnel took over lifesaving efforts, Losey went to speak with Leiteritz.
Leiteritz told Losey that after he was hit on the head with a blunt object, he followed the would-be intruders as they fled. Then, he told the officer, he saw one of the men in a "firing stance" holding what looked like a gun. He thought he was going to be shot and ducked between cars parked in the driveway.
Leiteritz spoke as though all three men had taken off, even though Liakos was lying dead on the sidewalk.
He didn't mention having a knife, even though he'd told the dispatcher he may have stabbed someone. Finally Losey asked him about the weapon.
"He told me that it all happened so fast," Losey said. "Basically he told me he didn't remember. He didn't know who got stabbed. He didn't know if anyone got stabbed … He had the knife when he was in the entryway and he didn't know any more than that."
Under cross-examination by defense attorney Michael Robinson, Losey said deputies had been at the Boss Road house a number of times to deal with domestic disputes between Leiteritz and Rose.
Leiteritz had tried more than once to get a restraining order against Rose, who he said was constantly threatening and harassing him over property she said belonged to her.
Shortly before the stabbing, a video surveillance camera filmed Rose as she got out of a dark-colored sedan and knocked on Leiteritz's door. The Audi sedan belonged to Terrance Ford, who had been driving her and Liakos around all day. The car left after Rose knocked on the door and no-one answered.
Then, according to Rose and Ford, they went to Denny's and Rose and another woman went in to order takeout food. While they were there, Ford and Liakos drove back to Leiteritz's house. Rose claims she had no knowledge of that plan, while Ford says Rose was the one who orchestrated it. Robinson clearly believes Ford participated in the incident, which he denies.
Asking Losey about the 911 calls Leiteritz made, Robinson said Leiteritz was "reporting to you that he's the victim of a home invasion."
Leiteritz's statements were convoluted and confusing, the deputy said.
"He was presenting to you as a crime victim, correct? He called 911."
"Correct."
After the stabbing, Leiteritz told Losey, the men got into a dark-colored sedan and began "burning up and down the street" and screaming at him. One of the statements was "We tried to call you, mother-fucker!"
Rose had been calling Leiteritz repeatedly all day. But Leiteritz didn't see her during the break-in and stabbing. Just three men.
Asked whether Leiteritz had told him about "swinging" the knife, Losey said Leiteritz told him "It was more of a reflex."
He acknowledged Robinson's assertion that that people who have been hit on the head "are not the best reporters."
Under questioning by Steward, Losey said Leiteritz "made multiple statements that were convoluted."
The deputy said that other than Leiteritz's claim, there was no evidence there were three men at the house when the stabbing occurred.
A week or two before he was killed, Liakos had been at Leiteritz's house to pick up Rose. According to Rose, Leiteritz first head-butted Liakos and then gave him a black eye. He still had the black eye when he died.
Although Leiteritz said he couldn't identify his assailants, the "big guy" at the door looked similar to the man who had been "hanging out with Alicia."
Testimony was expected to continue this morning.
###
PREVIOUSLY: