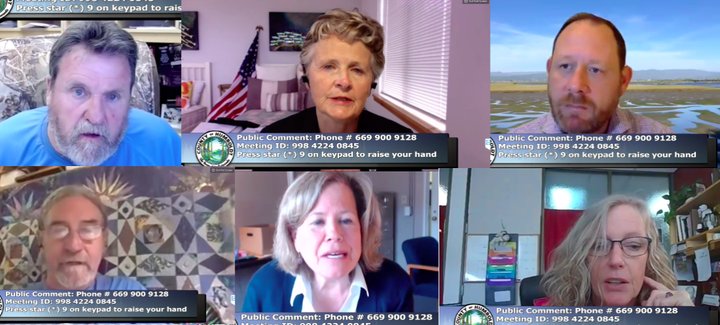 ###
It has been three weeks since the Humboldt County Board of Supervisors last digitally met, and in that time the county's COVID-19 case count has climbed by 103 cases, an increase of nearly 50 percent, bringing our total to 320 cases.
In her pandemic update at the top of today's meeting, Humboldt County Health Officer Dr. Teresa Frankovich said she still believes the county has done "incredibly well" in dealing with the outbreak — an achievement she credits to both responsible residents and the county's public health lab — but she also feels the trends here are "worrisome."
The public health lab has ramped up its testing capacity to the point where it now runs more per week than it used to run in an entire year, she said.
Statewide, both deaths and hospitalizations from COVID-19 are declining, a sign that California may be "starting to come down off of its first really large wave," Frankovich said.
Forty-two of California's 58 counties are now on Gov. Gavin Newsom's "watchlist," making them subject to stricter enforcement measures, but Humboldt has remained in good standing thus far. The county has verified 57 cases per 100,000 residents over the past two weeks. That's well below the 100-per-100,000 threshold that would land us on the watchlist, but it's also more than double our rate from July 10.
Our positivity rate, meanwhile, is "still looking good at 3.4 percent," Frankovich reported. If it rises above 8 percent, we'll be placed on Newsom's list, even if our case numbers remain below the 100-per-100k mark. Our case count is now doubling about every 41 days. Early on in the outbreak the rate was every 250 days.
But the goal has never been zero transmission, Frankovich said. Rather, it's keeping the outbreak under control. The biggest challenge remains testing, and Humboldt is working with people from Del Norte County, the Yurok Tribe, United Indian Health Services and others to build regional testing capacity by another 400-500 tests per day. A recent opportunity to obtain "high through-put equipment" via the state should help make that goal attainable, Frankovich said.
Local health officials are now contending with an outbreak in Hoopa. The reservation has confirmed more than 40 new cases since the start of the month. County public health officials are helping the tribe with contact tracing.
Frankovich briefly touched on her recent conflict with HSU President Tom Jackson, in which she urged the university to hold off on inviting students back to campus housing.
"There's no question in my mind that we'd be better positioned to manage in October when we have more robust testing … ," she said. "However, when I met with President Jackson, it was clear that they were planning on proceeding, [so] we began planning what we could do to support them."
Third District Supervisor Mike Wilson urged people not to "other" HSU students, saying they're "really adults and residents," many of whom will live here for years — some permanently.
First District Supervisor Rex Bohn said he wanted to applaud Wilson for that statement, though Second District Supervisor Estelle Fennell noted, "Some students from HSU do come [to Humboldt County] from areas on the [governor's] monitoring list."
HACHR
During the open public comment period, three people called in asking the board to direct Frankovich to write a letter to state officials opposing recertification of the syringe exchange program operated by the nonprofit Humboldt Area Center for Harm Reduction (HACHR).
The controversial organization is facing renewed public scrutiny after the City of Eureka announced its own opposition to state recertification for HACHR following a seven-month undercover investigation by the Eureka Police Department. A report written by EPD Capt. Brian Stephens alleged that HACHR employees have knowingly allowed drug use and drug trafficking on their Third Street property. (HACHR denies those charges.)
Today's first caller, who did not identify herself, recounted allegations from the EPD report and said, "If we're truly going to help people, we need an organization that doesn't facilitate drug use."
Eureka resident Bonnie Pinckney said the organization has disrupted the neighborhood and caused housing prices to plummet. "I can tell you one thing for damn sure," she said. "You cannot provide drug counseling and then hand them a drug kit on their way out the door. It just does … not … work."
Fellow Eureka resident Gary Lewis said the activity described in the EPD report is mild compared to what happens at night. He said none of the neighborhood residents oppose syringe exchange programs per se, but at HACHR "they fundamentally seem to believe that drug sales are a natural part of their business."
"This is the image that Eureka is putting forward now," Lewis continued, "an image of drug dealers and users hanging out at all hours."
This afternoon, HACHR issued a press release saying, "Staff and board members are in the process of assessing our policies and procedures, evaluating staffing options to increase safety, strengthen community ties and be the best neighbor we can be."
Originally certified through the City of Eureka, HACHR received authorization for its program through the California Department of Public Health in October of 2018. The organization must apply to be re-certified every two years.
Laura's Law
Fifth District Supervisor Steve Madrone brought an item to the agenda asking his fellow supervisors to authorize sending a letter to state Senator Mike McGuire in support of Assembly Bill 1976. This legislation pertains to Laura's Law, a California statute that allows for court-ordered assistant outpatient treatment for people with a record of mental health hospitalizations with incarcerations and/or violence.
The Humboldt County Behavioral Health Board recently voted to request this letter of support for AB 1976, which would make Laura's Law permanent and the de facto law of the land. (Counties that don't want to provide assistant outpatient treatment would need to pass a resolution opting out.)
Madrone said Laura's Law can put people on "a potentially sound trajectory" and is fiscally sound because it has been found to reduce both incarcerations and hospitalizations.
Humboldt County Mental Health Director Emi Botzler-Rodgers said Nevada County has found advantages to Laura's Law since implementing the program. The county implemented a mental health diversion program, but COVID-19 has delayed efforts to advance the initiative. She also noted that AB 1976 would create an unfunded mandate, making it a challenge for the county's Mental Health Branch to figure out "how to provide all the services we're required to and add this on with very, very limited funds."
The supervisors expressed broad support for Laura's Law and debated whether or not to add a sentence to the letter requesting dedicated state funding for the program. But ultimately the board voted unanimously to send the letter as-is.
Headwaters Fund
Later in the meeting the board heard the 2018-19 annual report on the Headwaters Fund, an economic development program that offers grants and lends money to businesses that don't qualify for traditional funding, such as bank loans.
Headwaters Fund board member Carl Hansen told supervisors that the fund's board has shifted its focus from innovation to business continuity, with an effort to get money into the community. During the 2018-19 fiscal year the fund had zero loan losses and collected nearly $300,000 in interest.
Over the course of the year, Headwaters' revolving loan fund contributed to the Hoopa Valley Tribe's new shopping center and allowed local chocolatier Kenneth Butin to expand Kenny's Chocolates, his shop in Eureka's Opera Alley.
Headwaters Fund Executive Director Kenny Spain said the Headwaters Fund is close to the $22 million in capital it had when it was established in 2002.
Tsunami Maps
After a short lunch break, Dr. Jay Patton with the California Geological Survey told the board about the new tsunami evacuation maps for Humboldt County created by his division of the state Department of Conservation.
The maps have to be updated every 10 years, and while the latest versions aren't much different than the previous ones, they include better topographic data. Any places that have modified evacuation plans will be notified.
You can explore the latest maps via this link. Below, an image of projected tsunami inundation in and around Eureka.