In the weeks leading up to Feb. 12, the day Ryan Anthony Tanner allegedly committed murder, Tanner physically attacked his girlfriend Vanessa Womack several times and threatened her with death, Womack testified Monday.
Womack, 44, had been in a rocky relationship with the 33-year-old Tanner for about two years before Tanner allegedly shot Jason Todd Garrett to death with an AK-47. She is not only the ex-girlfriend of an alleged murderer but the mother of Christopher Champagne, the only eyewitness in the case.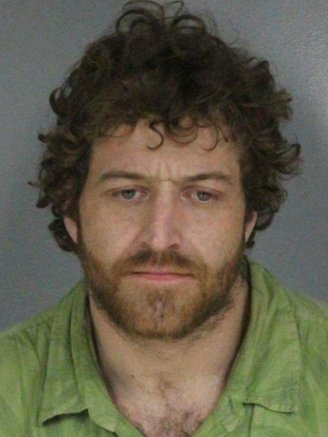 Under questioning by Deputy District Attorney Whitney Timm, a tearful Womack recounted several harrowing episodes, including a time when Tanner choked her into unconsciousness and a time when she dislocated her wrist trying to stop him from getting a gun from her truck console.
On Jan. 28 or 29, Womack had just returned home to Briceland after a trip to the East Coast. She took an early flight home, she testified, after receiving a phone call that left her worried about Tanner harming her son.
Arguing with Tanner at her home, Womack told him "I can't do this (relationship) anymore. And he hurt me."
Womack said Tanner "pulled me up by my hair and threw me on the ground a few times. And he choked me. I thought I was going to die."
Timm asked her how long the choking lasted.
"I don't know how long. I know I wet my pants."
Regaining consciousness, Womack saw her truck keychain hanging from the edge of her bed. She grabbed the keys, ran barefoot to her truck outside and locked the doors.
"He jumped on the hood," Womack recalled. She began driving, with Tanner still on the hood. But then she turned around and drove back home.
"Why?" Timm asked.
"I was just scared. I didn't know what to do."
This occurred about 2 a.m., Womack said, and she parked the truck outside her house. Tanner stayed on the hood until daylight.
"I opened the door and we went inside and went to bed," Womack testified. Afterward, Tanner "was normal, like nothing was wrong."
A couple of weeks before that incident, Womack was driving Tanner to his house about 10 miles from her home on Briceland Road.
"I don't know what set him off," Womack said, "but he was reaching for the console of my truck. That's where I kept my gun."
During their struggle, with Womack trying to keep the console closed and Tanner trying to open it, Womack dislocated her wrist. Eventually Tanner was able to get the gun, a .38-caliber revolver. He got out of the truck, walked around to the driver's side and fired the gun "past me," Womack recalled. She drove away.
Another trip taking Tanner home was even more terrifying. Womack said she had stopped her truck at "the call spot," a place on the road where cellphone service is available, and placed a call to her son.
"As soon as we drove away, Ryan took the (truck) keys," Womack said. He made her get into the passenger seat.
"He drove my truck to above his house, where the water tank is. He told me to get out."
Womack refused and locked the doors. Tanner was pointing an AR-15 rifle at her and screaming ''Get out and die with honor!"
She finally told him she would get out and die with honor, 'but I was all wet. I wanted to go home and change my clothes."
Womack said that at some point during the incident, Tanner had drenched her with water or soda.
When Timm asked Womack why she never reported these incidents, Womack provided a response common with people abused by their partners.
"Well, I loved Ryan and I thought it would get better. I didn't want him to get in trouble."
After the water tank episode, Womack didn't see Tanner until he showed up at her house a day or two after he allegedly murdered Garrett. Tanner was wearing a noose around his neck. He was hitting her sleeping son Christopher with another noose, saying he was going to kill him if he "told anybody."
The third noose was for her, Womack said.
Tanner ordered mother and son to follow him to his house. They got into Womack's truck and began following. At the time Womack was pregnant with Tanner's child, and was so ill that she had to keep opening the truck door to vomit.
At some point she stopped, and she and her son argued about what to do. Champagne insisted Tanner would kill them if they didn't drive to his house. Womack said, ''He's going to kill us if we do. I can't go up there."
Tanner was arrested that day or the next. Womack later suffered a miscarriage.
Womack was expected to return to the witness stand today to be cross-examined by defense attorney Russ Clanton. Judge John Feeney is presiding over the preliminary hearing, which is held to determine whether there is enough evidence for the defendant to go to trial.
###