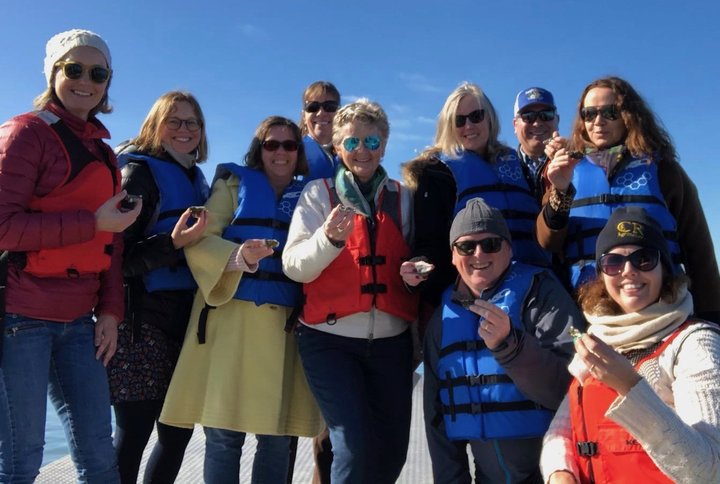 # # #
In Norway, Valentine's Day is called Valentinsdagen, and an official delegation of Norwegians is having a very busy Valentinsdagen here in Humboldt County.
"We like to call ourselves Team Norway," said Aleksandra Wacko, deputy consul general at the Norwegian consulate in San Francisco.
The full Team Norway includes Wacko plus Consul General Jo Sletbak and a pair of officials from Innovation Norway, the country's economic development agency. They're currently in the midst of a three-day tour of the county, visiting with local officials and exploring our region's green infrastructure projects in hopes of collaborating on some mutual goals.
The consul general and his team have taken an interest in Humboldt County because of two major projects in the works — a $400 million land-based fish farm on the Samoa Peninsula and a potential wind energy project 20 miles off our cost. Both projects involve Norwegian companies.
Nordic Aquafarms is developing the recirculation aquaculture system (RAS) on the peninsula, a project that officials say could eventually produce as much as 33,000 tons of fish per year, supplying the entire West Coast. And Norway-based Aker Solutions is working with the Redwood Coast Energy Authority (RCEA) and others to develop an offshore wind energy project.
This could be just the beginning of a fruitful collaboration between Humboldt County and Norway, the Scandinavian country known for its tech-savviness, its universal health care and the happiness of its people.
"They want to explore Humboldt and find stakeholders to enhance collaborations," explained Humboldt County Economic Development Director Scott Adair. Specifically, they're interested in sustainable economic development, such as Blue Lake Rancheria's solar microgrid and Humboldt Bay's existing aquaculture industries, including our oyster farms. [Disclosure: The Blue Lake Rancheria is part owner of Lost Coast Communications, Inc., the Outpost's parent company.]
The Norwegians' Humboldt tour began Thursday evening at the Oberon Grill with a reception hosted by the City of Eureka and Mayor Susan Seaman. Today, Team Norway is touring an oyster farm, Blue Lake's microgrid, where they'll meet with tribal leaders, and both College of the Redwoods and the Schatz Energy Lab at Humboldt State University.
"We've talked about having student and faculty exchanges with HSU, CR and universities in Norway," Adair said. "We could have students and faculty going back and forth between the two communities, which would allow us to learn from each other, share best practices, et cetera."
In an opinion piece published Friday in the Times-Standard, CR President Keith Flamer wrote, "We are working with Nordic [Aquafarms] to create curriculum that provides students the requisite skills to get jobs in the aquafarm industry or that will give them a certificate or AA degree to transfer to a baccalaureate institution."
Adair said this is an official state visit, and both the county and the Norwegians are looking at partnership potential regardless of whether the aquafarm and wind energy projects come to fruition.
"It's great to have partners like this who, culturally, have similar interests," Adair said. Norwegians, like Humboldtians, are passionate about nature and view the ocean as a lifeline, he said. "And the way Norway is leading in technological innovation, developing their green economy and blue economy, it's sort of something we want to pattern after."
While the county has a completed and approved economic development strategy, Adair said, "We're always changing, looking at what is the best fit for economic development in the community, and aligning with partners like this will only help us as we're looking to create our own blue and green economies."
The Norwegians brought along their spouses and kids. The whirlwind tour of Humboldt will wrap up tomorrow with brunch at the Samoa Cookhouse and an afternoon "crab feed" at the Sequoia Conference Center in Eureka.