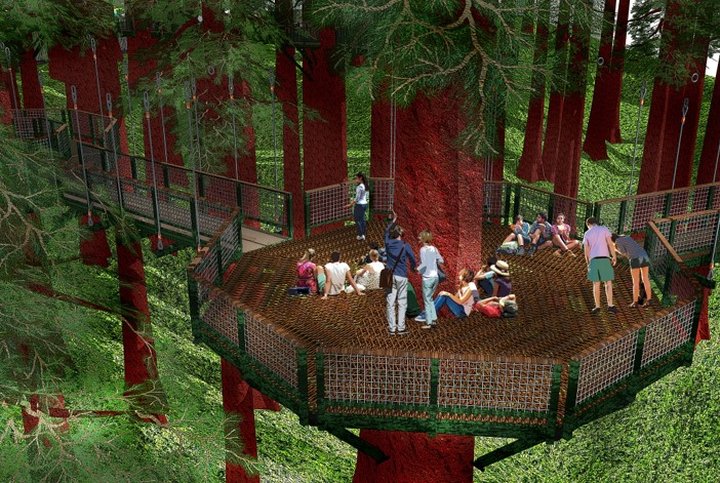 Just when you thought Eureka couldn't get any more exciting, the Sequoia Park Zoo will soon have a new attraction to complement its adorable red pandas and interesting birds: a giant canopy walkway through the majestic redwoods!
This "Redwood Canopy Walk" — an up-to-100-feet-above-ground walkway through the Sequoia Park redwoods — was announced by the zoo last summer. Now a slightly redesigned version of the project is coming before the Eureka City Council next week. The council will vote on approving a funding agreement for the project between the city, the Eureka Lodging Alliance and the Humboldt Lodging Alliance.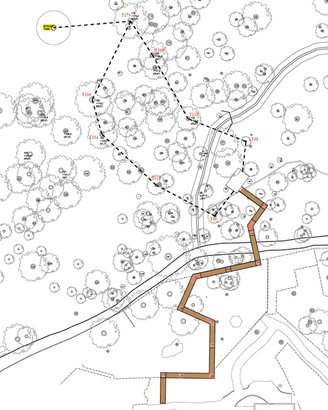 The agreement asks for certain terms to be met by the city in exchange for a combined $1.5 million contribution from the lodging alliances.
Eureka Community Services Director Miles Slattery told the Outpost that after reviewing the initial design last year the alliances had some concerns about the project's international tourism appeal.
"The height was a big issue for them," Slattery said. "They wanted something a little more adventurous."
Starting at the zoo, the canopy walk would begin with a series of ramps leading to a "launch deck," which then connects to a loop made up of suspension bridges. The initial design had the the bridges about 80 feet above the ground at their highest points, Slattery said.
The new design includes another bridge, aptly named the "Adventure Leg." The catenary-style bridge will cross the park's ravine, making the walkway 100 feet above the forest floor. Slattery explained that the placement of the bridge only changes slightly throughout the route. But the varying forest terrain changes its proximity to the ground.
One unfortunate aspect of the "Adventure Leg" is that because it will be a more sloping style of bridge, it will not be accessible to people of all abilities. But Slattery said that the rest of the canopy walk will be ADA-compliant.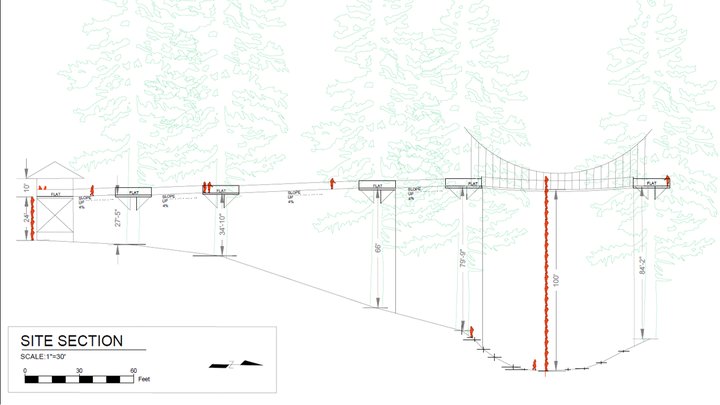 But this additional leg helped convince ELA and HLA to sign off on the design. The alliances are hoping that, like some other popular forest canopy walks around the world, this project will be impressive enough to become a huge tourist attraction for the area.
The project will also be funded by a $500,000 Outdoor Environmental Education Facilities grant and a donation of $2,000 $200,000 from the Arcata Lodging Alliance. Initially the City of Eureka will need to front some of the money from the city's general fund. But per their agreement, HLA and ELA will reimburse the money as the project progresses.
Assuming everything goes as planned, Slattery expects the City to break ground on the project by early July. The canopy walkway is expected to be operational by summer of 2020.
The Eureka City Council will discuss this and other issues at its regular meeting Tuesday, June 4 at 6 p.m. at Eureka City Hall — 531 K Street.
You can view the full agenda here.
###