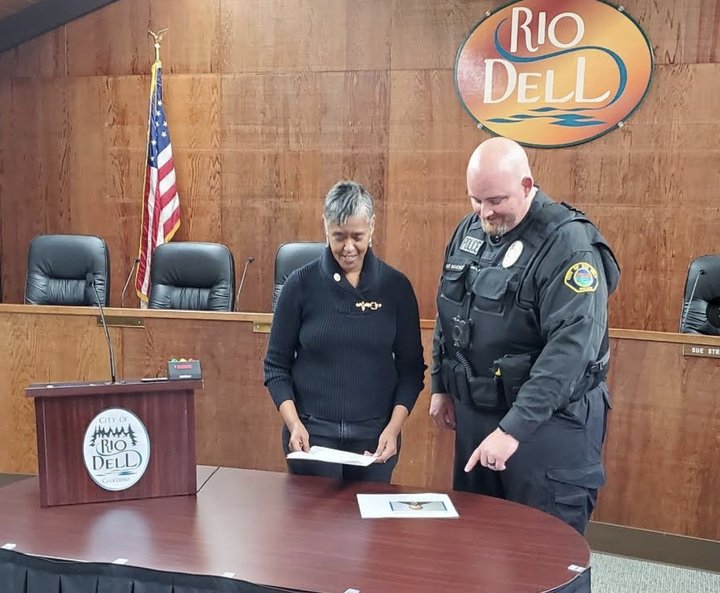 The City of Rio Dell followed up this morning's news that the suspect in a 2019 murder had been arrested in North Dakota with a press release alerting the public that no less than Police Chief Jeff Connor himself would be making a journey east to assist in the handling of the case.

Demetrius Coleman is accused of murdering Johnny Renfro on August 29, 2019. He was arrested yesterday in Stutsman County, North Dakota. Alma Ahumada, a woman who'd been traveling with Coleman and who is also wanted in connection with the murder is still at-large.
Full press release detailing the case from the City of Rio Dell below:
On Thursday, August 29, 2019, at about 6:30 PM, a homicide occurred in the City of Rio Dell. The victim was identified as 26 year old Johnny Mack Renfro, a resident of Humboldt County who was originally from Texas. Mr. Renfro was shot once in the abdomen from a passing car. The Humboldt County Major Crimes Task Force responded immediately to assist the Rio Dell Police Department with the investigation. Detectives and evidence technicians from numerous Humboldt County law enforcement agencies congregated in Rio Dell to help canvass the neighborhood and gather evidence. Assisting agencies include the Humboldt County District Attorney's Office, Sheriff's Office, California Highway Patrol and the police departments of the cities of Arcata, Eureka, Ferndale and Fortuna.

With the assistance of a Rio Dell resident, CCTV footage was recovered by investigators. The footage depicted the murder of victim Johnny Renfro as well as the assailant's vehicle. Shortly thereafter, the vehicle used in the homicide was recovered by the city. Numerous pieces of evidence were collected and processed. On September 25, 2019 the City of Rio Dell issued a press release identifying Demetrius Coleman as a person of interest in the homicide of Mr. Renfro.
Since the September 25th update, Rio Dell Police have continued to pursue numerous leads in this investigation.

On Tuesday, October 22, 2019 Demetrius Coleman's status was upgraded to the primary suspect in the homicide of Johnny Renfro. An arrest warrant for Mr. Coleman was issued the same day. News of the upgraded status of suspect Coleman and the arrest warrant was withheld to further conduct the investigation and for officer safety. Suspect Coleman was then tracked over time to various locations, including Sacramento and the State of Idaho.

Over the past two weeks, Rio Dell Police tracked suspect Coleman to a location outside of the City of Fargo in the State of North Dakota and initiated contact with law enforcement agencies in that state. On January 26, 2020 suspect Coleman was arrested by the Eddy County Sheriff's Department in the State of North Dakota.

The Rio Dell investigation has also tied an associate of suspect Coleman to the murder of Johnny Renfro, Ms. Alma Ahumada. Ms. Ahumada is currently a fugitive in this case and is on the run from North Dakota Police. If you have information or recent communications with Ms. Ahumada, please call the Rio Dell Police Department to relay this information 707‐764‐5642.

Rio Dell Police Chief Jeff Conner is currently traveling to North Dakota to assist area law enforcement.

"This investigation was aided by the cooperation of witnesses and associates of both suspect Coleman and victim Johnny Renfro in addition to the tremendous help from the citizens of Rio Dell who voluntarily provided video evidence and other support." Rio Dell Police Sergeant John Beauchaine stated. "Without the community stepping up to provide valid information about this homicide, it would have remained unsolved."

Beauchaine concluded by cautioning that suspect Coleman is presumed innocent until proven guilty in a court of law. "I'm very confident that we have the correct person responsible for this homicide. We have done our best to provide evidence beyond a reasonable doubt of Coleman's guilt and we will continue to work with the District Attorney as needed. Ultimately, this will end up back in the community's hands one more time, through a jury."

"I am extremely proud of the Rio Dell Police Department for their hard work on this case, in particular Chief Conner and Sergeant Beauchaine." Rio Dell City Manager Kyle Knopp stated.
PREVIOUSLY: