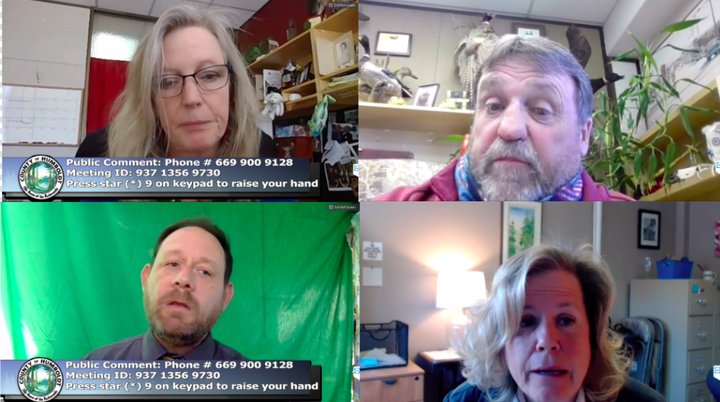 # # #
As with all previous virtual meetings in this Time of COVID, today's featured an update on the state of the pandemic here in Humboldt. Health Officer Dr. Teresa Frankovich said that while the disease continues its unrelenting spread across the country, Humboldt County has seen a bit of a lull in confirmed new infections.
This lull has allowed local officials to put in place some extra mitigation measures, including the OptumServe testing facility and 100-bed alternative care site, both located at Redwood Acres. Frankovich said the "really big news" was Governor Gavin Newsom's announcement on Monday that individual counties will have some control over easing shelter restrictions.
The governor's guidelines — the details of which have yet to be released — call for a soft reopening of many businesses as soon as Friday, and they will give Humboldt County the ability to "accelerate through stage two" of the Newsom's four-phase reopening plan, provided we meet certain benchmarks, Frankovich said.
Local businesses that want to reopen will have to submit plans to county officials showing how they plan to protect the public from infection — for example, by providing ample hand-washing stations, requiring facial coverings and maintaining social distancing. Sheriff William Honsal said county staff is still developing an online certification process for this task.
Third District Supervisor Mike Wilson chimed in during this discussion to say that while reopening businesses is certainly important for many in the community, there are other things to consider "besides our ability to go to a store." He mentioned cultural, educational and recreational activities and gave a word of caution.
"I believe Humboldt is doing a great job, but as I've mentioned before, the virus doesn't know boundaries," Wilson said. Conditions in other counties could put locals at risk, he argued.
Fourth District Supervisor Virginia Bass suggested that county health officials could send practitioners to neighboring counties to collect samples and boost their testing efforts.
Honsal provided an update on crime stats in the county, saying the rate of robberies, assaults and thefts are all down or flat compared to last year's numbers, but reports of domestic violence have gone up.
# # #
First District Supervisor Rex Bohn wanted to discuss a timeline for opening up all county government departments. He also brought forward a letter he'd written to Governor Newsom requesting that the state's stay-at-home order be lifted.
County Administrative Officer Amy Nilsen said the county's various department heads have been steadily working to bring employees back into the workplace, with appropriate health precautions in place. She recommended the board look to reopen government departments after the state officially moves into phase two of Newsom's reopening plan.
Nilsen also noted that many county employees have been working from home, which could reduce county expenses if allowed to continue by requiring the county to lease less office space.
Bohn was looking for a specific date — or at least a more firm prediction. He said people keep asking him if they'll be able to have weddings or start youth football by August.
"I don't think people are mad; I think people are scared," he said.
Public comment on these matters reflected some vastly different views among the community. Two women who didn't give their names called in to express concern about reopening. One, who said she owns a small business in Old Town Eureka, said doing so felt scary and dangerous, adding that she and many of her business-owner friends don't agree with the desperate cries to reopen.
The next caller echoed those sentiments. "We only got mandated to wear masks two weeks ago," she said. "Talking about reopening, I think it's a bit short-sighted, I think we do have options other than work or die in Humboldt County."
But a Ferndale business owner named Lisa called in with the opposite perspective. Unless the shelter-in-place order is lifted, she said, many businesses in town won't survive. "What are we supposed to do when we can't feed our kids?" she asked.
The board wound up providing some general direction to staff, saying there's now a goal that all county departments resume office hours and interactions with the public so long as employees maintain appropriate safety protocols. The date for achieving this goal is flexible but will hinge on the governor moving the state into phase two of his reopening plan.
Nilsen noted that any reopening plan will need to be sent to employee unions for perusal and approval. She also said it's not like all county staff has simply been staying home. "There are county offices that have been working this entire time," she said.
Bohn's letter apparently generated a great deal of public feedback after it was published on the county's website late last week. The First District supervisor said he'd received a "mass" of emails and he sarcastically thanked the person who tried to stir up "hysteria" over it. (He didn't say who that may have been.)
And while he said the letter was "almost a moot point," given Newsom's announcement on Monday, he added, "I'd like to maybe still send it. … If we want to send it, that's great. If you guys want to poop-can it, I'm fine with that too."
Bass said she considered the letter fairly benign, despite public responses to the contrary, but added, "I don't think it's necessary to send the letter anymore."
Wilson pointed out that the letter explicitly asks the governor to lift the stay-at-home order statewide, which, if taken literally, could put local residents at risk. "What if Del Norte County decides to have a music festival?" he asked. "What happens in Orange County can impact us in the future. We are still connected to all the counties in California."
There ensued a mildly testy back-and-forth between Wilson and Bohn over whether the letter really was asking Newsom to lift the statewide shelter order. After the majority of the board indicated a reluctance to send the letter, Bohn said he'd rescind the proposal — and proceeded to crumple a copy of the letter and toss it over his shoulder.
# # #
In other business, the County Administrative Office brought forward an item asking for expanded privileges for the county's purchasing agent. One of these was raising the dollar limit for contracting services during an emergency — sans board approval — from $100,000 to $500,000.
Bohn was skeptical about such a big jump. "Five hundred thousand for an emergency purchase? Give me an example," he said, suggesting that the existing limit seems to have worked fine.
Nilsen said her department would like to have the extra leeway in an emergency "because having to come to the board could cost lives."
After some discussion, the board reached a compromise of sorts, agreeing to raise the limit to $250,000 and bring the item back for consideration at the next meeting.
# # #
If Bohn's letter wasn't the most contentious item of the day then it was probably the urgency ordinance prohibiting residential evictions during and immediately after the current state of emergency.
An ordinance was passed at last week's meeting, but today the board debated some of the key details, including the length of time tenants will have to catch up on delinquent rent payments. The draft brought forward today said renters would have to pay their rent in full "within 180 days of May 31, 2020, or within 180 days of the date upon which an extension of this ordinance expires, whichever is later."
Bohn said he's spent a lot of time recently talking to landlords, and he'd rather set that grace period at 90 days, rather than 180.
Bass suggested establishing parameters for allowing tenants to go past 90 days. Madrone argued for keeping the draft ordinance as is, with the 180-day limit, saying it already requires tenants to provide evidence that their inability to pay rent is tied to COVID-19.
"What's most important is tenants realize they're not getting free rent here," Madrone said.
Public comments were again divided, with renter advocates saying eviction means inflicting homelessness on many renters during a health crisis while landlord advocates, like Heather Bergen from the Humboldt Association of Realtors, arguing that property owners have bills of their own, and if rental properties get foreclosed on by the bank it could exacerbate the shortage of rental properties.
Wilson wound up making a motion to adopt the proposed ordinance as written, except replacing the 180-day moratorium with a 90-day one — "not because I want to, but I don't see the votes to get us to 180," he said.
The ordinance also prohibits no-fault evictions during the state of emergency, meaning those where tenants didn't do anything wrong — they paid their rent on time and followed the rules but the landlord wants them out for some other reason.
The board passed the ordinance with a vote of 4-1, Bohn dissenting, and agreed to have the matter brought back in a month for a status report.
# # #
The last item on the agenda, following a lengthy closed session, was a public hearing to consider forming a Groundwater Sustainability Agency (GSA) for the Eel River basin.
Hank Seemann, the county's deputy director of environmental services, explained that local officials don't really want to form such an agency because they don't believe one is really necessary. County staff had submitted a Groundwater Sustainability Plan Alternative, in lieu of a full plan, to the California Department of Water Resources, arguing that the precious groundwater in that basin is not at risk of drying up under the current uses and conditions.
But the state rejected the local plan alternative and is now requiring the county to either form this GSA or relinquish local control. The silver lining, Seemann said, is that the state awarded Humboldt County a $1.9 million planning grant to cover the costs of data collection and analysis, hydrologic modeling, document preparation and more.
Bohn was clearly annoyed by the state's stance. "Our own staff really believes this will be an exercise in futility," he said. "We have 60 years of records showing [the Eel River basin] is not impacted. This is government at its worst, you guys, as far as I'm concerned." He suggested he'd be willing to fight the state in court over the matter.
Board Chair Estelle Fennell said she shares Bohn's frustration and worries about funding this agency into the future, once the state grant money runs out. But she also doesn't want the state to take control away from local agencies.
"We're basically at the 11th hour," Seemann said. "If a local GSA is not formed now, the [state] water board can intervene, and they intend to enact mandatory fees for all water users in the basin."
The board wound up unanimously approving the formation of a Groundwater Sustainability Agency and directed staff from the Public Works Department to issue a request for proposals from professional consulting firms to assist in the effort.
Bohn said his yes vote was "for the sake of humanity."
# # #
NOTE; This post has been updated to clarify that the county had submitted a Groundwater Sustainability Plan Alternative, not a full plan, to the California Department of Water Resources.