UPDATE, Nov. 15:
On Saturday evening, Fortuna Union High School District Superintendent Glen Senestraro emailed the following press release:
The health and safety of our students and staff are our top priority.

Fortuna High School is reporting that another student has tested positive for COVID-19. We have had a total of two (2) students test positive this week. These COVID transmissions did not occur at the high school.

Following our mitigation plan, the three classes affected by the two positive cases have been moved to distance learning through the quarantine period. The students and teachers in the affected classes were contacted and are in quarantine. The school is collaborating with Humboldt County Public Health.

The principal has notified the parents of the students in the classes affected by these cases.

We would like to thank Humboldt County Public Health for their swift response and guidance to assure the safety and well-being of our community.

Glen Senestraro Superintendent
###
Original post: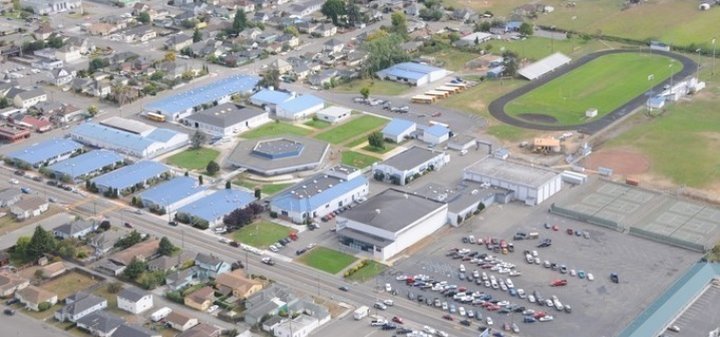 ###
An untold number of students and staff members at Fortuna High School have been told to quarantine and some classes switched to distance learning today after a student tested positive for COVID-19.
Parents of Fortuna High School students learned of the infection Thursday evening from school administrators. Many received a recorded phone message from Principal Clinton Duey, who said administrators were informed of the positive test around 6 p.m. by the Public Health Branch of the Humboldt County Department of Health and Human Services.
Phone messages left for Fortuna Union High School District Superintendent Glen Senestraro had not been returned by the time this post was published. Nor had an email to the district office.
In the voicemail left for parents, Duey says the health and safety of students and staff are the top priority at Fortuna High. The message, which you can listen to below, goes on to say,
This call is to inform you that a student at Fortuna High tested positive for COVID-19 today. … If your child was exposed, you would have already been contacted by myself or Mr. [Dustin] Rossman, dean of students. Some class periods, staff and students have been quarantined and put on distance learning.
While most schools in the county have opted for distance learning or a hybrid between remote and in-person instruction, the public schools in Fortuna and nearby Ferndale have chosen to hold classes entirely on campus, despite objections from some parents, staff members and teachers.
According to county data, people between the ages of 10 and 19 represent nearly 12 percent of the positive COVID-19 cases in Humboldt County to date.
Here's the voicemail from Duey:
###
PREVIOUSLY: