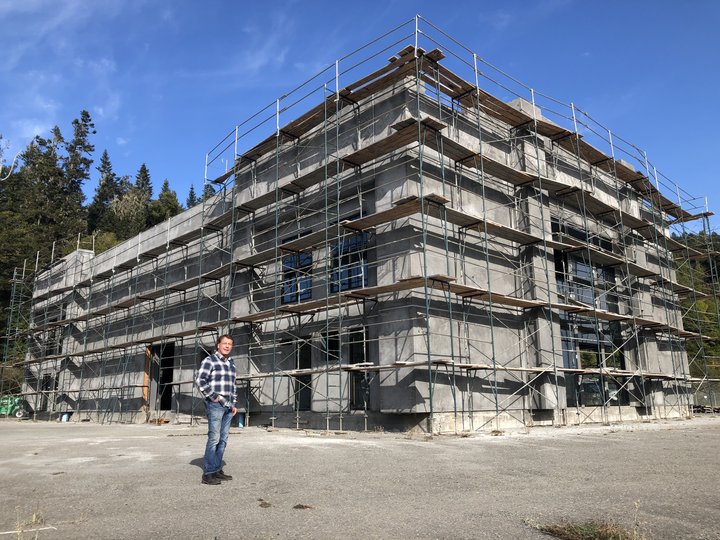 ###
Rio Dell Mayor Debra Garnes had the triumphant tone of vindication in her voice — or perhaps it was just civic pride — as she talked about the tax revenues flowing into her city from cannabis businesses.
"We're one of the few cities that have come through the COVID thing pretty whole, from a financial standpoint — better than we've been for a long, long time," Garnes told the Outpost in a phone interview Wednesday.
If she was tempted to say "I told you so," she resisted the urge. But gloating may be warranted.
Four years ago, as a member of the Rio Dell City Council, Garnes was dismayed when three of her fellow council members voted to keep cannabis out of "the warm-hearted city" altogether. The 3-2 vote rejected an ordinance that — with voter approval of a corresponding tax measure — would have allowed limited cultivation on the Dinsmore Plateau overlooking downtown and at the abandoned Eel River Sawmills site across the river to the north. It also would have allowed up to three dispensaries within city limits.
Garnes had been advocating for the city to allow medical marijuana since her election to the council in 2014.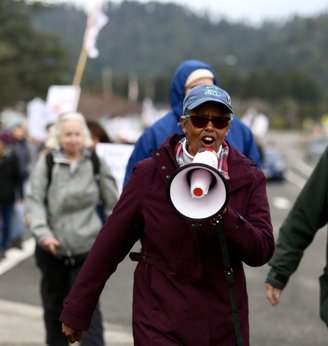 "To me it just made sense to bring into our coffers a legal source of revenue, so that's really how I started the conversation," she said. The rest of the council wasn't exactly receptive.

"I got on the council and there was no talk of it, no inclination towards even looking at it," Garnes said. However, the tide of public opinion was shifting rapidly. In 2016, California voters passed Prop. 64, legalizing recreational cannabis, and over a series of public meetings in Rio Dell that same year, many residents spoke in favor of Garnes's recommendation to regulate and monetize an activity that was already taking place.
Until the night of the vote, Garnes was convinced the ordinance would pass. When it didn't, she responded with a scathing public letter, saying the majority decision represented "a sad, pathetic statement" by fearful grown men who had displayed a stunning level of fiscal irresponsibility.
Garnes wasn't the only person upset by the vote. Developers had purchased property at the old sawmill site, banking on their ability to launch cannabis projects there. Garnes isn't entirely sure what happened behind the scenes, but in December of 2016, her fellow councilmember Jack Thompson surprised her. Though he'd voted against the ordinance, he revived it — something only those who'd been on the majority side of the vote were allowed to do. Thompson reintroduced the ordinance just as he was finishing out his final term in office.
The city proceeded to hold more public meetings about cannabis — more than 100 of which have been held to date — and eventually the council decided to give it a try, starting across the Eel River at the old mill site, which was rechristened as the Humboldt-Rio Dell Business Park.
There have been some setbacks — notably, the unexpected (and unrelated) deaths in 2017 of prominent developers Dennis Wendt and Michael Martino, plus major infrastructure hurdles at the industrial property and, of course, complications wrought by COVID-19.
But Rio Dell now finds itself riding high, so to speak, on cannabis. Last year, the city passed a series of reforms aimed specifically at stimulating cannabis industry investments, and Garnes said the city has received three to four times more tax revenue than expected.
City Manager Kyle Knopp told the Outpost recently that those revenues are being put toward the police department and much-needed road repairs. "Overall, I think Rio Dell has done a really good job of setting this up, clearing a path for developers to create good projects that comply with all these new regulations."
Two cannabis businesses — co-operative manufacturer/distributor Humboldt Brand and cultivator/distributor Humboldt 454 — are up and running at the business park, and a third, with two concentrate extraction labs, was operational for much of last year. There's now a dispensary downtown with another recently approved by the city's planning commission. The most ambitious projects are still in the works, and Garnes is fired up.
"We are trying — I am trying like you wouldn't believe — to make Rio Dell's image so much better than [it's been] since I've been here, to show that we are to be reckoned with," she said.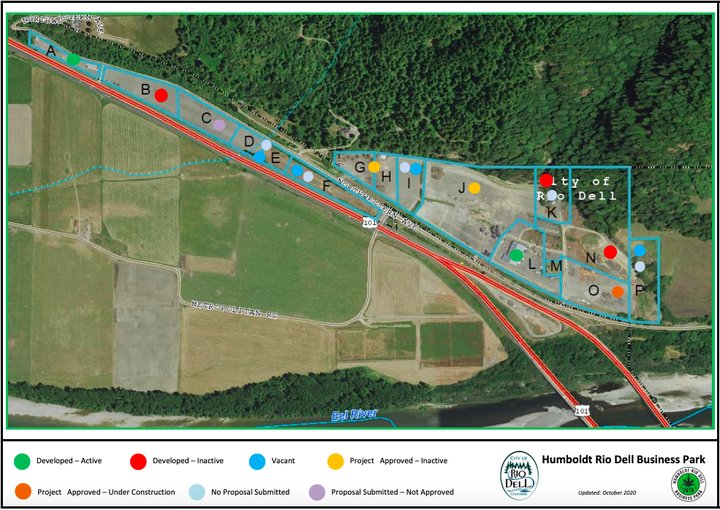 ###
If you've driven past the old mill site at any point over the past year or so, you may have wondered if the whole endeavor had stalled out. Toward the northern end of the long gravel expanse that parallels Hwy. 101 there's a hulking, three-story gray edifice just sitting there, seemingly vacant, encased in scaffolding and looking distinctly abandoned. (See photo at the top of the post.)
It hasn't been abandoned. It's just that, for developer Glenn White — like the rest of us — 2020 hasn't quite gone as planned.

"There's a lot of stuff that didn't happen the way we wish," he told the Outpost during an interview last week.
When we met up with White, he was working alongside his wife Michelle and an employee he called "Moose" inside a mobile office trailer on his property, one of 16 parcels in the subdivided business park.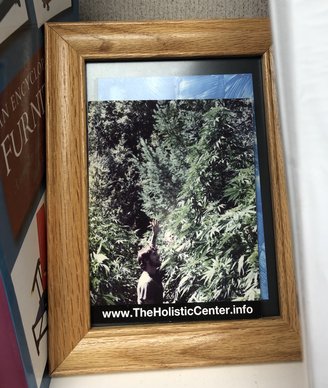 A framed photo on the bookshelf behind his desk showed White, young and bearded circa 1984, with his hand raised beside a towering kush plant on his late father's property in northern Mendocino County. A closer look reveals his dad's face peeking out from behind the foliage.
White is a developer who has built large-scale projects in SoCal communities such as Santa Barbara, San Diego and Newport Beach, but he has long wanted to return to the Emerald Triangle, where his dad and friends came in the late '70s to escape the city and return to the land — and grow weed.
"My focus and everything was to retire [and] be a part of Humboldt," White said. He owns a home on a 20-acre ranch on a ridge above Rio Dell — "We always laughed and said I could get a zip line to work," he said — and another ranch in northern Mendocino County.
He purchased his parcel at the business park in 2016, before recreational cannabis had been legalized in the state.
"Everybody's like, 'Are you outta your mind? They're never gonna let you go with that down there,'" White recalled. But his bet paid off, and his companies Humboldt Live Resin (extraction) and Emerald County Statewide (distribution) were the first to be approved in the business park.
His ambitious plans include three buildings totaling more than 50,000 square feet. Building Three, the one that's partially built, will include facilities for testing, manufacturing of concentrates and tissue culture cultivation. Building One, next in line for construction, will offer retail sales and a health spa. Building Two, the largest of the three, will function as a distribution headquarters for Emerald County Statewide.
There was a lot of work to be done before he could even begin construction. When White bought the property, the business park had no electricity, no gas and no sewage service. White ended up having to foot the bill for most of that work himself.
"A lot of stuff seemed simple at first," he said. "Then you get to it and wow, there's a lot to it."

The city and the Fortuna Fire Department wouldn't approve his three-building development without water — specifically, a 5,000-foot-long pipeline, 10 inches in diameter, to serve as a fire main. White brought up a trusted work crew from SoCal to dig the trench, but when they approached the river they hit a wall.
"We were [saying], 'What is that? Rock?" White recalled. Turned out to be the remnants of the the old freeway. After the '64 flood, rather than repairing the roadway, construction crews simply built a new one on top. White's crew had to dig through it, adding labor costs to a project that wound up costing him $824,000. And when he was done, he had to deed the infrastructure back to the City of Rio Dell.
Knopp described the pipeline as a major asset for the city. "It has really opened up [possibilities] and put the business park in the fast lane, so to speak," he said. "It takes a lot of time and money to move those types of projects forward, and to have a private developer do that is really kind of a big deal."
To offset White's expenses, the city agreed to place a lien on all parcels where developers may want to tap into the water line. For a period of 15 years, the city won't issue a commercial business license unless the developers agree to repay White for their portion of the cost, which is approximately $80,000 per connecting parcel, White explained.
He also experienced unexpected setbacks getting the gas and electrical infrastructure installed, in part due to a series of delays from PG&E, he said. The utility company was beset by wildfires, Public Safety Power Shutoffs, liability lawsuits and bankruptcy.
"They had valid excuses," White said.
White's crew had to install an underground vault to pull power up from behind the Humboldt Brand property. On the morning we visited the property last week a PG&E employee was onsite, finally hooking up the transmission lines.
White also faced setbacks from the pandemic. "COVID definitely took a hit on us," he said. The business loans he'd lined up for his three-building development got delayed multiple times and finally canceled as investors retreated during the health crisis.

"We had financing already approved, letters, et cetera. Then when COVID hit, that week [the loan approvals] got delayed, delayed, then died away," he said.
After experiencing his own financial setbacks with projects in Southern California, White is now back on track, focusing on his Rio Dell cannabis projects. "Weve got some pretty big backers that will push the whole thing through," he said. He's aiming to have his operations in all three buildings up and running by 2022.
Meanwhile, there are some even more ambitious developments being developed in the business park. On the parcel next to White's, for example, Redway-based Humboldt High Grade has plans for a two-story, 62,000-square-foot building with a retail nursery, a processing and distribution facility and 22,000 square feet of indoor cultivation.
The Rio Dell Planning Commission has approved 80,000 square feet of mixed-light greenhouse cultivation on two separate parcels owned by Marathon 101, LLC, and Marathon 102, LLC, operated by Sean Suh of Sacramento. Construction is set to begin next year.
Kevin Caldwell, Rio Dell's community development director, told the Outpost that there's an investor interested in purchasing a remainder parcel that's currently designated as a contaminated brownfield — a legacy of the old sawmills — and converting it into a solar farm.

And Caldwell said the cannabis developments aren't limited to the Humboldt-Rio Dell Business Park. There are also multiple projects in development on the Dinsmore Plateau, which sits above the city. Below is a map of the parcels where three cultivation projects are in various stages of development:
###
All told, the three projects — from applicants James Cortazar, Rio's Diamond Farms and Humboldt Sweet Grass — would comprise roughly three-and-a-half acres of mixed-light greenhouse cultivation.
"Rio Dell is in a really in a great position," Knopp said.
Caldwell agreed. "I think a lot of the kudos goes to Mayor Garnes, who spearheaded this discussion," he said.
The city is now working on plans to make major investments in infrastructure over the next five to 10 years, Knopp said — plans to improve the city's streets, water and wastewater systems while investing in the police department and adding more staff.
"So things are going really, really well here, and the cannabis industry has played a positive role in that," Knopp said.
Just like Garnes said it could.