WARNING: This story relates accusations of extreme violence.

###
An 18-year-old Hoopa man was arraigned this morning on charges that could mean life in prison without possibility of parole.
Bronson Moon Lewis Jr., accused of stabbing and shooting Julius "Jules" Tripp on July 20, is charged with murder with the special circumstances of committing mayhem and torture. Lewis also is charged with use of a deadly weapon, a knife, and with personally discharging a firearm. The firearms charge alone can result in another life term. Finally, Lewis is accused of conspiracy to commit murder.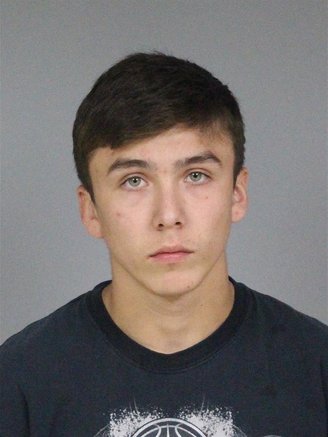 During the arraignment this morning before Judge Kelly Neel, defense attorney Russ Clanton said he will file a motion to dismiss some of the charges.
"Mr. Lewis will be objecting to certain of these counts," Clanton said. He also requested the jury trial be set "in the quickest possible manner."
Lewis's trial was scheduled for Nov. 16, with a trial confirmation hearing Nov. 2.
Lewis's co-defendant, 19-year-old Klamath resident Daniel Armendariz, was also in court today for setting of his preliminary hearing. Armendariz was arrested a few weeks after Lewis and is charged with murder and conspiracy. Lewis has already had a preliminary hearing and was held to answer.
Deputy District Attorney Trent Timm, who is prosecuting both teens, told Judge Christoper Wilson he wants Armendariz's preliminary hearing set as soon as possible.
"This is a situation where the other party is post-prelim," Timm said. He estimated the preliminary hearing at two to three hours, as the one witness will be a law enforcement officer.
But Deputy Public Defender Adrian Kamada, representing Armendariz, predicted the hearing will take two to three days.
"We plan on subpoenaing the witnesses who previously testified (during Lewis's hearing), plus additional witnesses," Kamada said.
Although Armendariz has the right to a preliminary hearing within 10 days of his arraignment, Kamada asked the judge to extend that to 30 days, which is allowed under the emergency rule instated because of the pandemic.
Wilson set the hearing for Oct. 26.
Tripp, 42, was killed during a confrontation after Lewis's friend Dale Mabry, driving Lewis's truck, allegedly pulled off Highway 96 and rammed Tripp's pickup truck and camper. Tripp, who was sleeping in the camper, reportedly emerged and threw a tire rim at Lewis's truck, shattering the windshield. He ended up being chased on foot by Lewis and Armendariz. He was stabbed after jumping over a bank.
According to witnesses, Lewis came back to the truck and said he'd cut off Tripp's hand. That would account for the special circumstance charge of mayhem.
Lewis and Armendariz reportedly said Tripp had to be finished off. Leaving the wounded Tripp lying down the bank, the five teens in the truck headed to Hoopa. Lewis and Armendariz went to a residence there, with Armendariz carrying an AR-15 rifle when the two returned to the truck. Lewis had the rifle when he went down the bank to where Tripp was, witnesses said.
One or two shots were fired, and Lewis and Armendariz returned to the truck, both of them "shaking."
Then, Mabry reportedly drove the truck into Tripp's vehicle, pushing it over a bank. The wrecked truck and camper were discovered four days later. Tripp's scattered remains weren't found until Aug. 18, after witnesses contacted law enforcement.
Mabry, Farah Dowd and K-lynn Dowd, all eyewitnesses, testified during Lewis's preliminary hearing.
Lewis is being held on bail of $2.39 million. Bail for Armendariz is set at $1 million.
###