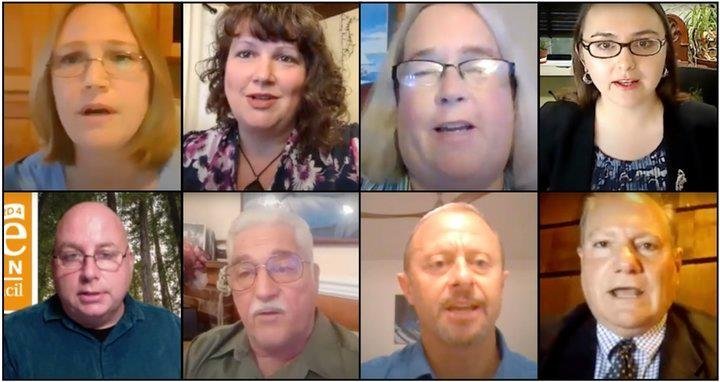 ###
Another $18,000 in campaign contributions have rolled in since last we checked in on the money race in the Humboldt County county seat, where a crowded field of eight candidates are vying for two seats on the Eureka City Council.
The top fundraiser during this final pre-election filing period was Scott Bauer, an environmental scientist with the California Department of Fish and Wildlife who's running in Ward 4. He more than doubled his previous tally by collecting another $7,085, bringing his total donations through Oct. 17 to $12,164.
His nearest challenger, financially, remains progressive Humboldt County planner Liza Welsh, who collected in an additional $6,160 this filing period, though almost half of that ($3,000) was from a loan Welsh made to her own campaign.
In the Ward 2 race, progressive nonprofit leader Kati Moulton narrowed the gap between herself and fellow Ward 2 candidate Dot Jäger-Wentworth, a former neighborhood market owner who leans conservative politically. Moulton's campaign brought in $3,385 this period, easily outpacing Jäger-Wentworth's $1,026 thanks to strong support from labor unions. However, she still trails Jäger-Wentworth in total amount raised.
We'll break down the campaign donations a bit more below, but first let's ask: Does the money race even matter?
Two years ago, Eureka held its first election under the new "True Ward" system, in which residents only vote for the representative of their own ward. It was a similarly sizable throng of contenders in 2018, with a dozen candidates in four races (three councilmember seats and the mayorship).
Looking back on those races we can see that campaign fundraising was not at all a good predictor of ballot box success. In fact, those who raised the most lost badly. Political orientation seemed to hold more sway, even though Eureka City Council seats are nominally non-partisan.
The conservative candidates in each 2018 Eureka race handily out-raised the competition, with Anthony Mantova, John Fullerton, Michelle Constantine and Joe Bonino combining to raise nearly $100,000. And yet all four lost by double-digit margins.
Does that mean that the more conservative candidates in this year's races are similarly doomed? Not necessarily. Residents of Ward 2 (south Broadway/Winco/Highland Park) and Ward 4 (Sequoia Park/the hospital district/Cooper Gulch/Jacobs Ave.) may well lean further rightward, politically, than the rest of Eureka. (That's particularly easy to imagine in the more affluent Ward 4.)
This year is also the first time that a True Ward election has been held for these two seats, so there are plenty of unknowns.
In Ward 2, Jäger-Wentworth and county administrative analyst Lucinda Jackson are considered the more conservative candidates, with Moulton proudly wearing the "progressive" label.
Tamar Shirley, the third candidate in Ward 2, has done zero campaigning or fundraising. He appears to be sitting the race out.
Jäger-Wentworth — sister of former councilmember and mayor Frank Jäger — had raised $6,857 through Oct. 17. Her largest donation this period, $500, came from Green Point Ranch. The address listed on the donor form for Green Point Ranch belongs to Eureka law firm Morrison and Morrison. Meanwhile, there's a 300-acre ranch located off Hwy. 299 near Lord-Ellis Summit that belongs to 82-year-old Gay Toroni-Morrison, who once donated $1,000 to the Humboldt County Sheriff's Office as thanks for evicted a tenant.
Moulton raised $5,604 through Oct. 17. Her top donors this go-round — all of whom chipped in the $500 max — are as follows:
Operating Engineers Local Union No. 3
IBEW Local 551 PAC
United Food & Commercial Workers Local 5 PAC
National Union of Healthcare Workers PAC
June P. Diaz Ortiz, Eureka

Roy Gomez, Eureka

###
In Ward 4, lefty candidates Bauer and Welsh could potentially split the progressive vote while Marine Corps veteran and restaurant owner Bill Tuttle will likely garner much of the conservative vote, which could leave a lane open for either Matthew Owen, a loan officer and "Matthew in the Middle" columnist, or Eddie Morgan, a military veteran and Old Town clothing store owner.
Owen appears to be hoping that money is a non-factor. His campaign fundraising total remained at just $396 this period.
Morgan, as he proudly proclaimed on Facebook, hasn't accepted any donations at all.
Tuttle brought in just $439 this period, including a $250 donation from Fullerton, the Eureka CPA who ran unsuccessfully in both 2018 and 2016. Tuttle's total stands at $2,842.
Welsh, like Moulton, collected a number of $500 donations from unions this period, including:
AFSCME Local 1684
National Union of Healthcare Workers
Humboldt County Democratic Central Committee
United Food and Commercial Workers Local 5
Her total now stands at $8,787.64, though, as noted above, $3,000 of that came via a loan to her own campaign.
Bauer has raised more than any other candidate this year, though his total — $12,164 through Oct. 17 — is less than half of what the top 2018 candidates hauled in. Bauer's donors this period included former Humboldt County Supervisor Bonnie Neely, who chipped in $250, and former U.S. Congressional aid/Eureka resident Elizabeth Murguia, who gave the max.
Bauer's other $500 donors from this period were:
Dale Preston, Eureka
David Mulhern, Eureka
Aaron Read, Sacramento
Kathy Read, Sacramento
David Aumentado, McKinleyville
Mark Benzinger (VP of Mercer-Fraser), Kneeland
Ted Toppin (president of consulting firm Blanning & Baker), El Dorado Hills
Blanning & Baker, a consulting firm in San Francisco
###
To learn more about the candidates, you can head over to LoCO Elections, where most (though not all) have taken time to answer questions submitted by Outpost readers.
Election Day is Nov. 3, though a record number of people nationwide have already voted. Which is fantastic, voting. LoCO recommends it.