In text messages sent while he was on the run from law enforcement, murder suspect Demetrius Coleman described the armed robbery that allegedly motivated him to gun down Johnny Mack Renfro on Aug. 29, 2019.
"(They) robbed me at gunpoint and someone got knocked down," Coleman texted someone in the weeks after the shooting. "Knocked down" is another word for killed, said Andrew Campbell, testifying today in Coleman's murder trial. Campbell is an expert on cellphone data and was called as a witness by the trial prosecutor, Deputy District Attorney Carolyn Schaffer.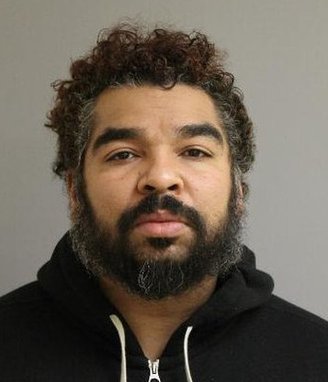 Campbell also showed a number of other texts sent by Coleman, including "They laid me on the ground and put iron (a gun) in my mouth. They stripped me of 50 P's (pounds or packs of marijuana.) After that it was all mathematically incorrect."
Coleman also sent the friend a link to a Sept. 25, 2019, news article naming him as a suspect in the drive-by shooting in Rio Dell. On the same day Jovan Ignjatovic, who allowed Coleman to leave his car at his home after the shooting, received a message from an unknown number: "Why are you cooperating with the police?"
In other texts Coleman asked for help, saying he was "stuck in the cold."
He and his girlfriend, Alma Ahumada-Mendoza, were arrested in late January in North Dakota.
Other cellphone records shown today by another expert, John Dominick, charted the times and general locations of calls made from Coleman's phone and the phone belonging to Mariah Acosta, which according to Acosta was being used by Ahumada-Mendoza. The phone records confirm Acosta's testimony that she and Coleman were at the Bayfront Restaurant, then later all three went to 20/30 Park and Walmart.
Then both phones move south (Acosta and Ahumada-Mendoza in one car and Coleman in another) to the Rio Dell area where Renfro was shot. Coleman, who is expected to testify in his own defense, does not dispute that he was in the car when it passed Renfro on the street and the driver opened fire. He says he was not the driver but was hiding in the back seat.
Rio Dell Police Chief Jeffrey Conner, testifying today under questioning by defense attorney Andrea Sullivan, acknowledged he had received information that Renfro was involved in marijuana robberies. Renfro had been staying with some other men at a motel in Arcata, Conner said, but he argued with one of the men and stayed one night instead of the two nights he'd booked.
Renfro's phone records show he began the day of Aug. 29, 2019, in the Arcata and McKinleyville areas. Then the phone moved south, with the last call placed at 6:06 p.m. south of Eureka.
The prosecution believes that when Coleman was sitting in his green Honda outside Walmart, he spotted Renfro's blue Jeep passing by and followed it to Rio Dell. Ahumada-Mendoza, with Acosta an unwilling passenger, trailed behind Coleman.
Renfro had been on his way to a date with a woman who lived in the Monument Road neighborhood. When he pulled over in front of 70 Monument Road to change his clothes, a bullet fired from a passing green car struck him in the abdomen.
Today Judge Kelly Neel told jurors the trial is ahead of schedule, with Schaffer likely to rest her case her case tomorrow and Sullivan to begin presenting her defense. Testimony is expected to wrap up completely by the end of this week.
###
CORRECTION: This story originally mixed up the names of a couple of expert witnesses. They have been corrected. The Outpost regrets the error.
###