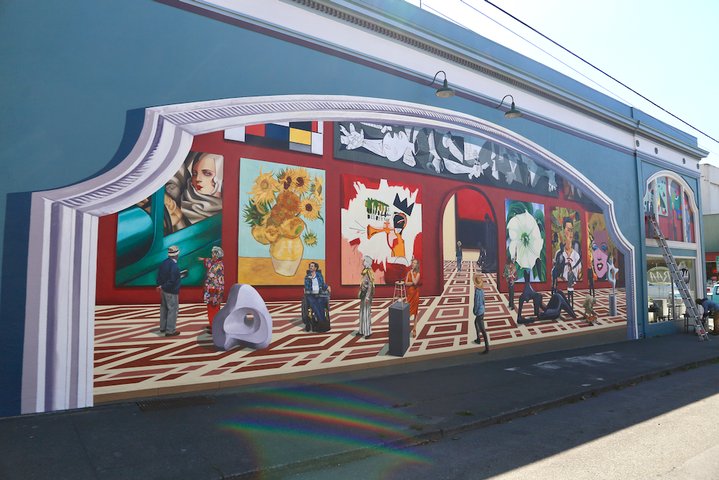 Sorry, Humboldt. If you're playing by societal rules, odds are you're not going to be pursuing any happy-making travel plans in the immediate. Sucks to be us! And if you're someone who lusts after new-to-you art adventures, as many 'round these parts seem to, that means that the grandiose galleries of the world are, at least for now, roped off to you. COVID is a joy thief.
But if we may offer an alternative, closer-to-Homeboldt diversion: Now that the sky has returned to its normal colors and the air in Eureka is mostly breathable again, perhaps you'd be interested in a block-long art walk? Specifically, consider a jaunt down Sixth Street between F and G streets where local mural man Lucas Thornton has wrapped his latest large-scale eye-grabber, "Walk Into Art."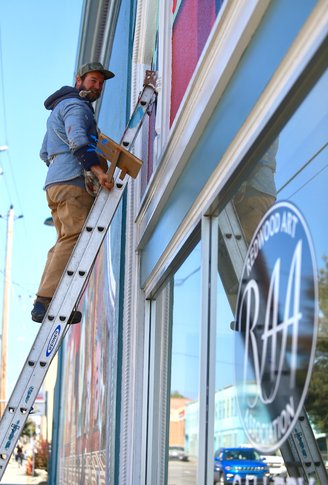 And it's a biggun. Occupying the majority of the Redwood Art Association's side wall, Thornton's trompe l'œil design gathers the works of twenty giants of art history (more on them at the bottom of this post) to offer Eureka its own, unique street gallery experience.
If you're regularly in Eureka, you've undoubtedly already driven by the ambitious project, in-progress. Thornton began work on the mural during the bygone era that was July 2019 and chipped away at it until October when the North Coast weather quit cooperating with his creation. He then waited until June of this year, when he believed he could responsibly work under COVID restrictions, to again take up brush. He finally finished earlier this month after somewhere around six combined months of colorful labor.
"It feels really good to be done," Thornton told the Outpost. "I'm so tired."
The initial art-within-art concept was the brainchild of Linda Wise, then-president of the Redwood Art Association, who approached the artist with the idea and ultimately funded the work. After some vision tweaks, Thornton set about on the lofty task of reproducing the best-known works from some of the art universe's most influential figures. For him, it was an honor to be granted the opportunity to pay homage to masters.
"It was an incredible feeling to be able to put myself in front of their canvases and try to recreate their art," Thornton said. "Sometimes I even felt like they were watching me. Each piece was a different journey and I felt like I learned a lot from each one because I was diving deep into them. I really wanted to represent them all accurately."
The overwhelming majority of the artists Thornton chose to tackle are from the 20th century. Reproductions of works that even those with casual art knowledge would recognize are mixed in with more obscure pieces. Thornton hopes that people will be able to appreciate and be exposed to art they might not have otherwise have had the chance to encounter in person.
"I really wanted to have some famous pieces so that anybody who had even a little knowledge of art history would recognize something," Thornton said, noting that nearly all of his recreations, here, are painted larger than the originals. "So I did a Van Gogh — everybody knows Van Gogh! — and that's mixed in with others that maybe people don't know who are still pretty popular in the history of art. Then there's pieces you only partially see, like in the corners and on the top. The Salvador Dali, you only see the melting clock, so you get the idea. I also wanted to choose paintings I thought I could execute properly. I wasn't about to do a Mona Lisa."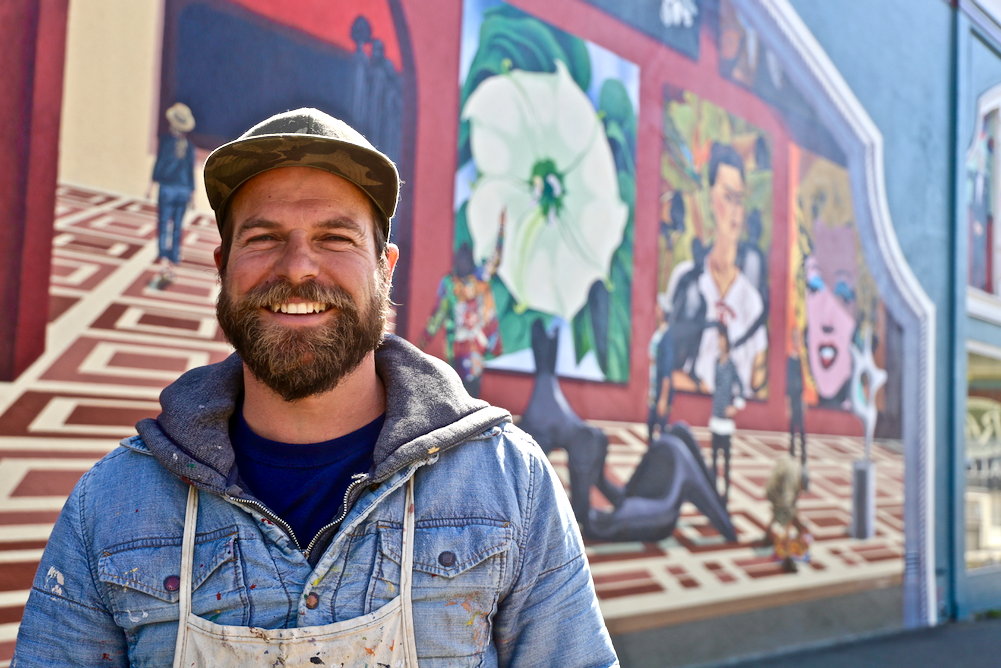 Wandering amidst the "Walk Into Art" gallery collection are people you may conceivably recognize. Who are they? The immortalized art aficionado set, Thornton explained, consists of people who made donations toward renovations for the RAA building or, in a few cases, people those who donated chose to honor. He recounted a conversation he had with one of the contributing faces in the crowd, former Eureka mayor Nancy Flemming, who stopped by to check on his progress one day.
"She mentioned to me how, when she was mayor, she was one of the early supporters of the Rural Burl Mural Bureau with [Duane] Flatmo, which I joined when I was 14. And it was like, wow! Full circle! [The RBMB] is the reason why I'm still painting. It's the reason I'm an artist and muralist."
Thornton also relayed how special it was to finally be able to paint an original design in his hometown.
"This is my first real solo project in Eureka," Thornton explains. "I've done murals in Arcata and Fortuna and Crescent City, but I was born and raised in Eureka. I always hoped I would get to do one here. And, boy, did I do a mural in Eureka."
# # #
And now, your LoCO-exclusive guide to the art and artists Lucas Thornton sampled to create "Walk Into Art" along with links to images of the original pieces (so you can judge for yourself how close Thornton came to pulling off his loving recreations):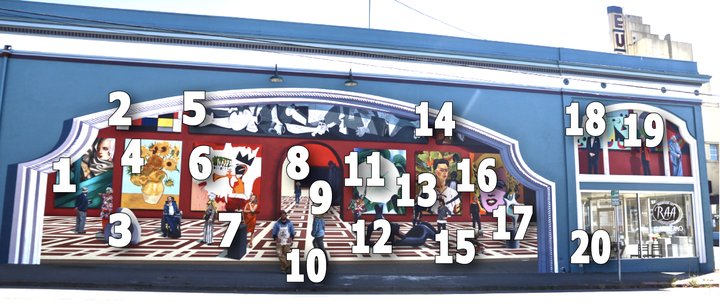 Art by Numbers: Scroll down to learn the identities of the original artists behind these reproduced masterpieces.
# # #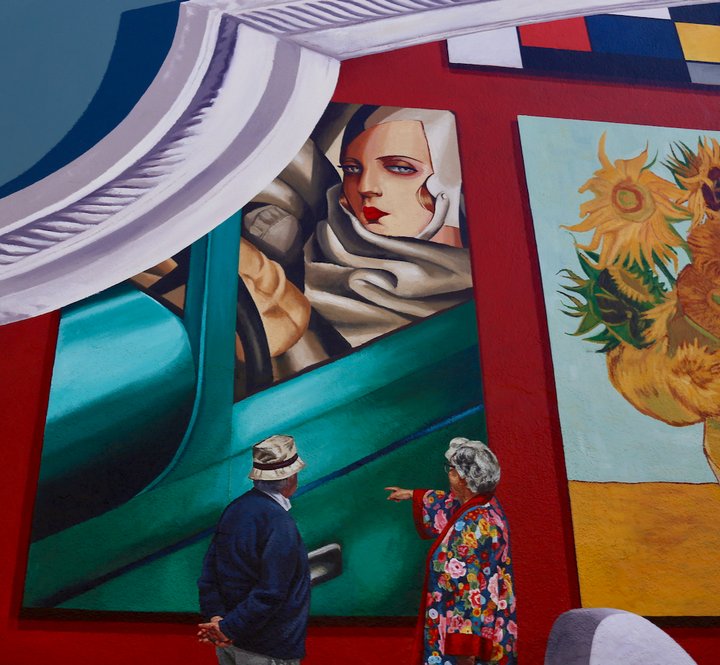 1. Tamara de Łempicka - "Autoportrait (Tamara in a Green Bugatti)" (1929)
Polish-born Art Deco artist Tamara de Łempicka was commissioned to paint this zoomy self-portrait for the cover of an issue of the German lifestyle magazine Die Dame celebrating women's independence.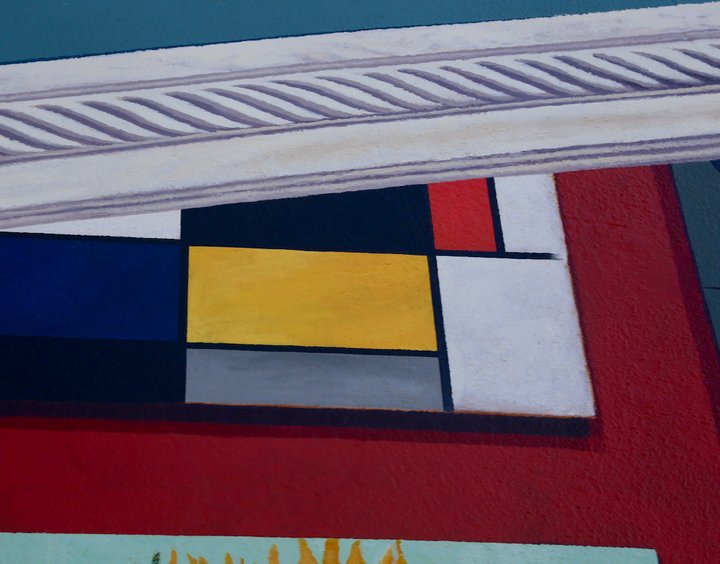 2. Piet Mondrian - "Composition A" (1923)
An innovator of 20th century abstract art, Piet Mondrian and his Dutch contemporaries formed the De Stijl art movement. Much of his art was limited to primary colors (red, blue and yellow) and primary directions (vertical and horizontal).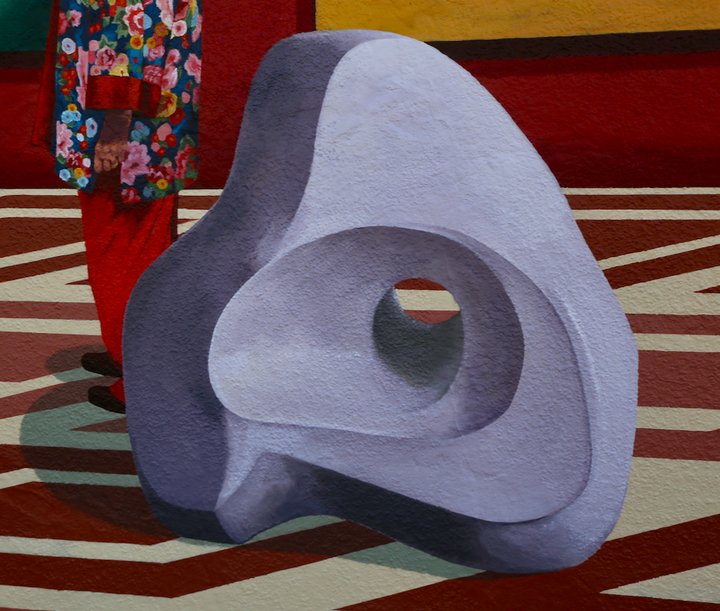 3. Dame Barbara Hepworth - "Image II" (1960)
English Modernist sculptor Barbara Hepworth famously was a member of an artist colony who gathered in St. Ives during World War II. This nearly 900-pound marble piece still resides there.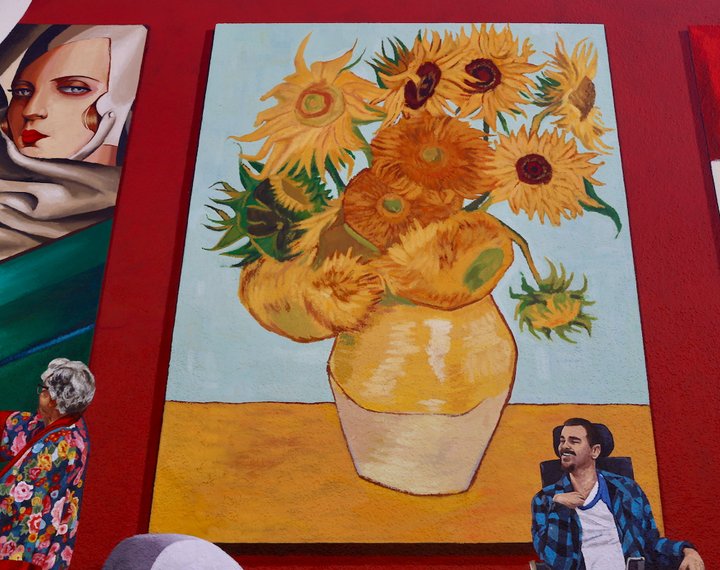 4. Vincent Van Gogh - "Sunflowers (Third Version)" (1888)
One of the many famous still life paintings of sunflowers that post-impressionist artist Vincent Van Gogh painted in the south of France (around the time of that ear incident).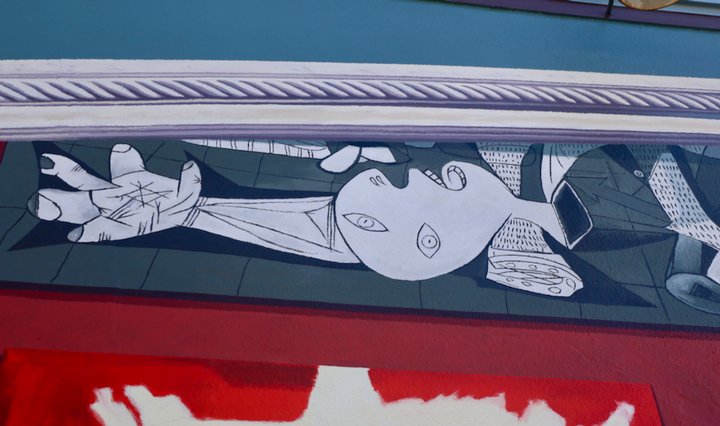 5. Pablo Picasso - "Guernica" (1937)
Among Spanish Cubist painter Pablo Picasso's most celebrated works, this anti-war piece was painted in response to the Nazi Germany bombing of the Basque town of Guernica.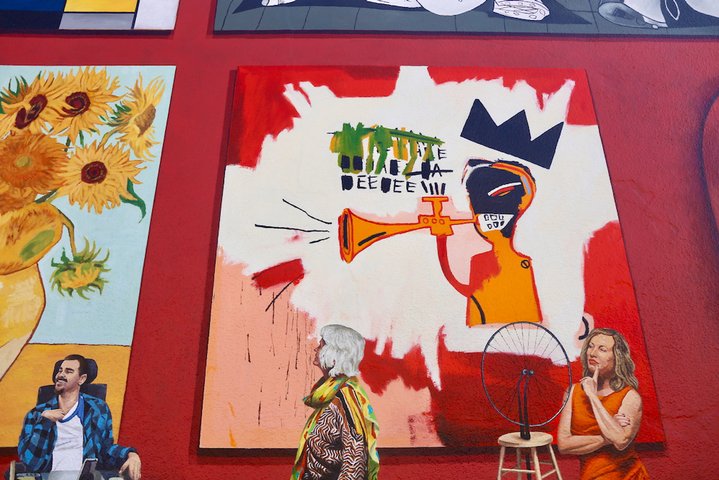 6. Jean-Michel Basquiat - "Trumpet" (1984)
Neo-expressionist street artist Jean-Michel Basquiat was one of a handful of artists who elevated their graffiti art into New York galleries in the 1980s. The subject of several documentary films, he died in 1988 at the age of 27.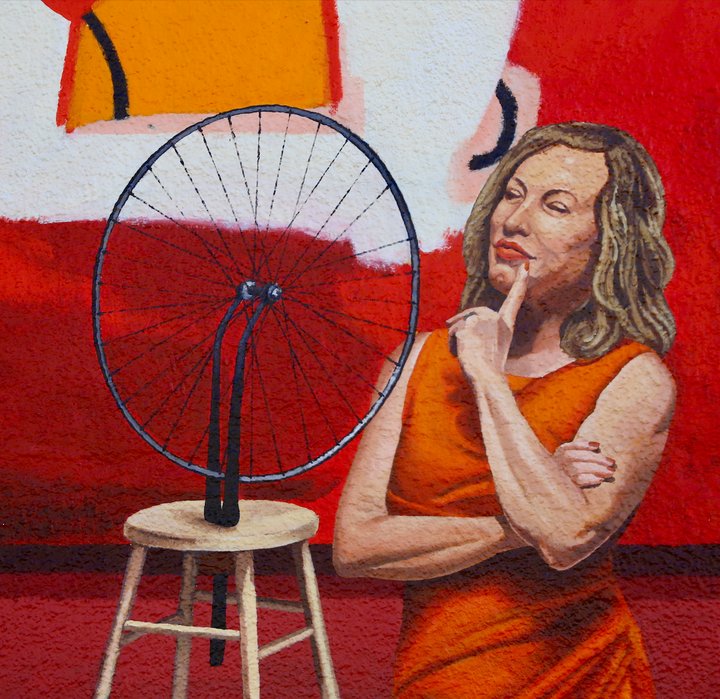 7. Marcel Duchamp - "Bicycle Wheel" (1916)
French-American conceptual artist Marcel Duchamp challenged ideas surrounding what constituted art by slightly repurposing found objects into new forms. Yes, it's a bicycle wheel on a stool. But aren't we all?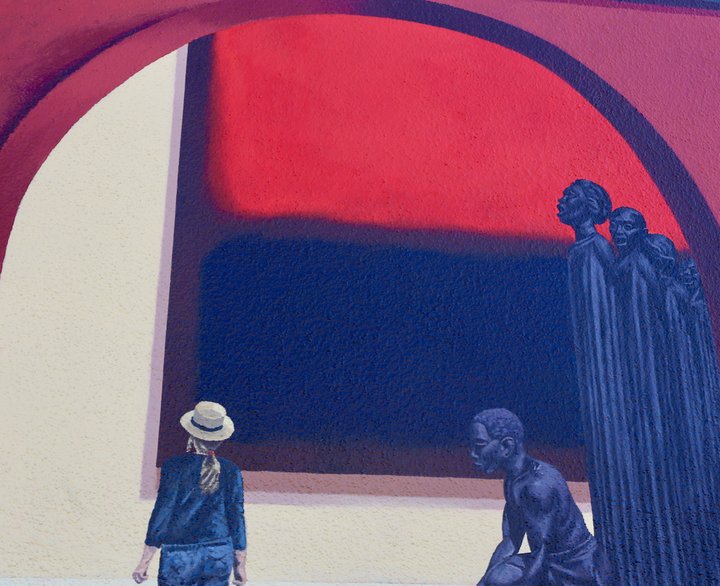 8. Mark Rothko - "Number 14" (1960)
This piece by American abstract expressionist Mark Rothko should be familiar to art fans who've made the pilgrimage to the SFMOMA where Thornton long ago-encountered it.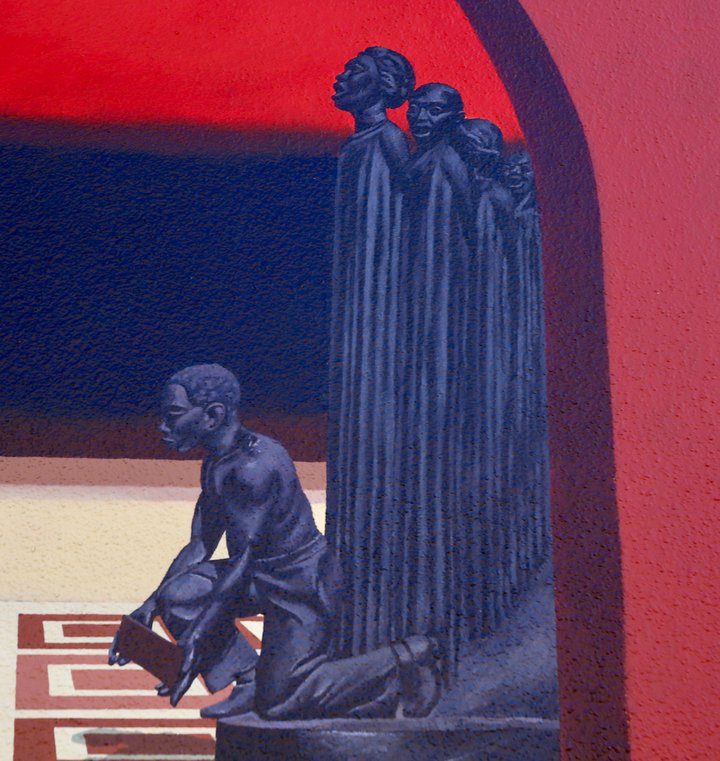 9. Augusta Savage - "The Harp" (1939)
Harlem Renaissance sculptor Augusta Savage was commissioned to make this piece depicting Black singers positioned in the shape of a harp for the 1939 New York World's Fair. The sculpture was destroyed at the conclusion of the event.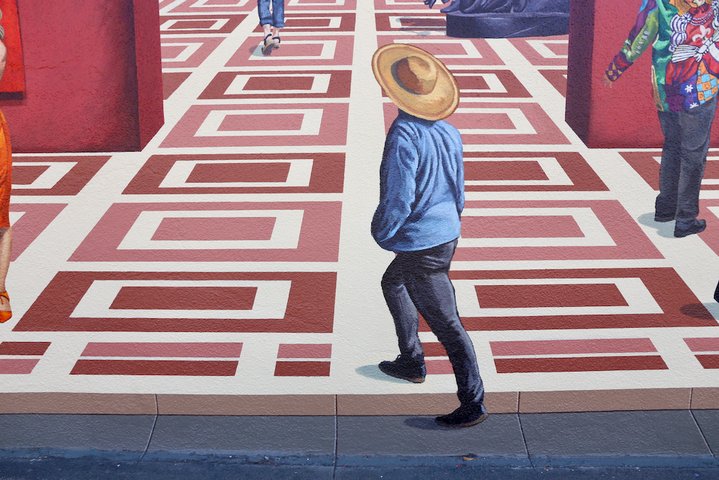 10. Raphael - "School of Athens" (1511)
Thornton didn't reproduce the entirety of this Raphael's fresco — one of many that adorn walls inside the Vatican Museums. But he did sample the floor design (and, in case you're wondering, that's the mural artist stepping on it).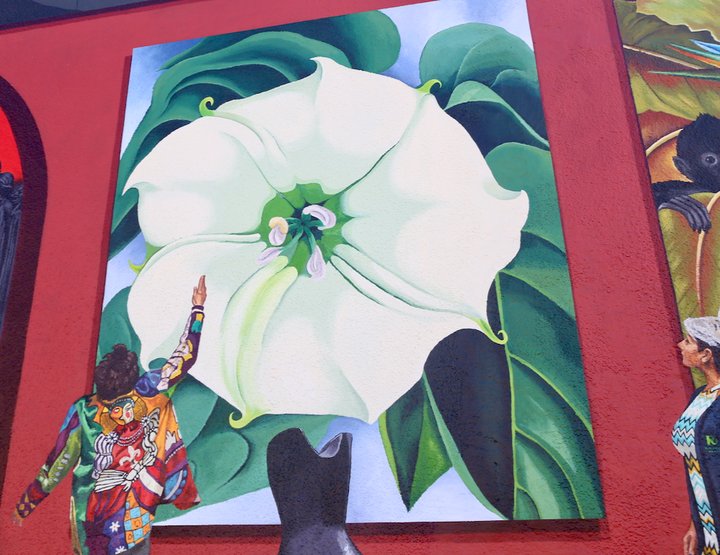 11. Georgia O'Keeffe - "Jimson Weed/White Flower No. 1" (1932)
This piece by "The Mother of American Modernism" Georgia O'Keeffe set a record in 2014 when, after the artist's death, it sold for over $44 million — the most ever for a female artist.
12. Henry Moore - "Reclining Figure" (1952)
English sculptor Henry Moore crafted many abstract bronze sculptors of the reclining human form over his career. This particular piece still lounges in the Jardin des Tuileries near the Louvre in Paris.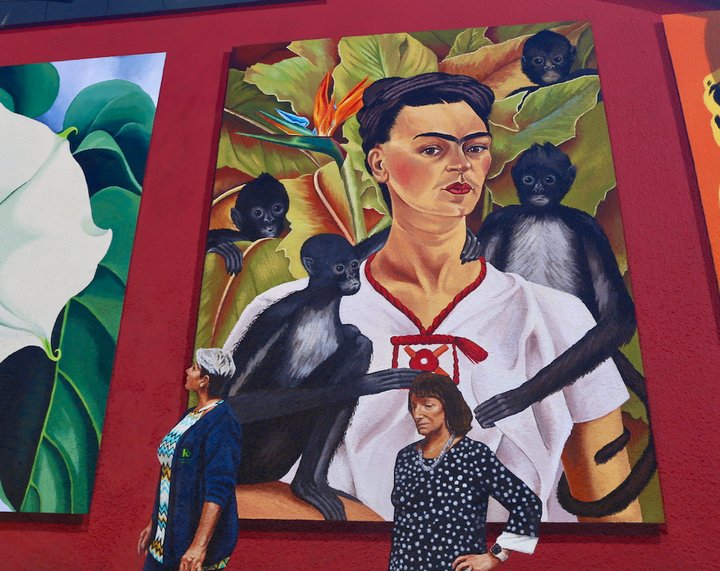 13. Frida Kahlo - "Self-Portrait with Monkeys" (1943)
One of Mexican artist Frida Kahlo's many self-portraits, this piece contains some of the spider monkeys she kept as pets in her later years at La Casa Azul in Coyoacán.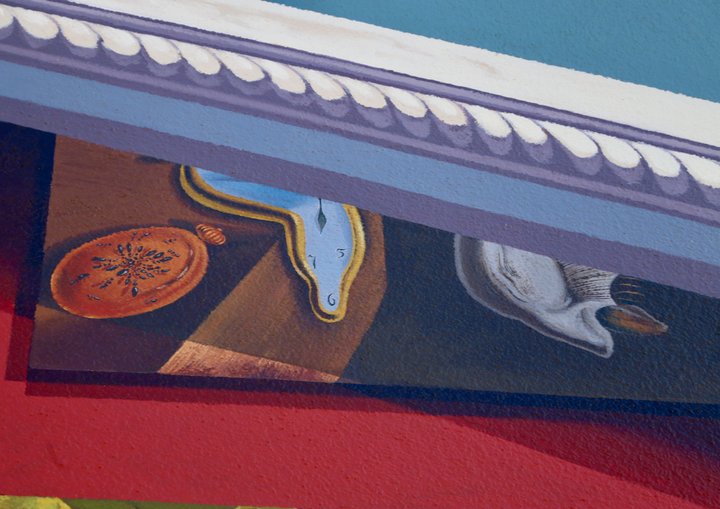 14. Salvador Dali - "The Persistence of Memory" (1931)
The seminal work by Salvador Dali, Surrealism's most celebrated figure, peeks out from the top-right corner of the mural. If you must, you can call it "The Melting Clocks." It's cool.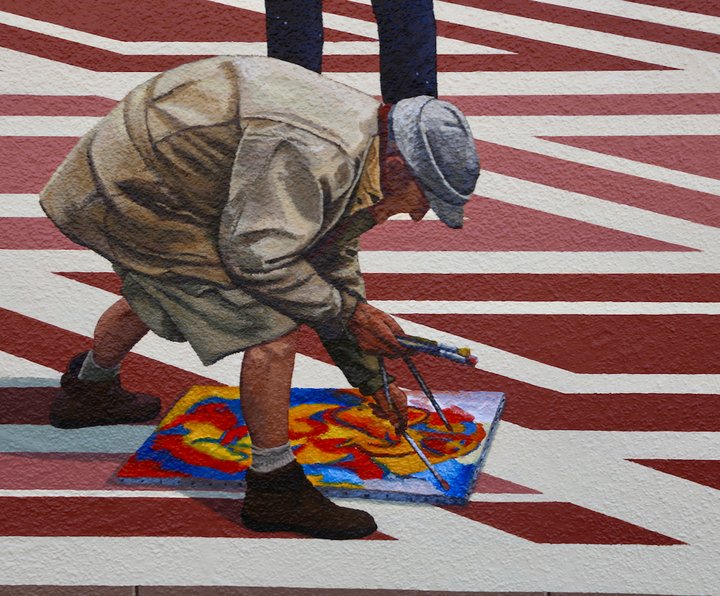 15. Curtis Otto - "Nude Woman"
Both Curtis Otto and an example of his style can now be found on Sixth Street. The prolific artist was born in Eureka in 1923 and died there in 2015 at the age of 92.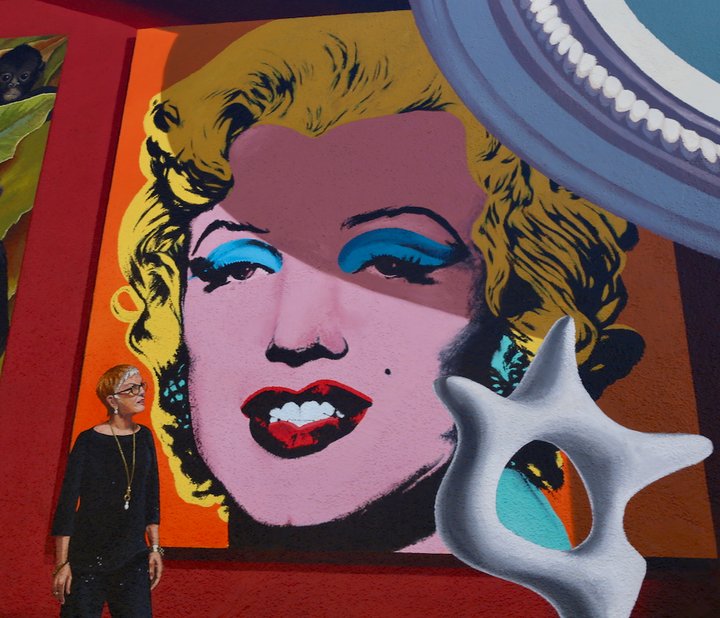 16. Andy Warhol - "Orange Marilyn" (1962)
One of the many Pop art images American painter Andy Warhol produced of Hollywood icon Marilyn Monroe. This one last sold at auction in 1998 for $17.3 million.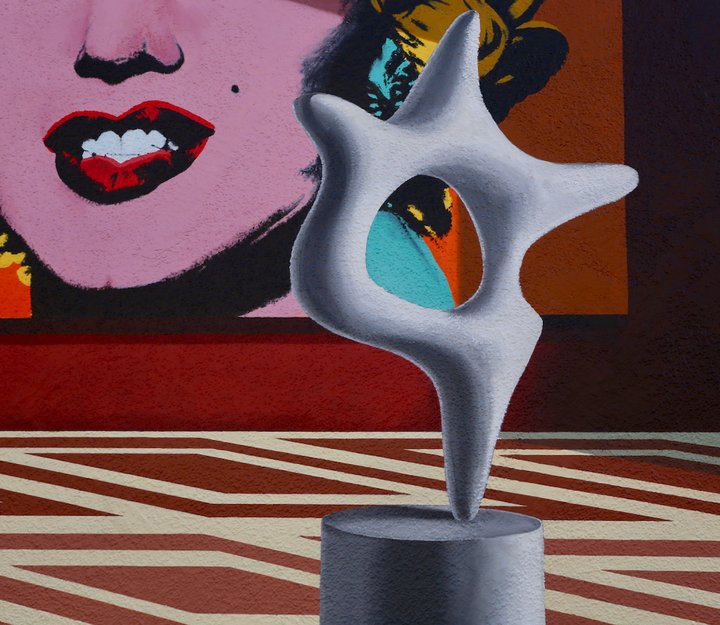 17. Jean Arp - "Etoile" (1960)
One of the founders of Dadaism, artist, sculptor and poet Jean Arp twice fled to Switzerland to escape world wars and once feigned mental illness to elude being drafted by the German Army. Oh, and "etoile" is French for "star."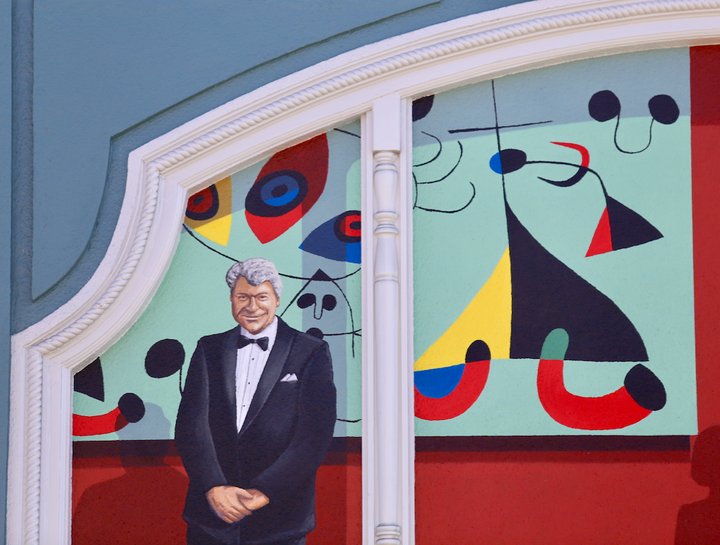 18. Joan Miro - "Snob Evening at Princess' House" (1944)

One of two pieces tucked away on the far right corner of the Redwood Art Association's Sixth Street-facing wall is this one by Joan Miro, a Catalan Surrealist painter who held contempt for the bourgeois class. There are two museums in Spain dedicated to Miro's works.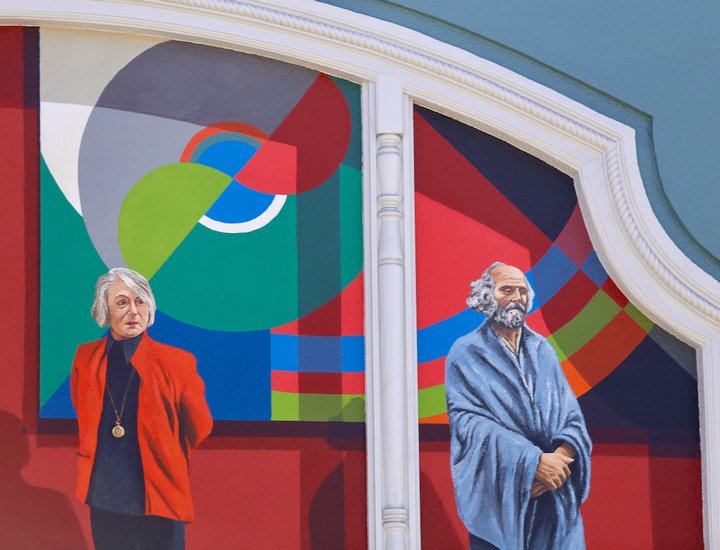 19. Sonia Delauney - "Rhythm Colour No. 1076" (1939)
Russian painter Sonia Delauney and her husband Robert were among the artists who crated the Orphism art movement which focused on abstract shapes and bright colors. In 1964 she became the first living female artist to have a career-spanning exhibition at the Louvre.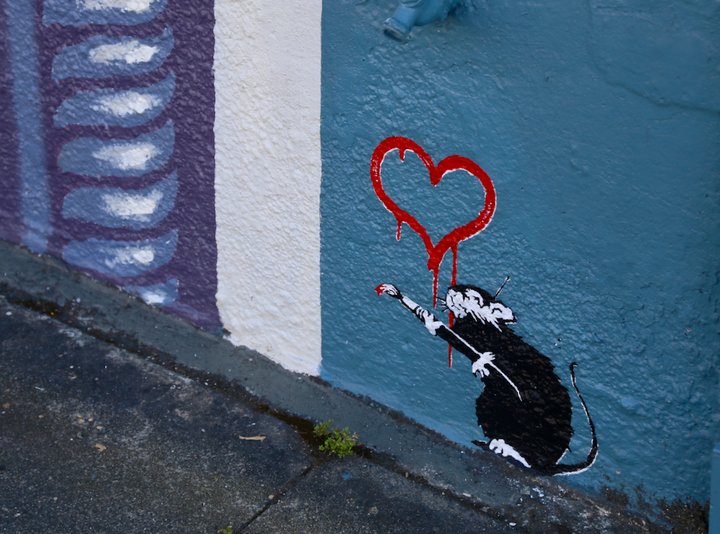 20. Banksy - "Love Rat"
Thornton decided to include a last-minute nod to the mysterious English street artist Banksy, the only still-living artist's work to be referenced. Or maybe it was Banksy themself who added this. Oh! Or, since we've never seen Lucas and Banksy together, what if…
# # #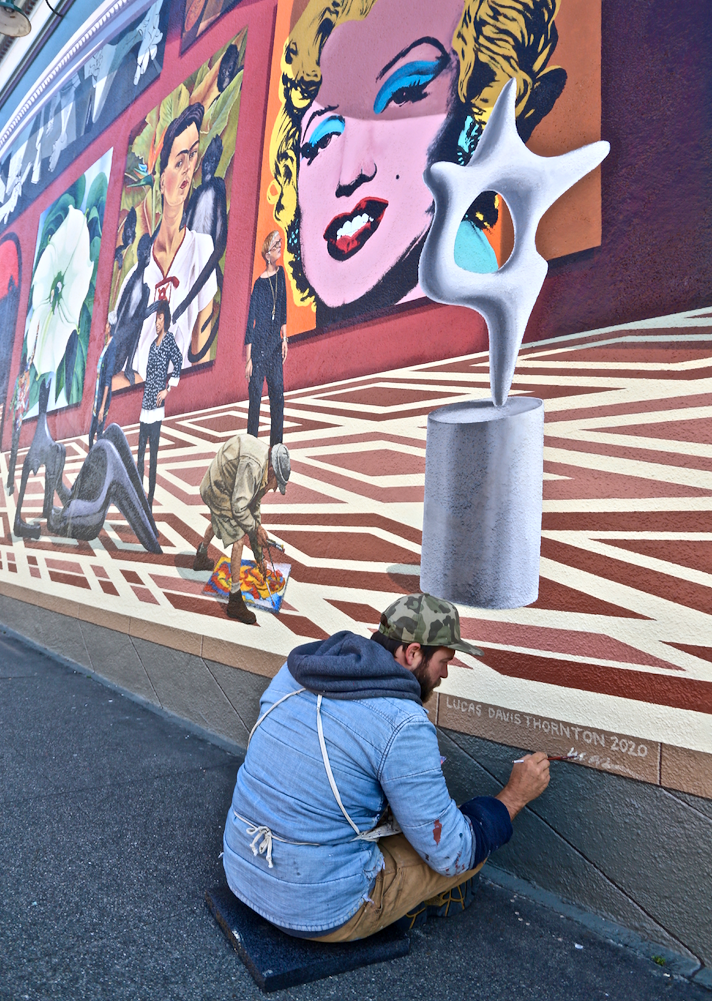 Fin.
PREVIOUS BIG LUCAS THORNTON MURALS ON LOCO:
Learn more about the Redwood Art Association at their website. Lucas Thornton can be reached at muralsbylucas@gmail.com.