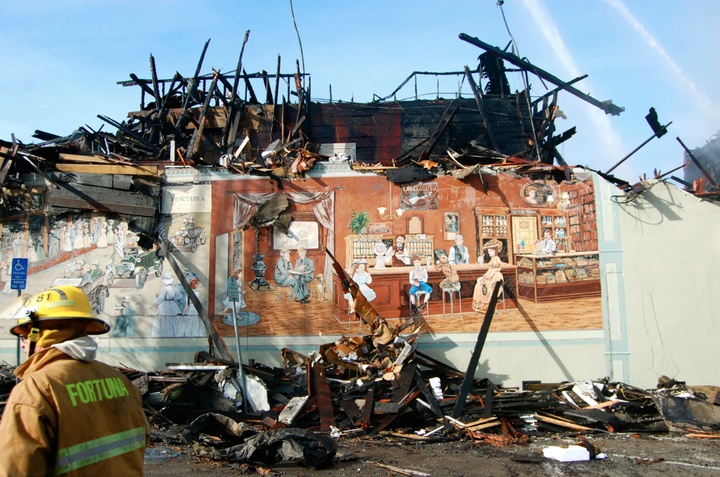 UPDATE: See Fortuna's now-finished mural here.
# # #
It's been about a year and a half since flames claimed the Star Hotel Building, a longtime fixture on Fortuna's Main Street. Lost along with the historic structure was a mural, iconic to Fortunans, that adorned the 11th Street side of the building and featured scenes of idyllic Fortuna life of yesteryear — you can see the piece in its final days in the LoCO file photo above. RIP, art.

The Star Hotel mural is now only memory, but a new brick and mortar canvas down the road a bit is currently coming to colorful life. Yessir, the Friendly City will soon have its mural hole filled by a new 50-foot-wide display on the side of Ray's Food Place on North Fortuna Boulevard. "Greetings from Fortuna, California" the piece proudly declares in vintage postcard picture font. And look! There's the Star Hotel in the F! How 'bout that?!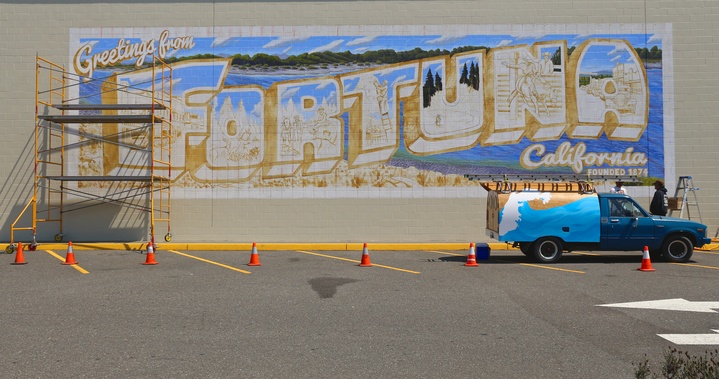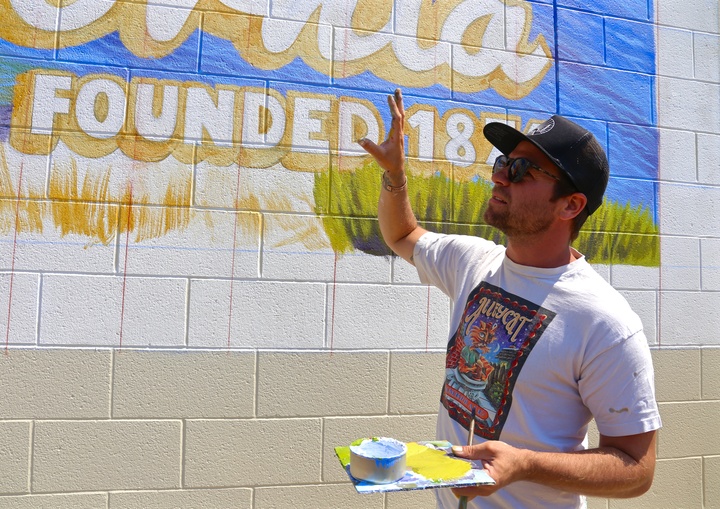 The man behind the brush is muralist Lucas Thornton, 32, of Eureka. After first wetting his brush at the age of 14 as a student in Duane Flatmo's Rural Burl Mural Bureau, Thornton has been painting murals on his own for over 10 years — his first solo venture was a piece on the Ocean View Inn in Crescent City. You may not know it but you've seen Thornton's work Humboldt-wide, from mural restoration work at Bucksport Sporting Goods and Cypress Grove to more-mobile artistic expressions in the Kinetic Grand Championship. He's also mural'd it up out of county, from Ukiah to Costa Rica. Thornton's Fortuna mural is his largest solo project yet and he says he's received nothing but love from the community.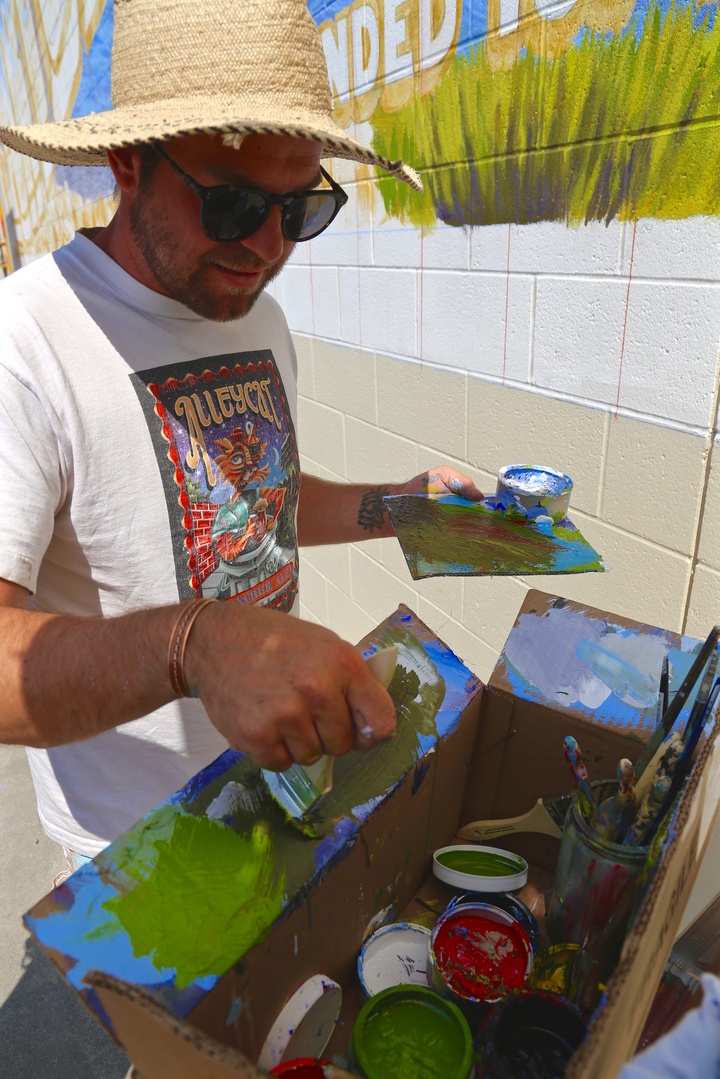 "The people of Fortuna have been so nice," Thornton said, noting that appreciative citizens have stopped by and slipped him cash for dinner and Jitter Bean gift cards. In fact, while the Outpost was interviewing Thornton, a couple stopped by to ask when the best time would be to bring him a meal. They declined to be identified.
The project has received support to the tune of around $15,000 from grants and donations from members of the Fortuna community, Thornton said. Fortunans Karen Delangelo, Don Brown and Simon Rios headed up fundraising efforts with Delangelo also being a main contributor to the mural's design. The scenes depicted within the letters spelling out "FORTUNA" celebrate numerous (well, seven) locations and events. A rundown:
F: Classic Main Street including the late Star Hotel
O: Deer season in the Rohner Park Forest
R: Shake and shingle mill workers
T: Picking apples, perhaps during the Fortuna Apple Harvest Festival
U: Fly fishing in the mighty Eel River near Riverwalk Drive
N: Bronc riding at the Fortuna Rodeo
A: Classic cars lined up for the Fortuna AutoXpo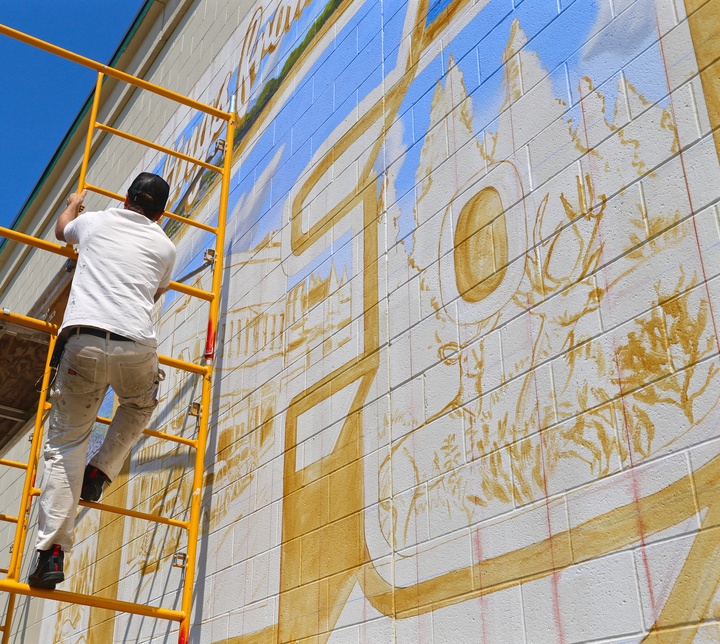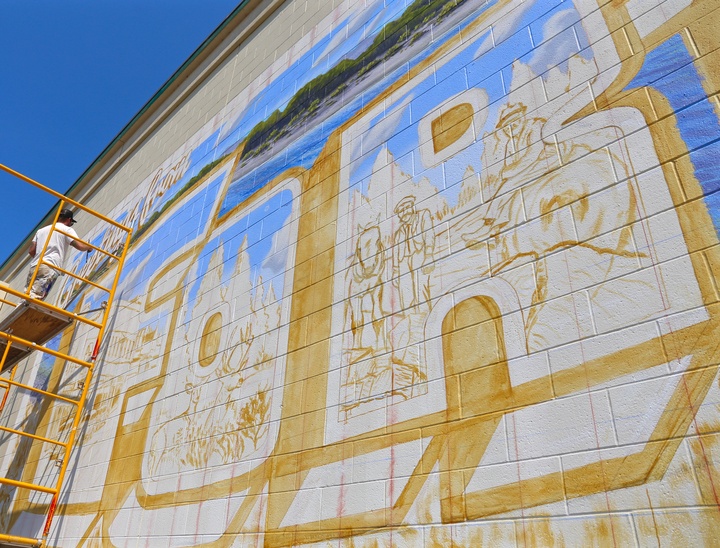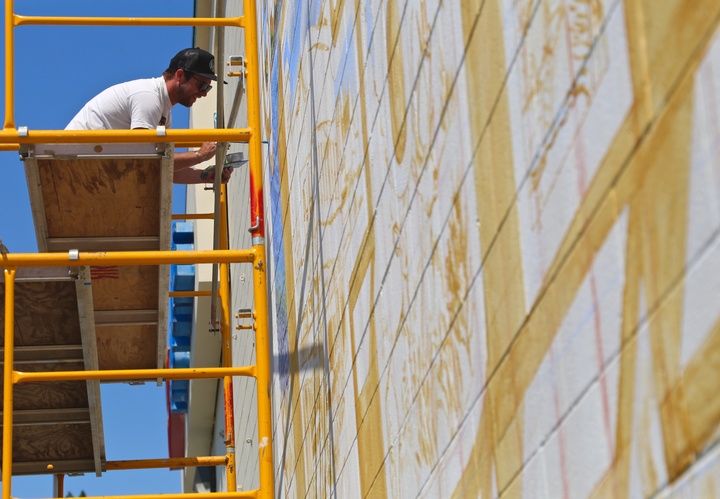 There is still much painting yet to do. Thornton began work on the Fortuna mural last Tuesday, Aug. 9, and hopes to have it done by the end of the month. After that, should the grants fall into place, Thornton hopes to embark on his biggest project: a 250-foot-long mural on the side of the Arcata Bay Crossing building on Samoa Boulevard in Arcata. Stay tuned.