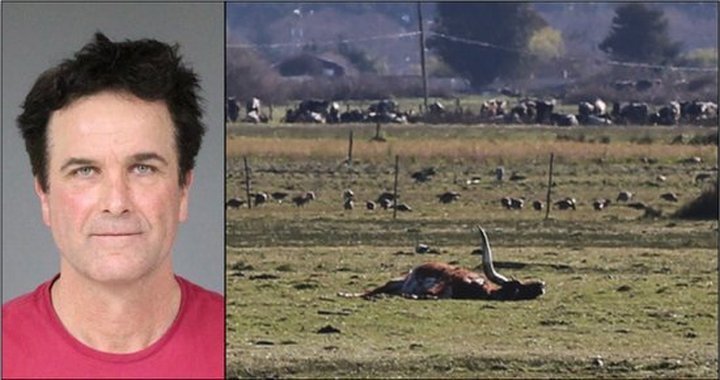 ###
Ready or not, Arcata rancher Ray Christie's second trial is coming in October.
This morning Judge Kaleb Cockrum, who was abruptly handed the case by Judge Christopher Wilson, denied a defense request to delay the trial on animal cruelty charges until January. Co-counsel Ken Bareilles is now the attorney of record, although he hasn't been involved in Christie's defense for a couple of years, and he was told to be ready for trial on Oct. 4.
Bareilles tried his best to convince Cockrum to set the trial early next year, saying he hasn't stayed familiar with the case because all the work was being done by co-counsel John Cogorno.
"I didn't want to go to court and sit there and try to stay awake," Bareilles explained.
Christie fired Cogorno last week, leaving Bareilles in charge of his defense. On Wednesday Judge Wilson, furious, told Christie and Bareilles to show up this morning with a lawyer who was ready to go to trial. Bareilles told Cockrum he contacted six local attorneys. One of them hasn't responded and the rest said no.
Bareilles said he has represented Christie for 10 years, including when he had "that rooster thing." (Christie was once charged with cockfighting.)
He would love to try the current case, Bareilles said, but there's no way he can be prepared before January. For one thing, jurors need to know about a lot more "than just what a couple witnesses say."
Bareilles said a jury must understand ranching, must understand how the cattle auction works, must understand why Christie buys cattle in poor condition and tries to nurse them back to health.
"I can guarantee … I will be prepared to go to trial the first part of January," Bareilles pledged, noting that Christie is entitled to a proper defense.
As it is, he said, he has a pile of documents two feet high in his office, all of them authored by Cogorno and none of them read by him. Cogorno recently filed a motion for new trial that Bareilles hasn't read. Cogorno was planning to call several new witnesses who didn't testify at the first trial, and Bareilles has no idea who they are.
Also, Bareilles said, he has a logging business he needs to focus on, with contractual obligations to fulfill. Cockrum reminded him that as an attorney his professional duty is to put that work first
At one point Christie tried to speak to the judge, but wasn't allowed. He had a whispered conversation with Bareilles, who then told Cockrum Christie "is concerned, very concerned," that Bareilles can't be prepared by October.
Deputy District Attorney Steven Steward, prosecuting the case along with Deputy District Attorney David Moutrie, opposed Bareilles's motion to continue on a case already more than three years old. The first trial was a year ago, with the jury deadlocking on the four felony counts that are being retried.
"We need to move forward," Steward said. He said the trial transcript is available for Bareilles to review, and the prosecution will be presenting the same witnesses who testified during the first trial.
Cockrum, in denying the motion to continue, told Bareilles "you're an honorable man and an honorable attorney, but you're in a pickle."
"Clearly you are unprepared for trial, and it's a problem."
At the same time, the judge said, Bareilles remains the attorney of record.
"You're going to have to make this case a priority over other aspects of your life," Cockrum said.
Bareilles also has to decide whether to pursue a motion for new trial that Cogorno filed before he was fired. If Bareilles does not withdraw the motion it will be argued on Sept. 20, the same day as the trial confirmation hearing.
###
PREVIOUSLY: