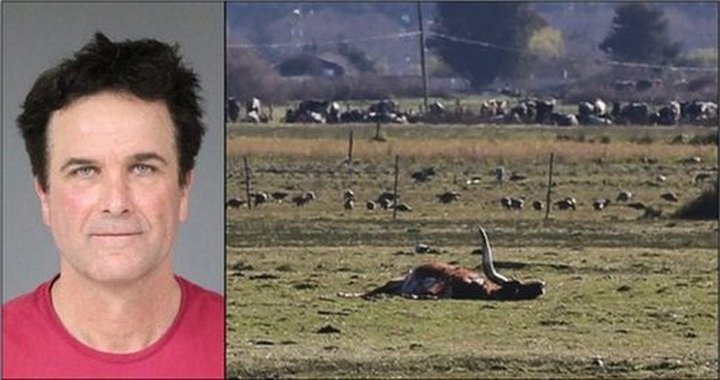 The lawyer for Arcata rancher Ray Christie, who is scheduled for retrial next month on four felony counts of animal cruelty, has filed a motion asking for a new trial on the 25 misdemeanor charges a jury convicted him of in January 2020.
Attorney John Cogorno filed the motion based on what he believes were erroneous and misleading instructions given to the jury before they began to deliberate. Christie was convicted of 25 counts of disposing of dead cattle within 150 feet of state waters. Investigators who raided his ranch on the Arcata Bottoms found hundreds of decomposing carcasses.
Jurors could not reach verdicts on the felony animal cruelty charges and several of the misdemeanors. On the felony counts, 11 of 12 jurors voted to convict.
In his motion, Cogorno cites several examples of alleged mistakes in the instructions Judge Christopher Wilson read to the jury. Among them is that the district attorney's original written complaint accused Christie of "littering," a word not included in the state Fish and Game code. Littering was changed to "disposal." Also, the jury was told that during the trial, evidence was presented (when jurors were not in court) that Christie illegally removed ear tags from some cows and allowed cows to escape his property. Yet he was not charged.
In the motion, Cogorno argues that removing ear tags has nothing to do with the accusations Christie faced at trial. He said giving jurors that information was "misleading and highly prejudicial," and may have influenced their decision to convict Christie.
"Therefore," he writes, "this raises the crucial question here as to whether the defendant was convicted of an offense not charged in the information."
This morning Cogorno and Christie appeared via Zoom for a trial confirmation hearing, and for Cogorno to argue his motion. Deputy District Attorney David Moutrie has filed a written response.
The hearing was mistakenly set before Judge Larry Killoran instead of Wilson, the trial judge, so was rescheduled for Aug. 4. Moutrie told Killoran that Cogorno recently revealed he intends to call new witnesses for the second trial, but is past deadline on turning over witness statements.
"If you have new witnesses or some other defense (strategy) in mind you need to provide it," the judge told Cogorno.
The problem, Cogorno said, is the prosecution won't tell him whether they intend to retry Christie on the misdemeanor charges the jury couldn't agree on. If those charges were simply dismissed, he said, he could "substantially" cut back on the number of witnesses.
"I do not know if they're going to retry the hung jury counts or will just proceed on the felonies," Cogorno said.
Moutrie looked perplexed, saying he thought it was well-known that Christie is being tried only on the felonies. (After Christie's first trial, then-prosecutor Adrian Kamada said the misdemeanor charges were not being tried again. The Outpost reported that on Jan. 22, 2020.)
"We are going to try only the felonies," Moutrie said today.
"Well, there you go," Judge Killoran said.
Cogorno pressed on, asking if that meant the charges were being dismissed.
"We're not going to retry them," Moutrie repeated.
Cogorno apparently is not persuaded, saying in an e-mail today that the charges should be dismissed, and if they aren't he will assume Christie is being retried and he will prepare accordingly.
"I would assume that those misdemeanors would also be included in a retrial," he said, indicating he's skeptical that the prosecutor intends to dismiss.
That and other issues, such as the motion for new trial, should be clarified if Wilson presides over the hearing next week. He has already provided a blistering response to Cogorno's attempt to have charges dropped. At that time his argument was that Wilson should not have dismissed a juror for misconduct.
Cogorno appealed Wilson's ruling to the state Court of Appeal, which denied his writ.
For now, the trial remains set for Aug. 9.
PREVIOUSLY: