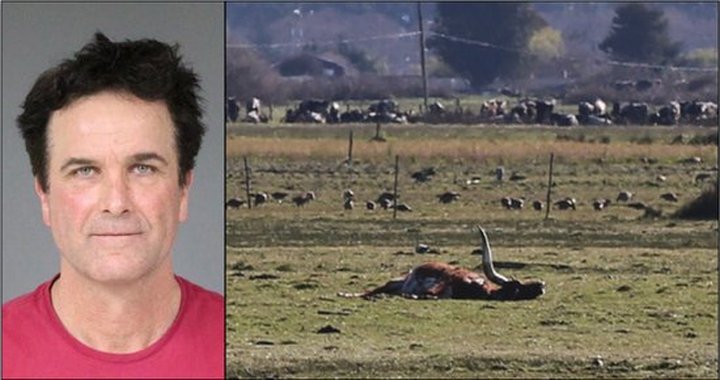 Defense attorneys for Arcata rancher Raymond Christie asked a judge this morning to dismiss charges that Christie abandoned hundreds of rotting cow carcasses within 150 feet of state waters.

The California Fish and Wildlife code that Christie is accused of violating "is unconstitutional and it is almost an absurdity," attorney John Cogorno argued during the defense's motion to dismiss.
Judge Timothy Canning, who is reviewing the written motion and heard arguments this morning, said he will issue a written ruling on Feb. 4.
Cogorno said the land Christie used for grazing cattle is zoned as pasture land by either a city or the county, yet the state is trying to control it.
"Why would I go to a Fish and Game code to see how to manage my land?" Cogorno asked.
"This (Fish and Game code) is unconstitutional. How can a lay person violate a law they don't understand?"
Cogorno said that according to Fish and Wildlife, all surface water in California, "including the water on my front yard," is "waters of the state."
"That's an absurdity," he said.
As to the felony animal cruelty charges Christie faces, Cogorno said there's no proof the malnourished cows found on Christie's property didn't arrive in that state. Christie buys old and sick cows at auction, hoping to nurse them back to health and sell them for a profit. Many of them don't make it.
"Emaciation is a condition, not a cause," Cogorno said. "There's no evidence to support the cause for the condition of the cows."
Co-counsel Ken Bareilles said there's no doubt that whoever had custody of the animals was responsible for their welfare, but there's no proof the person in charge was Christie.
"There's a tremendous gap in evidence on the condition of the cows that morning (when law enforcement raided Christie's ranch on the Arcata bottoms) and their condition at the auction the day before," Bareilles argued. "They were bought in this sub-par condition."
Deputy District Attorney Adrian Kamada, asking Canning to deny the motion to dismiss, said Christie indeed has the right to graze cattle on land zoned for that purpose.
"You don't have the right," Kamada said, "to leave hundreds of dead cattle within 150 feet of state water."
Kamada pointed out that starving animals, "dehydrated and without food," were found on several other properties other than his Arcata ranch.
The ranch and other properties were raided by a number of law enforcement agencies on March 19 and 20. At Christie's ranch on Jackson Ranch Road, an estimated 215 cow carcasses were found less than 10 feet from a channel that feeds Liscomb and Mad River sloughs.
Nine carcasses were found near the Mad River on a ranch Christie was leasing in McKinleyville, and 13 on property off Myrtle Avenue. At that site some dead animals were floating in a slough. A number of other cows on the various properties were still alive but were either lying on the ground or standing but too weak to move.
Christie was arrested on the first day of the March raid but posted bail and remains out of custody.
###
PREVIOUSLY: