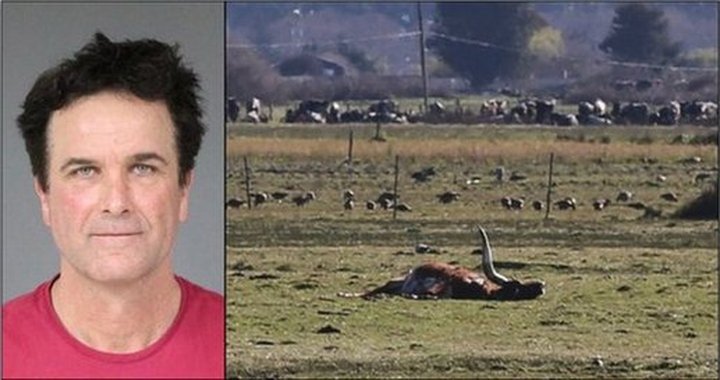 The so-called evidence against Ray Christie is just a picture show designed to put Christie out of business, defense attorney John Cogorno said in his opening statement today in the Arcata rancher's jury trial.
"This is nothing but a show," Cogorno told jurors who had just seen disturbing video and photographs of dead and dying cows on Christie's various properties. "A plan to shut Ray Christie and his cattle ranching down."
The jury, during Deputy District Attorney Adrian Kamada's opening statement, viewed footage of cow carcasses and bones in and around waterways on land Christie owned or leased.
They also saw live animals crowded in a muddy corral strewn with debris, scrap metal and dead calves. And there were photos of weak, nearly dead animals in bare pastures with no access to feed or water.
Christie is charged with four counts of felony animal cruelty and 39 misdemeanor counts of littering within 150 feet of state water. The litter, in this case, allegedly was hundreds of rotting cow carcasses.
"This case is about following the rules," Kamada told the jury. Rules for protecting animals and rules for protecting the environment, particularly "our rivers, our streams, Humboldt Bay and the tributaries."
"The defendant, Mr. Christie, violated those rules."
Christie's Arcata ranch and several other properties were raided on March 19, 2018, by officers from local and state agencies. Two state veterinarians were among the inspectors, Kamada said, and will testify that the animals down and unable to get up "were starving."
Cogorno admitted the photos and video were "ugly, because they were made to be ugly. This is a show."
The defense attorney told the jury Christie runs up to 2,000 cattle at a time. His goal is to rehabilitate the sick and suffering animals he buys at auction and then resell them. In the process, some die.
Cogorno became agitated when talking about the video of the cows milling about the corral.
"These cows were just delivered from an auction! They still have their tags on their backs! They arrived in that condition and Mr. Christie is being pointed out as responsible!"
The veterinarians who visited the properties "didn't take a cow, rendered no medical assistance, didn't water or feed, didn't take possession of a cow," Cogorno said. … "No necropsy was done on any cow, no samples were taken. There's no evidence. Just pictures."
Cogoran said that despite the lack of evidence, Christie is charged with felonies.
"Fel-o-nies," he repeated.
As to the charge of littering, "Mr. Christie did not litter any of these animals."
He said there's been no rendering plant in Humboldt County since 2003, and "What do you do when a cow dies?"
Christie had been instructed to take the dead animals to the highest point of land, which he did, Cogorno said.
He said the estimated 200 dead cows piled on Christie's ranch was actually "less than 40." And a vehicle was parked next to the pile because Christie was planning to move the carcasses.
Law enforcement waited until it was wet and muddy to inspect the properties, Cogorno contended.
"A heavy dead cow is difficult to move when the ground is mushy with water."
The first prosecution witness this morning was Deputy Travis Mendes, the "livestock and ag crimes" deputy for Humboldt County. He was expected to continue testifying this afternoon.
PREVIOUSLY: