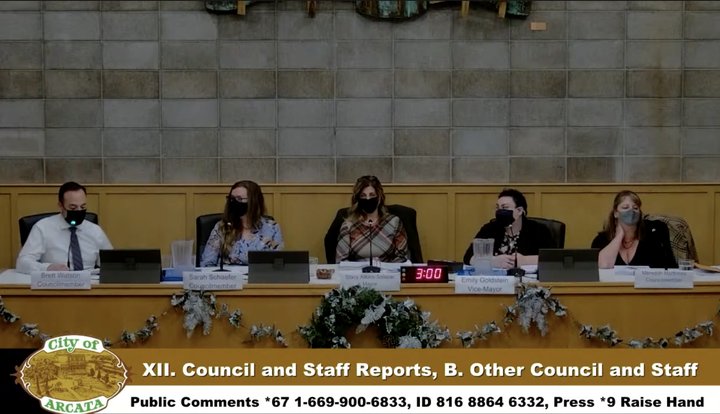 PREVIOUSLY:
###
Four months to the day after being arrested for drug possession and driving under the influence — and six weeks after his colleagues unanimously voted to remove him from his role as mayor — Arcata City Councilmember Brett Watson returned to the dais on Wednesday night saying he has completed a residential treatment program and plans to continue his service in elected office.
In a prepared statement read near the end of last night's meeting, Watson said he plans to take "an approach that honors my continuing commitment to the community and the mental wellness of myself and those I serve."
Following his arrest in August, Watson issued a statement saying he'd been struggling with grief over his father's suicide a year prior. In September he pleaded guilty to driving under the influence and received a sentence requiring counseling, fines and a week in jail.
Many of the details surrounding Watson's behavior during his mental health struggles remain vague. Prior to the council's unanimous vote of "no confidence" in Watson on October 20, Councilmember Emily Goldstein read a that referred to "alleged behaviors of councilmember Watson that negatively affected the city and some of its staff members."
Those behaviors remained undefined, and Watson, who hadn't attended a council meeting since early October, has yet to disclose any specifics.
Here's Watson's statement in full, and you can watch him read it in the video below:
Recently I completed a 28 day treatment program to focus on my mental wellness and other issues. I want to thank the community and City Council for their patience and understanding during my time away from my official duties.

Seeking treatment was one of the best decisions I've ever made in my life. Receiving treatment allowed me to understand how past traumas in my life have impacted my mental health.

I've decided to continue my service to this community that I love so much. The decision is based partly on the incredible amount of support I've received from friends, family, my peers in treatment, and the public. I also want to acknowledge the people in this room who have supported me with wisdom, advice, support and comfort.

I plan to continue to work for Arcata with an approach that honors my continuing commitment to the community and the mental wellness of myself and those I serve. I've learned that mental health and self care is something that we don't always prioritize as individuals and as a community. It's too easy to look at someone with mental health issues and try to tell them to just snap out of it or to stop using their mental health as an excuse for their problems.

It's a serious problem that affects ourselves and our loved ones around us and I hope that moving forward I can use my position to help address ways to improve mental health and self care.

I want the community to know that I'm here for you if you're struggling with your own mental health issues. You can reach out to me any day, any time and I'll do my best to help connect you with the resources you need.

In the coming weeks I'm planning to meet with community leaders and health professionals to discuss potential ways to advance expansion of mental health services county wide. Thank you again to everyone who's supported me.